In this review Frostytech is testing Scythe's Grand Kama Cross heatsink, the supped-up successor to the Kama Cross. This time around Scythe have sized it up by selecting a 140mm PWM fan that spins at 500-1300RPM, instead of the standard 120mm size. The Grand Kama Cross is a quiet all-around heatsink, at most producing 45.9 dBA noise and at best a nearly inaudible 29.8 dBA in our real-world tests.
At first glance there's no mistaking the Grand Kama Cross (SCKC-2000) for anything but a Scythe CPU cooler. The four 6mm diameter copper heatpipes curl around to support an innovative fin geometry which includes a 30 degree bend. There is nothing else on the thermal solutions market like this Japanese-designed heatsink. As with most Scythe heatsinks, low noise cooling is the point behind the chevron fin pattern. The Grand Kama Cross runs a bit warmer than most tower heatsinks, but when quiet operation is required it delivers.
Scythe's Grand Kama Cross installs on to Intel socket 775/1156/1366 processor and AMD 754/939/940/AM2/AM3 CPUs. For those of you still clinging to an old Intel Pentium 4 PC, this heatsink is compatible with socket 478 processors too. The chevron-shaped heatsink stands 130mm tall, weighs around 750grams and comes with a small packet of thermal interface material.
Scythe Grand Kama Cross Heatsink

---

heatsink specsheet
manufacturer: scythe
model no.: grand kama cross (sckc-2000)
materials: aluminum fins, copper heatpipes, nickel plated copper base plate
fan mfg: sm1425sl12lm-p
fan spec: 500-1300rpm, 12v, 0.22a
fan airflow: 27-70 cfm
fan dim: 25x140x140mm
heatsink & fan dim: 130x165x140mm
weight: 750 grams
includes: multi-socket mounting hardware, thermal compound, instructions

---

Compatible with Sockets:
AMD - 754/939/940/AM2/AM2+/AM3
Intel - 478/775/1156/1366
Est. Pricing: $45USD ($45CDN)
The most interesting aspect of Scythe's Grand Kama Cross heatsink are the fins. In order to maintain clearance around the body of the heatsink for things like the system RAM, the fins were extended upwards. Narrow fins are positioned towards the outside edges, and steadily get wider towards the center. A 30 degree bend in the aluminum keeps the nominal fin width of 30mm throughout the heatsink.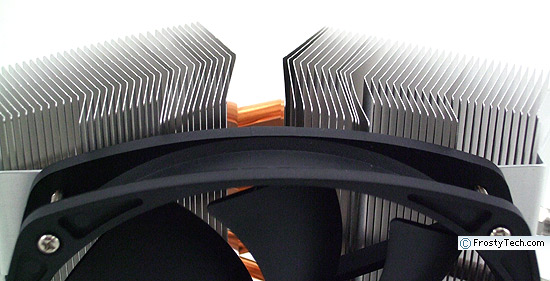 Air exhausts down from the 140mm PWM fan at 27-70CFM depending on impeller speed, impinging on the perpendicular aluminum fins before moving through and exhausting out at a slight angle. The idea is to direct exhaust air from the heatsink to cool adjacent motherboard devices like the VRM and chipset.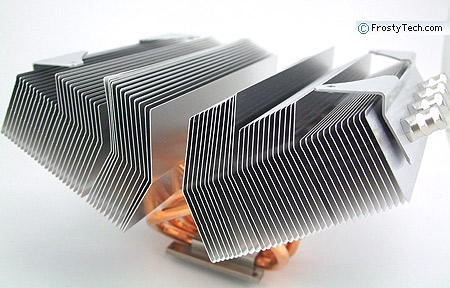 The crossed 6mm dia. copper heatpipes are soldered to the nickel plated base. This ensures low thermal joint resistance and good thermal conduction between the two surfaces.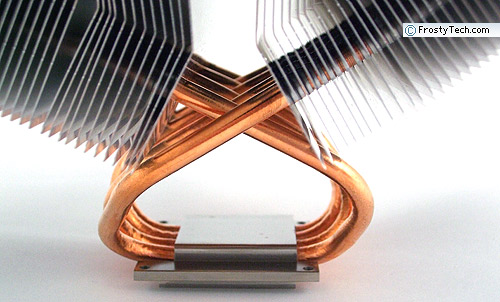 Mounting Method and Hardware
In true Scythe fashion, the Grand Kama Cross comes with mounting hardware for all recent processor platforms from Intel and AMD. Each of the three supplied brackets is attached to the base of the heatsink with four screws - and this is the part we really like - and the clip all use existing heatsink retention frames or motherboard mounting holes. There are no complicated screws, no need to remove the motherboard to install a special support plate, nothing like that.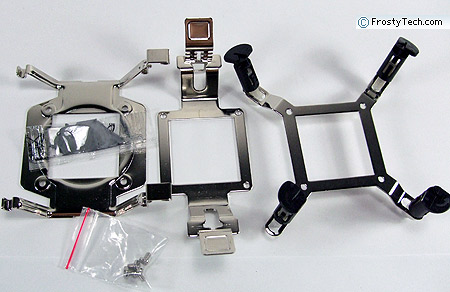 Scythe's method is a refreshingly uncomplicated way to make one heatsink multi-platform compliant. The supported CPU platforms are Intel socket 478 and LGA775/1156/1366, and AMD socket 754/939/940/AM2/AM2+/AM3. The Grand Kama Cross ships with a small pack of silicon thermal compound too.
This heatsink will be tested on FrostyTech's Intel LGA775 and AMD version of the Mk.II synthetic thermal temperature test platform, and compared against a couple hundred reference heatsinks. The whole test methodology is outlined in detail here if you'd like to know what equipment is used, and the parameters under which the tests are conducted.