Zalman's CNPS10X Quiet heatsink is equipped with a 120mm fan that ranges in speed from 1400RPM to 700RPM, which in real world terms means that noise levels are moderate to whisper quiet. As a low noise heatsink the CNPS10X Quiet maintains good thermal levels on Frosty's AMD/Intel test platforms, and at full tilt it qualifies as a performance heatsink.
The Korean-made CNPS10X Quiet heatsink stands 159mm high, weighs in at 750 grams and supports Intel socket 775/1156/1366 and AMD 754/939/940/AM2/AM2+/AM3 processors. Constructed from a die-cast copper baseplate soldered to five 6mm diameter copper heatpipes that pass through 110mm worth of raw aluminum fins, the standard tower heatsink format once again shows us why so many heatsink have gone this route.
On the whole the CNPS10X Quiet is a simpler heatsink than Zalman's CNPS10X Extreme, though no less effective. It's retention brackets are easy to install, and the CNPS10X Quiet ships with Zalman's manual FanMate2 fan speed controller for those that like to get all 1984 on their heatsinks.
At 159mm tall and 135mm wide, the Zalman CNPS10X Quiet demands a good 68mm clearance from the center of the CPU socket out, as the 37mm clearance below the bottom fin may not pass over tall memory DIMMs on certain motherboards. On Intel platforms the mounting hardware will allow it to be installed in any direction, AMD users are limited by the orientation of the AMD heatsink retention cage.
Zalman CNPS10X Quiet Heatsink

---

heatsink specsheet
manufacturer: zalman
model no.: cnps10x quiet
materials: aluminum fins, copper heatpipes, copper baseblock
fan mfg: zalman zf1125atm
fan spec: 700-1400rpm, 12v, 0.25a
fan dim: 25x120x120mm
heatsink & fan dim: 159x135x93mm
weight: 750 grams
includes: multi-socket mounting hardware, thermal compound, fan speed controller, instructions.

---

Compatible with Sockets:
AMD - 754/939/940/AM2/AM2+/AM3
Intel - 775/1156/1366
Est. Pricing: $65USD ($65CDN)
Thirty raw aluminum fins are inter spaced with fifteen blue anodized aluminum fins that extend slightly further on the sides and back of the heatsink. Like many tower heatsinks, Zalman have conspicuously staggered the heatpipes where they pass through the cooling fins and positioned them towards the region with the highest airflow.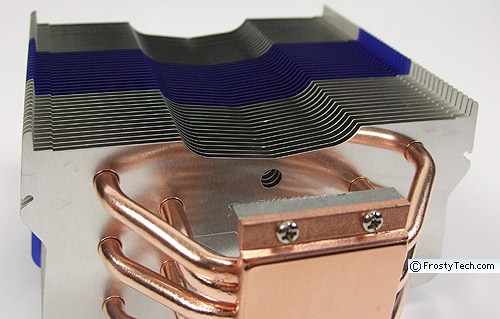 Mounting Method and Hardware
Zalman's CNPS10X Quiet heatsink can be installed on Intel socket 775/1156/1366 processors, and the full range of AMD chips from socket 754/939/940/AM2/AM2+ through to socket AM3. Every major CPU variation is covered by this one heatsink, good for those planning a transition to Core i5/Phenom II in the coming months.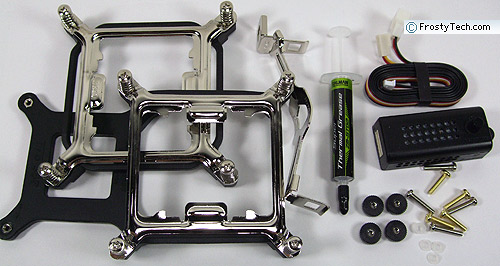 Installation is straightforward, although there are those pesky clearance issues to be aware of. Generally speaking, the CNPS10X Quiet will fit any modern motherboard, but requires about 70mm space from the center of the CPU above and below, back and front. Zalman note that at least 165mm space above the CPU itself is necessary, although the heatsink Frostytech tested measured only 159mm tall.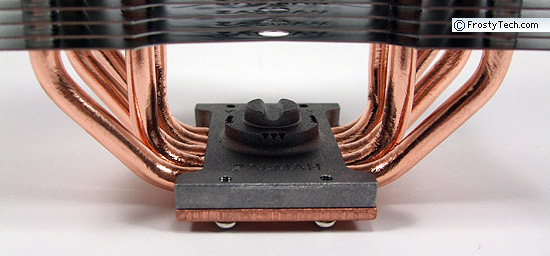 The AMD mounting clip makes use of the stock AMD heatsink retention frame. A stainless steel clip fits over the central hub on the heatsink's base cap and locks onto the retention tabs on AMD motherboards. The heatsink should generally be oriented with airflow exhausting towards the rear of the case if that's possible. If not, the next best position is the fan exhausting up towards the power supply.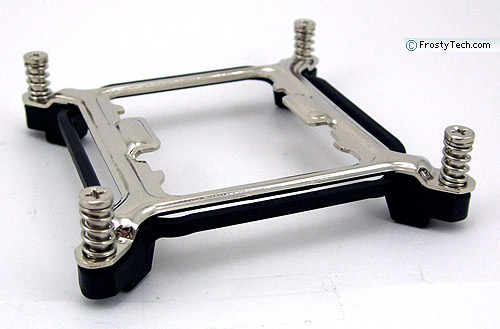 Intel socket 1366 and 775/1156 processors make use of a special plastic frame which is attached onto the motherboard prior to installation of the Zalman CNPS10X Quiet heatsink. Access to the back of the board is necessary to apply a rear support plate, or interchangeably the mounting screws/nets. Thereafter a steel bracket locks onto the base of the CNPS10X Quiet heatsink and applies correct clamping force care of four spring-tensioned machine screws.
This heatsink will be tested on FrostyTech's Intel LGA775 and AMD version of the Mk.II synthetic thermal temperature test platform, and compared against a couple hundred reference heatsinks. The whole test methodology is outlined in detail here if you'd like to know what equipment is used, and the parameters under which the tests are conducted.