Made by the Taiwanese thermal solutions company Glacialtech , the Igloo 5610 Plus Silent is a straightforward, economical dual fan heatsink for Intel socket 775/1366 and AMD socket 939/AM2/AM3 processors. The heatsink stands a modest 139mm tall, weighs 780 grams and is built around two copper heatpipes and slim tower of raw aluminum fins. Like several other Glacialtech heatsinks, the Igloo 5610 Plus Silent has scalloped leading edges on the aluminum fins to help break up laminar air flow and decrease back pressure.
The Igloo 5610 Plus Silent ships with two 92mm fans, each spinning at 1200RPM but arranged in a push-pull fashion. A pre-applied patch of shinetsu thermal compound on the base of the heatsink means it's ready to be used out of the box. Given the relatively compact height of the Igloo 5610 Plus Silent, it should fit into most compact PC cases easily enough.
Versatile mounting hardware allows the Igloo 5610 Plus Silent heatsink to be installed on either Intel or AMD processors. As needs change, the Igloo 5610 Plus Silent can be migrated along with the processor platform. Retail price is in the neighborhood of $32 USD/CDN.
Glacialtech Igloo 5610 Plus Silent Heatsink

---

heatsink specsheet
manufacturer: glacialtech
model no.: igloo 5610 plus silent
materials: aluminum fins, nickel-plated copper heatpipes and base,
fan mfg: (x2) powerlogic pla09225s12l
fan spec: 1200rpm, 12v, 0.13a
fan dim: 25x92x92mm
heatsink & fan dim: 139x91x96mm
weight: 780 grams
includes: multi-socket mounting hardware, pre-applied thermal compound, instructions.

---

Compatible with Sockets:
AMD - AM2/AM2+/AM3
Intel - 775/1366
Est. Pricing: $32USD ($33CDN)
Base Finish and Flatness Issues
Flipping a heatsink over to inspect the business end is often a simple indicator of overall cooler quality. More practically speaking, a heatsink is in many ways only as effective as the contact it makes with the processor - the flatter and smoother the better. Base finish is one of the criteria that Frostytech measure in the course of evaluating heatsinks, and it involves two distinct aspects. Surface Finish is the first; this is calculated with the aid of Surface Roughness Comparator that has a cross section of common machine surface finishes and their numerical surface roughness equivalents in microinches. The second is Surface Flatness. This is tested with a straight edge in two axis.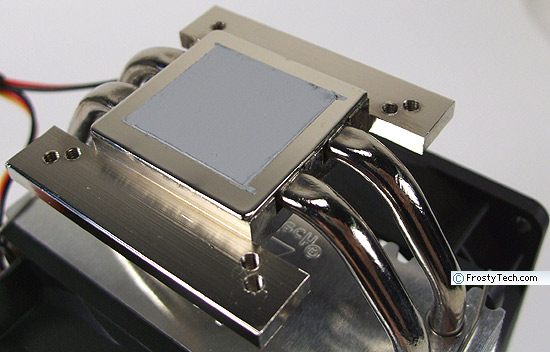 Shown with pre-applied thermal material, the chrome plated copper base of Glacialtech's Igloo 5610 Plus Silent is smooth and polished, with a surface roughness of about ~8 microinches. Unfortunately the base is not very flat, and the outside edges are raised a little higher than the center portion - this dramatically affects thermal performance on the AMD synthetic test platform as you'll see momentarily.
In one axis (parallel to the heatpipes) the base is somewhat concave across the entire surface. In the opposite axis the base is slightly wavy.
Installation Hardware
The Glacialtech Igloo 5610 Plus Silent heatsink ships with stamped steel mounting hardware for Intel and AMD processors. The brackets are screwed to the side of the heatsink base with two screws, and use a matching rear motherboard support bracket for the LGA1366 Intel platform.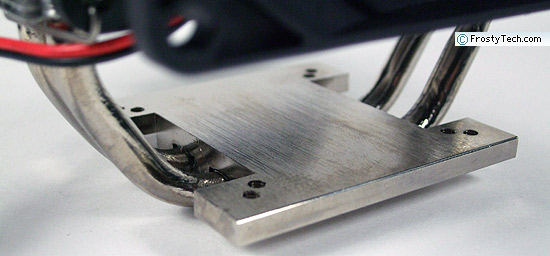 For Intel LGA775 processors, the standard push-to-click retention tabs are utilized.

The AMD bracket uses screws as well, and is compatible with socket 939/940AM2/AM2+/AM3 processors.
FrostyTech's Test Methodologies are outlined in detail here if you care to know what equipment is used, and the parameters under which the tests are conducted. Now let's move forward and take a closer look at this heatsink, its acoustic characteristics, and of course its performance in the thermal tests!