The Glacialtech F101 PWM heatsink is built around a simple concept; use the space over the motherboard chipset for extra cooling fins. The result is a collection of copper and aluminum connected together by five sintered wick copper heatpipes. The 6mm diameter heatpipes distribute heat across a standard tower heatsink format, save for an extension that juts 35mm off to one side. That annex of cooling fins hovers 66mm over the CPU so there is plenty of clearance.... but it is a rather unique approach.
In all other respects the Glacialtech F101 PWM heatsink is pretty straightforward, and as you'll see a little later quite a good cooling option for Intel processors. The F101 PWM stands 145mm tall and weighs a modest 750grams. Processor compatibility extends to Intel socket 775/1156/1366 and AMD AM2/AM2+/AM3 processors.
While the Glacialtech F101 PWM heatsink will support two 120mm fans, it ships with one single 120mm PWM fan that rotates at 800-1700RPM (extra fan mounts are supplied). At high speeds noise levels aren't too noticeable. All five copper heatpipes are soldered to a 2mm thick copper base plate which helps to distribute heat from the processor across its surface. However, given the side-by-side packing of heatpipes, the F101 PWM seems like an ideal candidate for the exposed heatpipe treatment. Perhaps Glacialtech will revise the design slightly in the future to accommodate this technique?
Glacialtech F101 PWM Heatsink

---

heatsink specsheet
manufacturer: glacialtech
model no.: f101 pwm
materials: aluminum fins, copper heatpipes, copper base.
fan mfg: powerlogic pla12025s12m
fan spec: 800-1700rpm, 12v, 0.20a
fan dim: 25x120x120mm
heatsink & fan dim: 145x143x84mm
weight: 750 grams
includes: multi-socket mounting hardware, thermal compound, instructions.

---

Compatible with Sockets:
AMD - 939/940/AM2+/AM3
Intel - 775/1156/1366
Est. Pricing: $40USD ($40CDN)
While many heatsinks have homogenized in design, the Glacialtech F101 PWM heatsink certainly stands out on its own. Pictured below are the extra 35mm of cooling fins to the left of the main aluminum fin cooling tower. Air from the fan does not directly flow through this section, but as it exits the 120mm some diffused airflow passes through.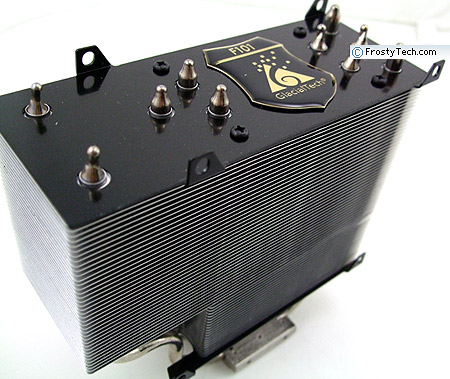 It's difficult to say what impact this extra block of aluminum cooling fin has on the overall performance of Glacialtech's F101 PWM heatsink though.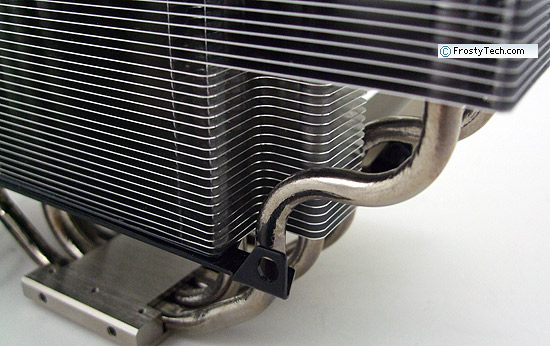 The one part of the Glacialtech F101 PWM heatsink we're not particularly impressed with is the 2mm thick copper base plate.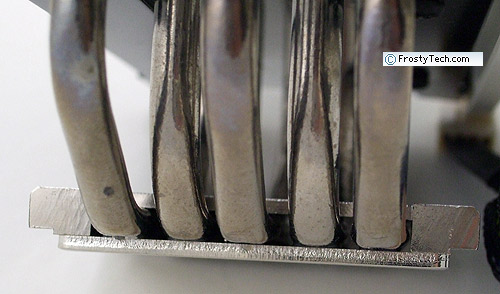 On the unit Frostytech tested the base was good and flat, but as you can see the heatpipes only make tangential soldered contact with it. Zalman use a much better method wherein the copper base plate conforms to the curve of the heatpipes, increasing contact area from the heat spreader to the heatpipes and improving thermal efficiency.
Installation Hardware
The Glacialtech F101 PWM heatsink ships with stamped steel mounting hardware for Intel and AMD processors. The brackets are screwed to the side of the heatsink base with two screws, and use a matching rear motherboard support bracket. Spring tensioned screws apply the appropriate mounting pressure and keep the Glacialtech F101 PWM heatsink in position, but with the overhang of the extra fin section this makes installation a little roundabout. As such, Glacialtech supply a small wrench to aide tightening.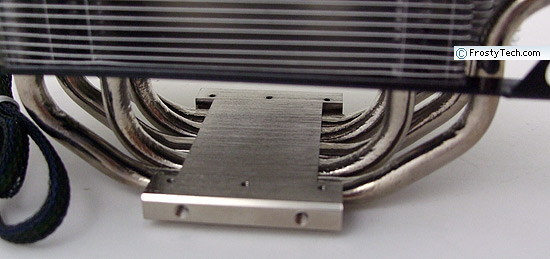 The Intel socket 775/1156/1366 clip uses four spring tensioned captive screws and a metal rear-support bracket to install. Users will have to remove the motherboard from the computer for heatsink installation. The AMD bracket uses screws as well, and is only compatible with socket AM2/AM2+/AM3 four-hole mounting systems. It will not install on older socket 754/939 motherboards that used just two holes for the heatsink retention frame. Again, spring tensioned screws apply the clamping force.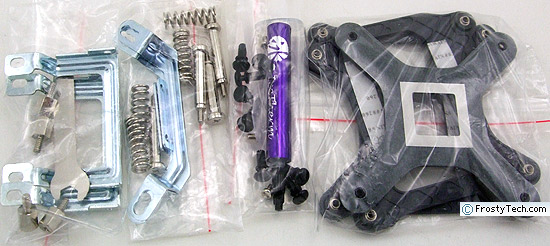 FrostyTech's Test Methodologies are outlined in detail here if you care to know what equipment is used, and the parameters under which the tests are conducted. Now let's move forward and take a closer look at this heatsink, its acoustic characteristics, and of course its performance in the thermal tests!