Zerotherm's Core 92 heatsink is a compact Intel-only thermal solution designed for socket 775 Core 2 Duo, socket 1156 Core i5 and socket 1366 Core i7 processors. Standing just 121mm tall, the Core 92 heatsink weighs a modest 470 grams and has a rather atypical footprint of 103 x 93mm.
The heatsink is equipped with a single 92mm PWM fan, sandwiched between its two columns of aluminum cooling fins. The idea behind this being that air is drawn in through one set of cooling fins, and exhausted past the other with just one fan - thereby making the most out of the airflow. The fan spins at 2500RPM by default, as slow as 900RPM.
Other notable features of the Core 92 heatsink include its exposed heatpipe base and the somewhat surprising use of three 6mm diameter copper heatpipes. Zerotherm specify the heatpipe type as 'copper sintered wick,' which would explain why it can get away with only three of them when other manufacturers throw a dozen or more heatpipes at CPU coolers of comparable standing. Zerotherm's Core 92 heatsink is rated for thermal loads over 130W, and judging by the results of Frostytech's testing this is correct. In short, the diminutive size of the Zerotherm Core 92 heatsink belies its true capabilities.
We should reiterate that the Core 92 is an Intel-only cooler. That being said, Zerotherm's Core 92 is a good little cooler (as you'll see), with moderate noise production at the top fan speed. Retail price is approximately $40 USD/CDN.
Zerotherm Core 92 Heatsink

---

heatsink specsheet
manufacturer: zerotherm
model no.: core 92
materials: dark nickel plated aluminum fins & base, copper heatpipes
fan mfg: power logic pla09225s12m
fan spec: 900-2500rpm, 12v, 0.2a
fan dim: 25x92x92mm
air flow: 56cfm
heatsink & fan dim: 121x103x93mm
weight: 470 grams
includes: mounting brackets, thermal compound, instructions.

---

Compatible with Sockets:
AMD - none
Intel - 775/1156/1366
Est. Pricing: $39USD ($40CDN)
Zerotherm opt for three 6mm diameter sintered wick copper heatpipes which are swagged into the heatsink's aluminum base block, and left exposed on the base for optimum heat conduction. These are in turn connected to two separate towers of aluminum fins, with the fan snugly embedded between.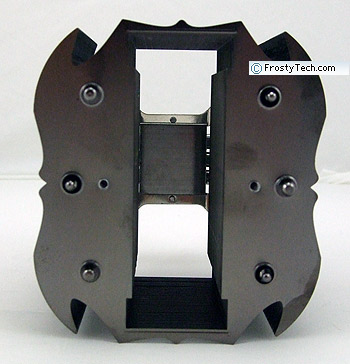 Exposed heatpipe base heatsinks work best with processors that have integrated heatspreaders and an even heat distribution over the whole CPU surface. The technique can encounter problems when heat is localized too directly, such as if only one or two heatpipes receive the bulk of heat from the CPU.
Given the recent confusion over heatsinks built for socket 775 Intel motherboards not fitting on LGA1156/1366 platforms, Frostytech is pleased to see Zerotherm's use of the universal Intel mounting bracket. Basically, the space for the Intel push-to-click clip is a slot, allowing the fixture to slide a millimeter this way or that, and install correcting into any Intel motherboard - be it Intel Core 2 Duo, Core i5/i3 or Core i7. Nice!
Heatsink Installation
Zerotherm's Core 92 heatsink is compatible with Intel socket 775/1156/1366 processors only. No AMD brackets are supplied. The installs with standard Intel push-to-click plastic retention mechanisms, so there is no need to remove the motherboard from the PC case. The bracket is also, thankfully, compatible with 775/1156/1366 mounting hole layouts. A small tube of thermal compound and finger condom are supplied for smearing it across the base of the heatsink and surface of the processor.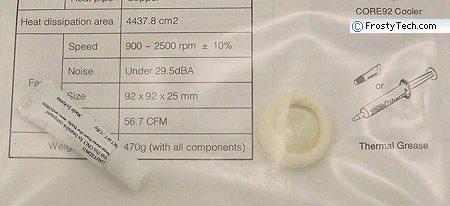 FrostyTech's Test Methodologies are outlined in detail here if you care to know what equipment is used, and the parameters under which the tests are conducted. Now let's move forward and take a closer look at this heatsink, its acoustic characteristics, and of course its performance in the thermal tests!