Let's get right to the point, 3Rsystem's Iceage 120 Boss II heatsink is currently one of the Top 5 heatsinks tested on Frostytech. Key to the success of this Korean-made heatsink on both AMD and Intel synthetic test platforms are five 8mm diameter exposed base heatpipes and a unique "X" pattern that places the heatpipes in the path of high velocity air from the coolers' 120mm fan.
On top of that, the Iceage 120 Boss II heatsink utilizes dimpled surface fins which are intended to disrupt boundary layer laminar airflow - basically causing turbulent airflow than can enhance heat transfer. The challenge is that fin texturing techniques like dimples can cause pressure drop, making it harder for air to easily pass through the heatsink and consequently require a stronger (louder) fan.
Where to Buy 3Rsystem's Iceage 120 Boss II Heatsink?

Unfortunately it's one of the best heatsinks you cannot buy. This heatsink design has apparently been OEM'd by EKL as the Alpenföhn Nordwand Rev. B heatsink for €49.90 EUR. Spire have a similar model called the TherMax Eclipse SP984B1 for $48USD / €32 EUR. Note that neither cooler uses the same fan as on the 3Rsys model. When Frostytech hears different we'll pass it on!
According to this research paper entitled "Multi-objective optimization of a dimpled channel for heat transfer augmentation" by Adbus Samad, Ki-Don Lee and Kwang-Yong Kim in the December 2008 Journal of Heat and Mass Transfer: "With increase in dimple depth, heat transfer rate increases and at the same time pressure drop also increases, while opposite behavior is obtained for the dimple spacing. The heat transfer performance is related to the vertical motion of the flow and the reattachment length in the dimple." In other words, dimple spacing and sizing have benefits if carefully implemented.
3Rsystem Iceage 120 Boss II Heatsink

---

heatsink specsheet
manufacturer: 3rsystem
model no.: iceage 120 boss ii
materials: dark nickel plated aluminum fins, copper heatpipes, aluminum base with exposed heatpipes.
fan mfg: n/a
fan spec: 2200-1000rpm, 12v, 0.38a
fan airflow: 54-78cfm,
fan dim: 25x120x120mm
heatsink & fan dim: 152x97x131mm
weight: 730 grams
includes: multi-socket socket mounting hardware, thermal compound, fan speed controller, air spoiler, instructions

---

Compatible with Sockets:
AMD - 754/939/940/AM2/AM3
Intel - LGA775/1366
Pricing: $60USD ($65CDN)
For the M.E.'s in the crowd, Mohammad A. Elyyan wonderfully covers dimples and split dimple fin augmentation in his dissertation; "Heat Transfer Augmentation Surfaces Using Modified Dimples/Protrusions". It's an interesting read, particularly as an abundance of CFD simulations illustrate the air turbulence patterns caused by different dimple patterns. The scale of augmentations dealt with in Elyyan's paper is larger, but the concept has a measure of parallelism with the dots on both sides of each aluminum fin in the Iceage 120 Boss II heatsink.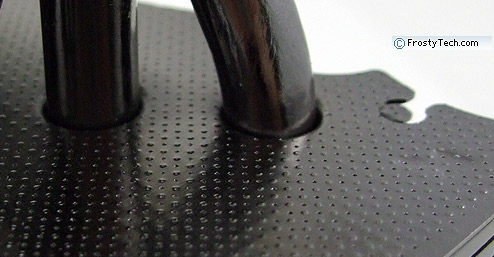 In any event, the 3Rsystem Iceage 120 Boss II heatsink runs a tenth of a degree cooler than the Titan TTC-NK85TZ, and a full degree cooler than the previous front-runner on the AMD platform. Standing a good 152mm tall, the Iceage 120 Boss II heatsink is equipped with a 120mm fan that rotates at 1000-2200RPM. A manual fan controller is included. The entire package weighs about 730 grams, and installs onto Intel socket 775/1156/1366 and AMD socket 754/939/940/AM2/AM3 processors. It's rated for processors with a TDP of up to 200 Watts according to the maker.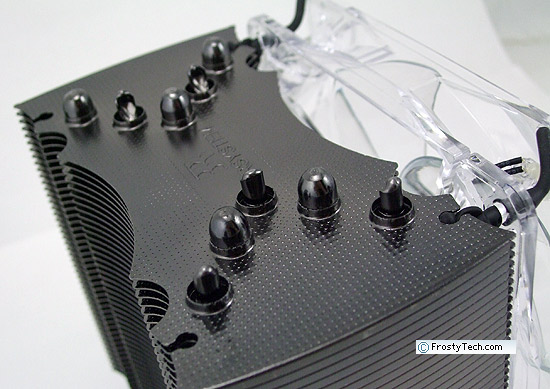 Exposed heatpipe heatsinks are great for the larger CPUs entering the marketplace, the Intel Core i5 and Core i7 in particular. While Frostytech does not yet have thermal test results for these chips we can look to the AMD thermal results for guidance on what to expect. Five 8mm diameter copper heatpipes stacked side-by-side will cover a pretty big processor IHS (integrated heat spreader), the base is no less than 54mm x 40mm in fact.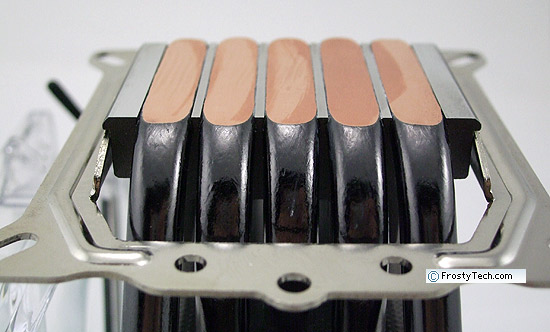 A rear spoiler is also supplied if you wish to divert a portion of the exhaust air down towards adjacent devices on the motherboard.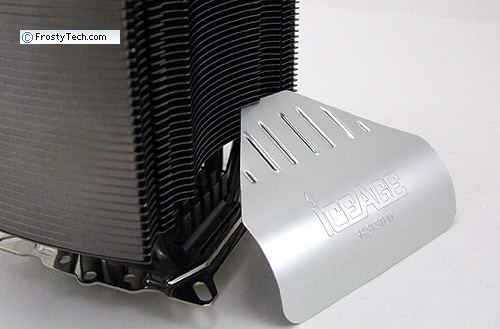 Heatsink Mounting Hardware
3Rsystem's Iceage 120 Boss II heatsink ships with brackets for Intel LGA775/1156/1366 and AMD 754/939/940/AM2/AM3 processors. The heatsink mounts to both Intel and AMD motherboards using the permanently affixed metal bracket.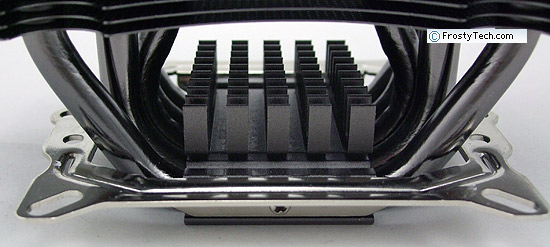 A collection of screws and spring-tensioned nuts accommodate the variety of hole patterns for the range of processors the Boss II heatsink is compatible with. Two sets of rubber vibration absorbing pads are supplied, along with a PCI bracket fan speed controller and the spoiler.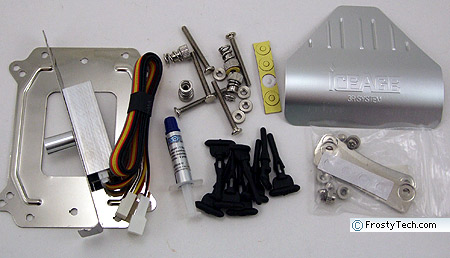 FrostyTech's Test Methodologies are outlined in detail here if you care to know what equipment is used, and the parameters under which the tests are conducted. Now let's move forward and take a closer look at this heatsink, its acoustic characteristics, and of course its performance in the thermal tests!