CPU heatsinks have lost a lot of luster. Processor thermal values, on the increase for a solid 25 years began to drop, and have continued to fall towards the 45W range. Thermal solutions manufactured from copper, heatpipes and designed with advanced computational fluid dynamics are as common as extuded aluminum heatsinks once were. The Catch-22 you probably haven't noticed is that big fancy performance-grade heatsinks really aren't necessary for an entire segment of processors. Flagship CPUs continue to push 125W-140W TDP, but there is now a significant variety of mainstream chips classed as energy efficient. These mainstream processors typically range in power from 45W, 65W or 80W.
If you happen to be putting a PC together with an AMD Athlon II, a heatsink that's rated for 90W is about all you really need. Finding a decent CPU cooler that doesn't cost a lot, runs quiet and installs without much fuss is even better.
The Arctic Cooling Alpine 64 Pro is just such heatsink: ideal for mainstream CPUs that don't exceed 90W TDP.... so long as the fan speed stays at 2000RPM. Frostytech pushed the test scenario a little further than that of course. Arctic Cooling's Alpine 64 Pro is a mainstream extruded aluminum heatsink that features the companies signature suspended low noise fan. The design minimizes turbulence and the noise created by air moving over the edges of a traditional fan frame, by removing as much of the fan frame as possible.
The heatsink is constructed from a simple aluminum extrusion, and aside from the rather odd-looking low noise fan is dead simple. It's compatible with socket 754/939/940/AM2/AM3 AMD processors, and because it lacks any copper weighs just 428 rams. The PWM compliant 95mm fan can be adjusted from 500 to 2000 RPM. However, the 500RPM fan speed is not realistic under a full thermal load in our opinion. Standing 77mm tall, the Alpine 64 Pro is suitable for media PCs and other sub-tower computer formats where low noise processor cooling is a must. The heatsink ships with a patch of good quality thermal compound pre-applied to the base.
Arctic Cooling Alpine 64 Pro Heatsink

---

heatsink specsheet
manufacturer: arctic cooling
model no.: alpine 64 pro
materials: extruded aluminum.
fan mfg: n/a
fan spec: 500-2000rpm, 12v, 0.15a
fan airflow: 36.7 cfm
fan dim: 25x95x95mm
heatsink & fan dim: 77x113x105mm
weight: 428 grams
includes: multi-socket socket mounting hardware, thermal compound.

---

Compatible with Sockets:
AMD - 754/939/940/AM2/AM3
Pricing: $44USD ($44CDN)
Two stainless steel clips are attached to the plastic fan support frame with a single machine screw. The fan support frame is constructed of sturdy plastic, so it should hold up well to the clamping forces and typical case temperatures without give. When the clips are in place on the AMD heatsink retention frame, clamping force is applied by tightening the machine screws with a phillips screwdriver.

One of the novel features of Arctic Cooling heatsinks is how the fan is attached to the heatsink.
Traditionally fans are clipped or screwed firmly into place. Screws will hold a fan firmly, but do nothing to prevent rattling sounds from developing if vibration occurs.
The Alpine 64 Pro uses rubber fixtures at each corner of the fan hold it in place. The rubber fan mounts reduce the chance of errant noises, and at the same time absorb or dampen some of the vibrations that are inevitably caused by minor imbalances in the impeller. Arctic Cooling's 'dualaxial' rubber post hold the lightweight Alpine 64 Pro fan in position, in both axis. The long term stability of the rubber fixtures with respect to drying out and becoming brittle, is the one component which remains to be seen, but so far we haven't encountered any issues.
Base Finish and Flatness
Flipping a heatsink over to inspect the business end is often a simple indicator of overall cooler quality. More practically speaking, a heatsink is in many ways only as effective as the contact it makes with the processor - the flatter and smoother the better. Base finish is one of the criteria that Frostytech measure in the course of evaluating heatsinks, and it involves two distinct aspects. Surface Finish is the first; this is calculated with the aid of Surface Roughness Comparator that has a cross section of common machine surface finishes and their numerical surface roughness equivalents in microinches. The second is Surface Flatness. This is tested with an engineers straight edge or proven flat surface, in two axis.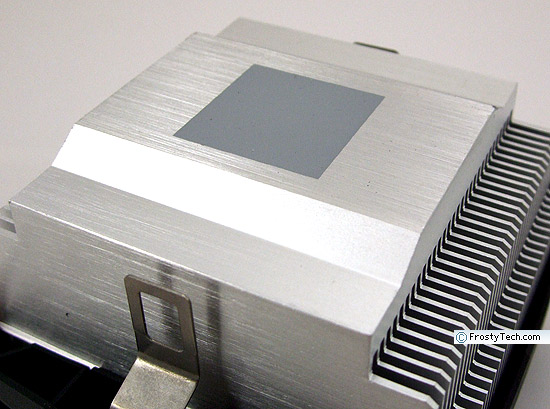 The base of the Arctic Cooling Alpine 64 Pro has a surface roughness of approximately 32 microinches, which is considered good. The base has a sanded surface texture and is very slightly wavy on the long axis, and concave in the opposite when examined with an engineers straight edge.
FrostyTech's Test Methodologies are outlined in detail here if you care to know what equipment is used, and the parameters under which the tests are conducted. Now let's move forward and take a closer look at this heatsink, its acoustic characteristics, and of course its performance in the thermal tests!