In this review Frostytech will be testing a low profile Intel socket 775/1366 heatsink that is ideal for 2U hight small formfactor PCs and media center microATX-style cases. Finding a good heatsink for a height limited PC case has always been a challenge, so do bookmark Frostytech Top 5 low profile heatsink chart.
The Evercool HPK-10025EA heatsink uses a simple arrangement of swagged aluminum fins over four 6mm diameter copper heatpipes, connected by a short distance to the CPU. The entire heatsink stands 65mm tall and weighs a feathery 320 grams. The four heatpipes are exposed at the base of the heatsink, which although now a common technique is a first for such a low profile heatsink. The stubby aluminum fins rest below an Arctic Cooling style, red 110mm fan that rotates at a moderately audible 1800RPM.
The Evercool HPK-10025EA heatsink accomodates Intel socket 775 Core 2 Duo and socket 1366 Core i7 processors only. The heatsink requires access to the rear of the motherboard and a phillips screwdriver to install. Retail price is estimated at $22. As of this writing mounting brackets for LGA1156 Intel Core i5 processors are not available.
Evercool HPK-10025EA Heatsink

---

heatsink specsheet
manufacturer: evercool
model no.: hpk-10025ea
materials: aluminum fins, copper heatpipes and aluminum base with exposed heatpipes.
fan mfg: evercool ec10025l12ea-n
fan spec: 1800rpm, 12v, 0.18a
fan airflow: n/a
fan dim: 25x110x110mm
heatsink & fan dim: 65x111x118mm
weight: 320 grams
includes: multi-socket socket mounting hardware, thermal compound.

---

Compatible with Sockets:
Intel - LGA775/1366
Pricing: $22USD ($25CDN)
The heatsink has a pair of stainless steel mounting bracket attached to the base. To install it the motherboard will need to be removed so screws (with non-scratch washers) can be installed from the opposite side. This approach does makes getting at the CPU later on a rather involved process, but with microATX systems it shouldn't be too much of a hassle.
Base Finish and Flatness
Flipping a heatsink over to inspect the business end is often a simple indicator of overall cooler quality. More practically speaking, a heatsink is in many ways only as effective as the contact it makes with the processor - the flatter and smoother the better. Base finish is one of the criteria that Frostytech measure in the course of evaluating heatsinks, and it involves two distinct aspects. Surface Finish is the first; this is calculated with the aid of Surface Roughness Comparator that has a cross section of common machine surface finishes and their numerical surface roughness equivalents in microinches. The second is Surface Flatness. This is tested with an engineers straight edge or proven flat surface, in two axis.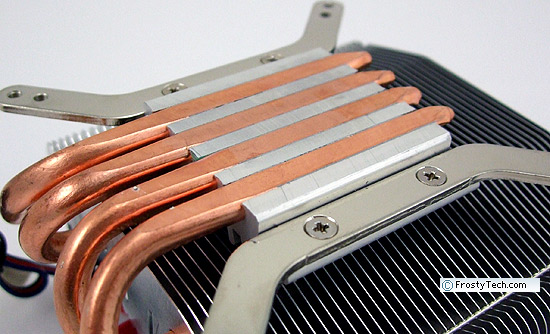 The base of the Evercool HPK-10025EA heatsink has a surface roughness of approximately 16 microinches, which is considered good. The base is machined perfectly flat in both axis and the copper and aluminum parts are flush. Sometimes after the machine step the parts can change orientation or move around.
The copper heatpipes appear rather thin where the machining has occurred, so be careful not to puncture the soft metal with sharp corners.
FrostyTech's Test Methodologies are outlined in detail here if you care to know what equipment is used, and the parameters under which the tests are conducted. Now let's move forward and take a closer look at this heatsink, its acoustic characteristics, and of course its performance in the thermal tests!