On the test bench today is a new dual 120mm fan heatsink from Evercool called the Transformer 4 HPJ-12025. Its twin fans are arranged in a push-pull configuration and rotate at a leisurely 1000RPM. The Transformer 4 heatsink is intended to be a quiet under power, using two fans to quietly do the job of one. As you'll see shortly, the Transformer 4 succeeds in this regard with a real world noise footprint under 40 dBA.
In most other regards the Evercool Transformer 4 HPJ-12025 heatsink is pretty average. It's built around four 8mm diameter copper heatpipes, it uses the exposed heatpipe base technique and it installs onto socket 1366/775 and the complete family of AMD processors (socket 754/939/940/AM2/AM3).
The Transformer 4 heatsink stands about 159mm tall, weighs upwards of 844 grams and installs with reasonable ease. As of this writing the heatsink does not include mounting brackets for LGA1156 Intel processors however.
Evercool Transformer 4 Heatsink

---

heatsink specsheet
manufacturer: evercool
model no.: transformer 4 hpj-12025
materials: aluminum fins, copper heatpipes and aluminum base with exposed heatpipes.
fan mfg: evercool ec12025sl12ea
fan spec: (2) 1000rpm, 12v, 0.11a
fan airflow: n/a
fan dim: 25x120x120mm
heatsink & fan dim: 159x122x121mm
weight: 844 grams
includes: multi-socket socket mounting hardware, thermal compound.

---

Compatible with Sockets:
AMD - 754/939/940/AM2/AM3
Intel - LGA775/1366
Pricing: $44USD ($44CDN)
If there's one thing about the Evercool Transformer 4 HPJ-12025 heatsink that you'll want to change right out of the box it's the two separate 3-pin fan power cables. This seems like such a small matter, but for whatever reason Evercool do not include a Y-splitter so these can be combined into one single 3-pin fan power cable.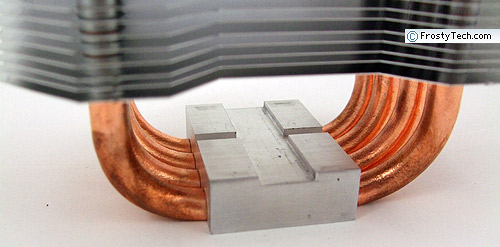 Evercool's Transformer 4 heatsink ships with mounting brackets for Intel LGA775/1366 and AMD 754/939/940/AM2/AM3 processors. A variety of rear motherboard support brackets are supplied to support the nearly 850gram heatsink firmly. A combination of brass stand-offs and thumbscrews are used to mount the Evercool Transformer 4 HPJ-12025 heatsink in position.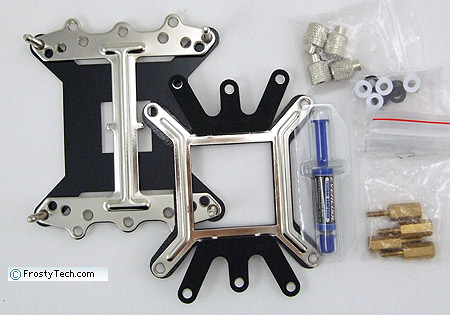 The two 120mm fans are held in place on the heatsink body with wire clips that are screwed onto the fan frame. These are easily removable if you wish to swap out fans in the future.
Base Finish and Flatness
Flipping a heatsink over to inspect the business end is often a simple indicator of overall cooler quality. More practically speaking, a heatsink is in many ways only as effective as the contact it makes with the processor - the flatter and smoother the better. Base finish is one of the criteria that Frostytech measure in the course of evaluating heatsinks, and it involves two distinct aspects. Surface Finish is the first; this is calculated with the aid of Surface Roughness Comparator that has a cross section of common machine surface finishes and their numerical surface roughness equivalents in microinches. The second is Surface Flatness. This is tested with an engineers straight edge or proven flat surface, in two axis.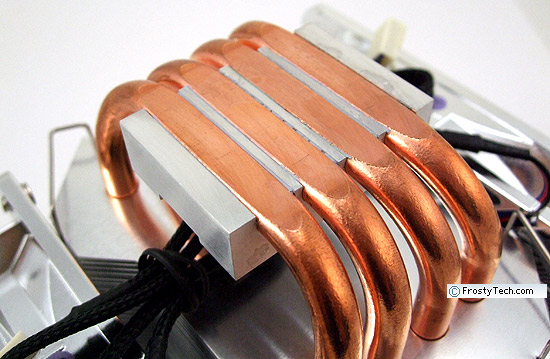 The base of the Evercool Transformer 4 HPJ-12025 has a surface roughness of approximately 16 microinches, which is considered good. The base is machined perfectly flat in both axis and the copper and aluminum are for the most part perfectly flush.
FrostyTech's Test Methodologies are outlined in detail here if you care to know what equipment is used, and the parameters under which the tests are conducted. Now let's move forward and take a closer look at this heatsink, its acoustic characteristics, and of course its performance in the thermal tests!