It's been a very long time since Frostytech last tested an all-copper heatsink. Material expense and weight drive most manufacturers to aluminum fins, but not here. DeepCool's Killer Whale Premium heatsink is a carbon copy replica of the companies Killer Whale CPU cooler, just this time it's made entirely of copper. The large top-down heatsink has a jaw dropping weight of 1,225grams, or 1.225kg. That's a lot of weight to hang from a CPU socket, so it goes without saying that rear motherboard support brackets are mandatory!
Connecting the hefty copper heatspreader on the Killer Whale Premium with the big array of copper cooling fins are six 6mm diameter heatpipes that are soldered to the former and press-fit over the latter. A large and moderately audible 48mm thick 120mm PWM fan hangs over the copper fins, spinning at 1000-1800RPM. The fan moves approximately 78CFM, while generating at most 52.6 dBA and at least 36 dBA noise. It's fancy, but many consumers might prefer the option of replacing it with a standard low noise 120mm fan. The Killer Whale Premium heatsink stands 141mm tall, with the bulk of it elevated 50mm for good memory slot and northbridge heatsink clearance.
DeepCool's all-copper Killer Whale Premium heatsink is compatible with Intel socket 775/1366 and AMD socket 939-to-AM3 processors. As of this writing Intel Core i5 socket 1156 processors are not supported. The fan is mounted to the copper with rubber vibration absorbing posts and the top detail is illuminated with blue LEDs.
DeepCool Killer Whale Premium Heatsink

---

heatsink specsheet
manufacturer: deepcool
model no.: killer whale premium
materials: copper fins, copper base plate, copper heatpipes
fan mfg: n/a
fan spec: 1000-1800rpm, 12v, 0.22a
fan airflow: 78 cfm
fan dim: 48x120x120mm
heatsink & fan dim: 141x143x156mm
weight: 900 grams
includes: mounting brackets, thermal compound, instructions

---

Compatible with Sockets:
AMD - 754/939/940/AM2/AM3
Intel - 775/1366
Est. Pricing: $55USD ($55CDN)
The 120mm diameter PWM fan is moderately loud at full speed (53 dBA) and whisper quiet when operating at 1000RPM, it's lowest speed setting. It's nice to see fans mounted by rubber vibration absorbing posts, but you have to wonder how long the rubber will last in the hot confines of a PC system?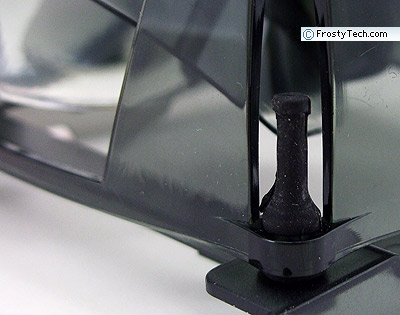 The six heatpipes are soldered to the 8.5mm thick copper base block of the DeepCool Killer Whale Premium heatsink which mounts onto the CPU directly. The mounting pad for the retention clip is a little too open, so it can allow the heatsink to 'slide' during installation if you're not carefull.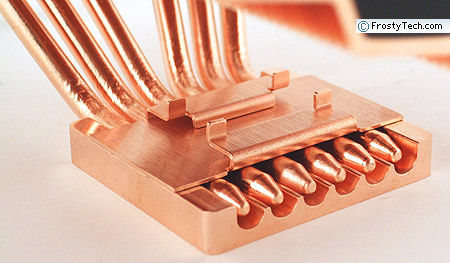 Heatsink Installation
DeepCool's Killer Whale Premium heatsink is compatible with Intel socket 775/1366 and AMD socket 754/939/940/AM2/AM2+ processors. The heatsink comes with a rear-motherboard support bracket, a couple of plastic posts for Intel 775/1366 motherboards, and upper metal plates to firmly hold the 1.225kg heatsink in position on the CPU.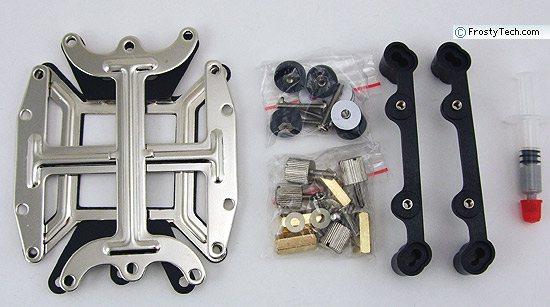 It's a bit of a messy collection of hardware, but with heavy heatsinks like this you want the cooler to remain attached above all else.
FrostyTech's Test Methodologies are outlined in detail here if you care to know what equipment is used, and the parameters under which the tests are conducted. Now let's move forward and take a closer look at this heatsink, its acoustic characteristics, and of course its performance in the thermal tests!