Gigabyte recently stopped by to deliver a briefing on some unreleased products when the topic shifted to box art. Have you ever stopped and looked at the graphics wrapping a heatsink box, videocard or motherboard packaging? It's safe to say that what works in Asia is often puzzling to North American senses, and the opposite can be quite true too.
The light hearted conversation addressed the global challenges of big swords, robot armadas, crazy looking female characters riding dragons and similarly fantastic graphics. Dragons for example are a good luck symbol in Asia, but not at all in some former Soviet republics. Bikini-clad women riding dragons with huge Anime swords get blacked out in middle eastern countries, and most North Americans are just left scratching their heads at it all. That got me wondering exactly what Beijing based DeepCool is trying to represent with the fan on the DeepCool Killer Whale heatsink... a ninja star? Space ship? The the submersible hideout from James Bond's The Spy Who Loved Me?
In any case, Beijing Aeolus Science and Trade Co. Ltd are the folks behind the new thermal solutions brand - DeepCool. So far Frostytech has seen encouraging results from this companies CPU coolers, so don't let an unfamiliar brand stop you from checking out the synthetic thermal test results for yourself.
Okay, onto matters of substance.
DeepCool's Killer Whale heatsink is a top-down cooler built around two critical things. It has a hefty solid copper heat spreader (base) onto which six 6mm diameter heatpipes have been soldered, and a large and potentially very quiet 48mm thick 120mm PWM fan that spins at 1000-1800RPM. The fan moves approximately 78CFM, while generating at most 53.5 dBA and at least a whisper quiet 34.8 dBA. The Killer Whale stands 140mm tall and weighs a hefty 900 grams, but if you were to replace the fan with a more compact 120mm model that height could be as little as 92mm + fan thickness.
DeepCool Killer Whale Heatsink

---

heatsink specsheet
manufacturer: deepcool
model no.: killer whale
materials: aluminum fins, copper base cap, copper heatpipes
fan mfg: n/a
fan spec: 1000-1800rpm, 12v, 0.22a
fan airflow: 78 cfm
fan dim: 48x120x120mm
heatsink & fan dim: 140x143x156mm
weight: 900 grams
includes: mounting brackets, thermal compound, instructions

---

Compatible with Sockets:
AMD - 754/939/940/AM2/AM3
Intel - 775/1366
Est. Pricing: $47USD ($47CDN)
The DeepCool Killer Whale is compatible with Intel socket 775/1366 and AMD socket 939-to-AM3 processors. As of this writing Intel Core i5 LGA1156 processors are not supported. The fan is mounted to the aluminum fins with rubber vibration absorbing posts, and you guessed it, the top detail is illuminated with blue LEDs.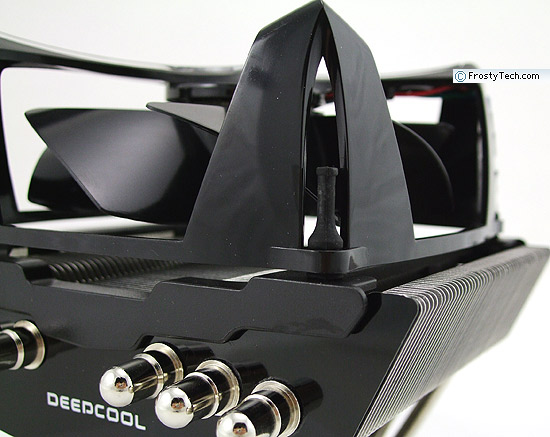 The 120mm diameter PWM fan is moderately loud at full speed (53 dBA) and whisper quiet when operating at 1000RPM, it's lowest speed setting. Suspended fans tend to run quieter, but the orientation can mean the aluminum fins end up filtering out a lot of dust. It's a good idea to check for dust buildup every 6 months, or when you start to notice the fan running at a consistently higher speed than it used to.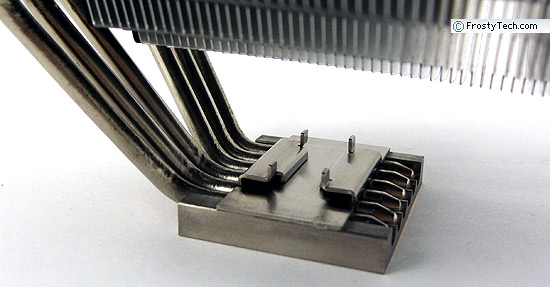 The six heatpipes are soldered to the 8.5mm thick copper base block of the DeepCool Killer Whale heatsink which mounts onto the CPU directly. The mounting pad for the retention clip is a little too open for our tastes, which can lead to the heatsink 'sliding around' during installation.
Heatsink Installation
DeepCool's Killer Whale heatsink is compatible with Intel socket 775/1366 and AMD socket 754/939/940/AM2/AM2+ processors. The heatsink comes with a rear-motherboard support bracket, a couple of plastic posts for Intel 775/1366 motherboards, and upper metal plates for firmly holding the 900 gram cooler in place.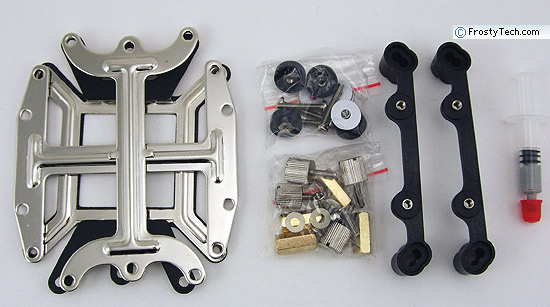 It's a bit of a messy collection of hardware, but with heavy heatsinks like this you want the cooler to remain attached above all else.
FrostyTech's Test Methodologies are outlined in detail here if you care to know what equipment is used, and the parameters under which the tests are conducted. Now let's move forward and take a closer look at this heatsink, its acoustic characteristics, and of course its performance in the thermal tests!