Researchers from Texas A&M University recently developed a prototype surface treatment applicable to thin metal fins like those used on the DeepCool IceWing 5 Pro heatsink, reportedly improving thermal efficiency by as much as 10%. If the claims of Texas A&M hold true it, and it's commercialized, it could be a boon for the industry. The reason being, virtually all heatsinks these days are built with 0.3mm thick metal fins. Intel has of course kept to its radially curved bifurcated fin thermal platform, and energy efficient AMD processors don't require coolers much more complicated than those first shipped with K8 CPUs.
Regardless of this, any advance in the transmission of heat from thin metal fins to surrounding air mass will offer a much needed edge to those manufacturers that wield it. In a crowded heatsink market, differentiation is key to survival.
Today however the focus is on another technology which has seen broad adoption: exposed heatpipe bases. Like natural evolution, this thermal design technique took hold and displaced heavy copper heatspreaders about two years ago. The result is a market filled with exposed heatpipe base CPU coolers, mostly in tower form. The DeepCool's IceWing 5 Pro is however a 'suspended heatsink', which is good because it lowers total height to a moderate 131mm.
Beijing based DeepCool is likely new to most North American readers, so take a stroll over to this review for another example of its products. The IceWing 5 Pro heatsink is compatible with Intel socket 775/1366 and AMD socket 939-to-AM3 processors. It features five 6mm diameter copper heatpipes, stands 131mm tall and weighs roughly 670 grams. A cherry red, 38mm thick, 120mm diameter fan is suspended from an open fan frame in much the same fashion as Arctic Cooling coolers. The fan is mounted to the aluminum fins with rubber vibration absorbing posts.
DeepCool IceWing 5 Pro Heatsink

---

heatsink specsheet
manufacturer: deepcool
model no.: icewing 5 pro
materials: aluminum fins & base cap, copper heatpipes
fan mfg: n/a
fan spec: 1000-1800rpm, 12v, 0.2a
fan airflow: 66 cfm
fan dim: 38x120x120mm
heatsink & fan dim: 131x143x147mm
weight: 672 grams
includes: mounting brackets, thermal compound, instructions

---

Compatible with Sockets:
AMD - 754/939/940/AM2/AM3
Intel - 775/1366
Est. Pricing: $30USD ($30CDN)
Essentially, the DeepCool IceWing 5 Pro is a no-frills heatsink that follows in the footsteps of a many successful heatsinks before it, in terms of noise reduction tools and thermal design. It'll be interesting to see where it stands on Frostytech's synthetic thermal test platforms, so let's begin!

The 120mm diameter fan is PWM compliant and spins at 1000-1800RPM. In real world terms that translates into noise levels of between 38 and 53 dBA. Suspended fans tend to run quieter, but the orientation can mean the aluminum fins end up filtering out a lot of dust.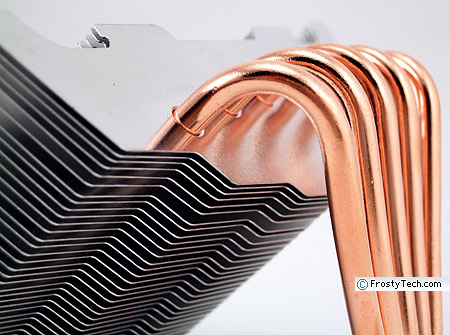 Heatpipes that bend sharply can be orientation specific, or not. The first round of testing on the 150W Intel synthetic test platform with the IceWing 5 Pro was in fact a little off, but after bending the top of the heatsink up slightly (so it was horizontal, rather than angled downward towards the opposite side of the heatpipes) the results became consistent. It's not uncommon for unsupported heatsinks to bend a little during shipping, so bear that in mind. If in doubt, mount the heatsink with the heatpipes running horizontally.
Heatsink Installation
DeepCool's IceWing 5 Pro heatsink is compatible with Intel socket 775/1366 and AMD socket 754/939/940/AM2/AM2+ processors. The heatsink comes with a rear-motherboard support bracket, a couple of plastic posts for Intel motherboards, and an upper metal plate that is used to hold the cooler in position.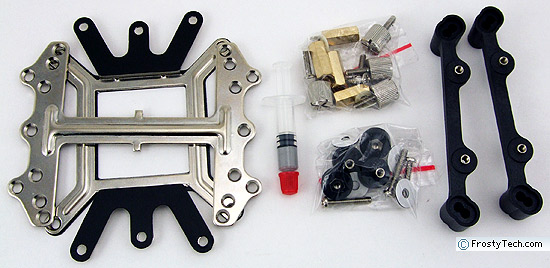 It's a bit of a messy collection of hardware, but with top heavy heatsinks like this you want the cooler to stay firmly in place.
FrostyTech's Test Methodologies are outlined in detail here if you care to know what equipment is used, and the parameters under which the tests are conducted. Now let's move forward and take a closer look at this heatsink, its acoustic characteristics, and of course its performance in the thermal tests!