The Scythe Big Shuriken is actually a really small heatsink, well not so much tiny as low profile. From the CPU to the top of the fan, the Big Shuriken measures a scant 57mm tall. That's not a whole lot of space to cram in a heatsink, but somehow Scythe have packed in four 6mm diameter heatpipes, 60 or 70 razor thin aluminum fins and a 120mm fan.
Low profile heatsinks are classed in one of three different sizes; 3U (slim cases) 110mm or less in height, 2U (low profile cases) 75mm or less in height and 1.5U (HTPC, miniITX type cases) which are less than 45mm tall. 1U heatsinks exist too, but they are often dependent on forced air and rarely sold as stand alone coolers.
Weighing at just 405 grams the Scythe Big Shuriken (SCBSK-1000) heatsink features four 6mm diameter copper heatpipes, a 10mm thick 119x119mm square section of aluminum cooling fins, a copper base plate and a 120mm PWM fan that spins at leisurely 900-1600 RPM. The heatsink stands less than 75mm tall, so it's firmly in the 2U class and just a bit too big for 1.5U miniITX situations. The 12mm thick fan has 11 impeller blades and is rated for 38 CFM at maximum speed.
Scythe's Big Shuriken heatsink is compatible with Socket 478, 775/1156/1366 Intel processors, and the entire AMD processor family from socket 754/939 through to AM2/AM3. It retails for about $35 bucks at places like QuietPC.
Scythe Big Shuriken Heatsink

---

heatsink specsheet
manufacturer: scythe
model no.: zipang 2 (scbsk-1000)
materials: nickel plated aluminum fins & base cap, copper heatpipes and base plate
fan mfg: scythe sy1212sl12m-p
fan spec: 900-1600rpm, 12v, 0.19a
fan airflow: 16-38 cfm
fan dim: 12x120x120mm
heatsink & fan dim: 57x125x135mm
weight: 405 grams
includes: mounting brackets, thermal compound, instructions

---

Compatible with Sockets:
AMD - 754/939/940/AM2/AM3
Intel - 487, 775/1156/1366
Est. Pricing: $35USD ($40CDN)
The construction of the Scythe Big Shuriken is pretty simple, but the parts are so thin it's amazing the heatsink is able to work at all. The four 6mm diameter copper heatpipes loop around the CPU base plate and are soldered on one side only to a very thin, 10mm thick panel of cooling fins.
The fan Scythe SY1212SL12M-P fan is slightly larger than all the cooling fins, which are just 10mm thick. Because of the positioning of the aluminum cooling fins air from the 120mm fan is exhausted downward and onto adjacent motherboard components, for added cooling benefit.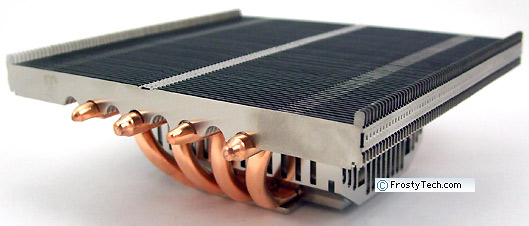 Heatsink Clips and Brackets
The Intel mounting clips supplied with the Scythe Big Shuriken heatsink are designed with push-to-click pin that slide along a channel in the bracket and therefore accommodate both Intel LGA 775 and LGA 1366 hole spacings. Since socket 775, 1156, 1366 mounting holes are spaced 72mm, 75mm and 80mm respectively, the hardware supplied with the Big Shuriken heatsink is unofficially compatible with Intel Core i5/i3 socket 1156 processors as well.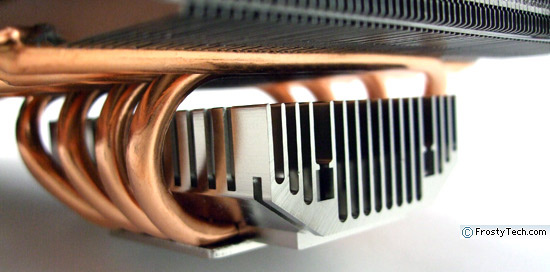 Scythe CPU clips are pretty straight forward; there are three pairs of clips, one for socket 775/1156/1366, another pair for socket 478, and the last for all AMD K8 processors (754/939/AM2/AM3). The clips lock into the side of the base cap heatsink without the use of any tools, and are removable by the same means.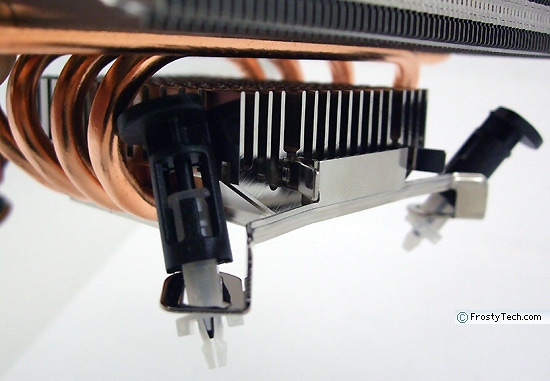 For Intel processors the company relies on the standard Intel push-to-click Intel C33389 reference fastener. For older generation Intel CPUs, we even find a set of brackets for socket 478. All four generations of AMD CPUs are serviced by one cam lever clip that engages on the central lug of the AMD heatsink retention frame. Of all the heatsinks FrostyTech has reviewed recently, this interchangeable clip system is the most convenient. The heatsink is held on firmly and the appropriate amount of clamping pressure is applied - what more could you ask for?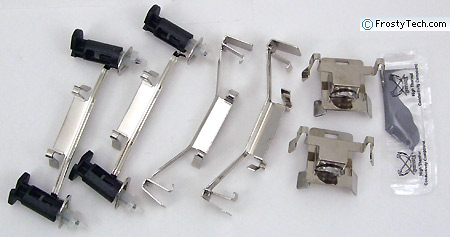 FrostyTech's Test Methodologies are outlined in detail here if you care to know what equipment is used, and the parameters under which the tests are conducted. Now let's move forward and take a closer look at this heatsink, its acoustic characteristics, and of course its performance in the thermal tests!