Kingwin's XT-1264 is the first tower-style heatsink to pass through the Frostytech test labs which incorporates asymmetrical "U" shaped heatpipes. In other words the heatpipes are not even, rather one length of each vertical heatpipe is 30mm shorter than the opposite. The lop-sided ends are alternated so that heat distribution is equal, but that still isolates 50% of the top inch of aluminum fins from any sort of heat conduction. Whether this is part of an innovative thermal approach or not, all is certainly not what it seems with the Kingwin XT-1264 heatsink.
From the outside you'd be hard pressed to notice anything particularly different. The top of the heatsink is a solid aluminum fin, so the true nature of the one-leg-shorter-than-the-other heatpipes are obscured. And yet, while there is less heatpipe where it's expected, the XT-1264 has additional cooling fins where there normally isn't anything. Compensation seems to be the word of the day as thermal performance results for the XT-1264 do keep it competitive (see page 4, 5 of this review). Bearing that in mind, we have to wonder if Kingwin could have just cut the height of the XT-1264 down to 130mm in the first place...
In any case, the Kingwin XT-1264 heatsink is another in the long line of exposed heatpipe base coolers. It stands 150mm tall, weighs a moderate 467 grams and is built around four 6mm diameter copper heatpipes. A 120mm PWM capable of spinning at 700-2300RPM is supplied, along with mounting brackets for Intel socket 775/1366 and AMD 939/AM2/AM3 processors. As of this writing socket 1156 Core i5/i3 CPUs are not supported.
Kingwin XT-1264 Heatsink

---

heatsink specsheet
manufacturer: kingwin
model no.: xt-1264
materials: aluminum fins & base cap, copper heatpipes
fan mfg: kingwin ad0912hx-a7bgl
fan spec: 700-2300rpm, 12v, 0.3a, pwm
fan airflow: 28-101 cfm, 0.3-3.9mmh20
fan dim: 25x120x120mm
heatsink & fan dim: 150x120x76mm
weight: 467 grams
includes: mounting brackets, thermal compound, instructions

---

Compatible with Sockets:
AMD - 754/939/940/AM2/AM3
Intel - 775/1366
Est. Pricing: $35USD ($36CDN)
Heatpipe direct touch, or exposed heatpipe base heatsinks are dead common these days because the technique has proven so effective. Kingwin are calling it "Heatpipe Touch Chip" but the technique is the same, the heatsink makes direct contact with the processor.
With the Kingwin XT-1264, what stands out most are the additional fins and peg-fins situated below the main body of the heatsink. There are nine aluminum pegs coming out of the base of the heatsink, each measuring ~4x4x30mm and intersecting a collection of 75x43mm aluminum fins.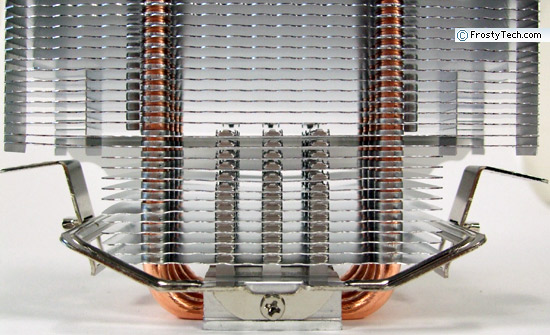 The four copper heatpipes pass through the aluminum cooling fins as well, then upward into the 110mm tower. With the 120mm fan mounted as low as possible on the XT-1264, it's even possible to get a little forced airflow over this region.
Heatsink Installation
Kingwin's XT-1264 heatsink is compatible with Intel socket 775/1366 and AMD socket 754/939/940/AM2/AM3 processors. The heatsink has one common clip attached to the base which operates in a tool free manner. The clip is designed with AMD socket 939/AM2 CPUs in mind, so for Intel processors you'll need to dig out the screwdriver. Two sets of Intel push-to-click mounting brackets are supplied, one for Core 2 Duo (LGA775) processors and the other for Core i7 (LGA1366) CPUs.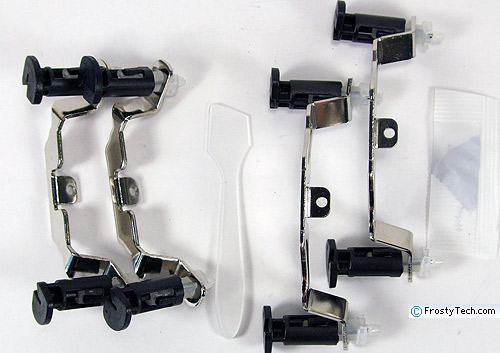 Two screws remove the AMD mounting bracket and hold the Intel brackets in position. While a great many readers have expressed negative comments on Intel's plastic retention mechanism, with a heatsink weighing only 467 grams these push-to-click clips are more than adequate and very expedient to use. Kingwin also supply a small blister pack of thermal compound and spatula for spreading it.
FrostyTech's Test Methodologies are outlined in detail here if you care to know what equipment is used, and the parameters under which the tests are conducted. Now let's move forward and take a closer look at this heatsink, its acoustic characteristics, and of course its performance in the thermal tests!