3Rsystem's Iceage 90 heatsink is built around the popular "heatpipe direct touch" technique that so very many heatsinks on the market today rely on. The only difference is that this mid-compact heatsink stands just 115mm tall, instead of 165mm, making it suitable for PC chassis that can't accommodate much more than a 92mm fan above the CPU socket.
In any event, if the Iceage 90 is flipped over you'll discover three 6mm diameter copper heatpipes swagged into a substantial aluminum base and milled flat. This permits direct heat conduction directly between the CPU and heatpipes. The heatpipes in turn conduct that heat to a 92mm tall tower of aluminum fins.
The 3Rsystem Iceage 90 heatsink FrostyTech is reviewing today supports a single 92mm PWM fan that operates at 2200RPM (a fan speed controller is included). The Iceage 90 weighs a moderate 378grams and installs onto Intel socket 775 and AMD socket 754/939/940/AM2/AM3 processors. It is rated for processors with a TDP of up to 140 Watts.
3Rsystem Iceage 90 Heatsink

---

heatsink specsheet
manufacturer: 3rsystem
model no.: iceage 90
materials: aluminum fins, copper heatpipes, aluminum base with exposed heatpipes.
fan mfg: n/a
fan spec: 2200rpm, 12v, 0.13a
fan dim: 25x92x92mm
heatsink & fan dim: 115x92x75mm
weight: 378 grams
includes: multi-socket socket mounting hardware, thermal compound, fan speed controller, instructions

---

Compatible with Sockets:
AMD - 754/939/940/AM2/AM3
Intel - LGA775
Pricing: $40USD ($43CDN)
The base of the 3Rsystem Iceage 90 is made up of this sheets of aluminum bonded together, with the three 6mm diameter copper heatpipes positioned along the center.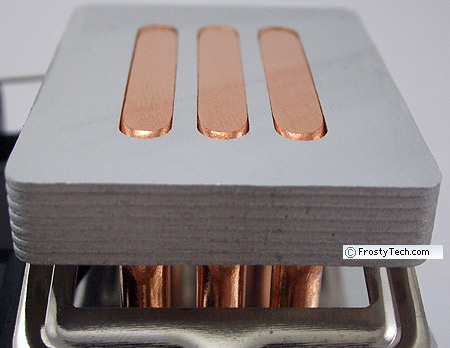 The heatsink mounts to both Intel and AMD motherboards using the permanently affixed bracket. A special plastic retention frame is installed on Intel motherboards to gives the 3Rsystem Iceage 90 something to clip onto. The system is simple and completely tool free.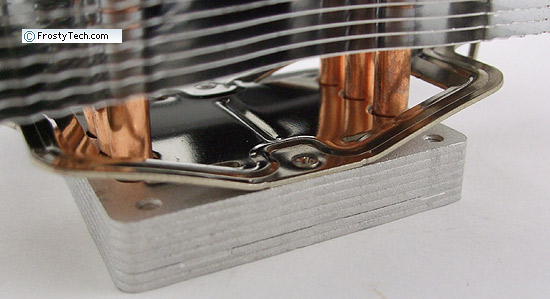 The 3Rsystem Iceage 90 heatsink ships with brackets for Intel LGA775 and AMD 754/939/940/AM2/AM3 processors. The black plastic bracket pictured below is used on Intel 775 motherboards, using push-to-lock type clips. The heatsink then attaches to the bracket to hold it in position. A PCI bracket fan speed controller can be used if desired.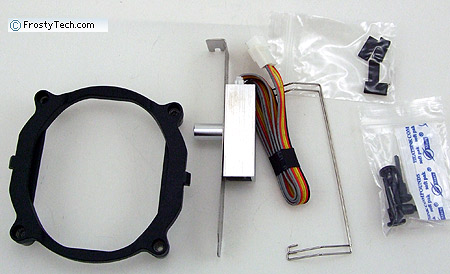 A single set of wire fan clips are supplied, along with some rubber vibration absorbing pads to place between the fan and aluminum fins.
Base Finish and Flatness
Flipping a heatsink over to inspect the business end is often a simple indicator of overall cooler quality. More practically speaking, a heatsink is in many ways only as effective as the contact it makes with the processor - the flatter and smoother the better. Base finish is one of the criteria that Frostytech measure in the course of evaluating heatsinks, and it involves two distinct aspects. Surface Finish is the first; this is calculated with the aid of Surface Roughness Comparator that has a cross section of common machine surface finishes and their numerical surface roughness equivalents in microinches. The second is Surface Flatness. This is tested with an engineers straight edge or proven flat surface, in two axis.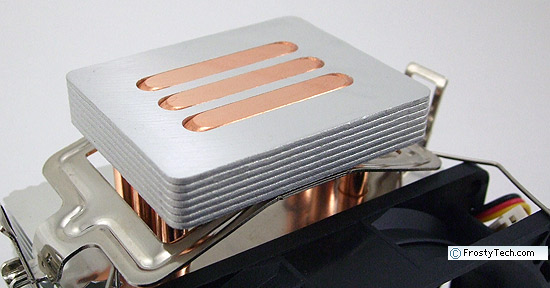 The 3Rsystem Iceage 90 heatsink has a surface roughness of approximately 32 microinches, which is considered good. The base is machined perfectly flat in both axis, but has a slight grooved finish from the tooling. The copper and aluminum parts are flush.
FrostyTech's Test Methodologies are outlined in detail here if you care to know what equipment is used, and the parameters under which the tests are conducted. Now let's move forward and take a closer look at this heatsink, its acoustic characteristics, and of course its performance in the thermal tests!