Once you get past the dark nickel plated aluminum fins that overlap on multiple levels, resembling some sort of future-fantastic piece of hardware from the Dark Knight, what really makes the Xigmatek Thor's Hammer heatsink tick are its stacked heatpipes. Yes, stacked heatpipes. In other words, sitting just atop the row of 8mm exposed heatpipes at the base of the cooler is a second row of 6mm diameter heatpipes.

As you likely know, direct contact heatpipes allow heat energy to be efficiently conducted from the CPU to the aluminum fins without first having to pass through a secondary heat spreader. By omitting the secondary heatspreader (typically a copper pad heatpipes get soldered to), an entire layer of thermal joint resistance is removed from the equation.

The additional layer of thin heatpipes on top of the primary set, theoretically takes up the slack by filling in the spaces in between. Stacked heatpipes; a viable thermal dynamics tool or ineffectual fad? We'll see...

Standing 157mm tall, Xigmatek's Thor's Hammer heatsink tips the scales at 800 grams and has a rather boxy footprint of 120 x 116mm. It accomodates one or two 120mm fans that mount to the fins with special rubber vibration absorbing posts. No fans are supplied with the Xigmatek S126384 heatsink, allowing users to pick a high speed 120mm fan or ultra quiet model of their liking. For the purposes of Frostytech's tests, a 120mm Mechatronics G1225S12B fan that spins at 1500RPM will be used.

The Xigmatek Thor's Hammer heatsink can be installed on Intel Core 2 Duo socket 775, Core i7 1366 and the entire family of AMD Athlon/Phenom socket 939/AM3 processors. Retail price is approximately $70 USD/CDN.
Xigmatek S126384 Thor's Hammer Heatsink

---

heatsink specsheet
manufacturer: xigmatek
model no.: s126384 thor's hammer
Materials: dark nickel plated aluminum fins & base, copper heatpipes
Fan Mfg: N/A
Fan Spec: N/A
Fan Dim: 25x120x120mm
Heatsink & Fan Dim: 157x120x116mm
Weight: 800 grams
Includes: Mounting brackets, thermal compound, instructions

---

Compatible with Sockets:
AMD - 754/939/940/AM2/AM2+/AM3
Intel - 775
Est. Pricing: $62USD ($70CDN)
Xigmatek opt for four 8mm diameter copper heatpipes swagged into the heatsink's aluminum base block, as you can see below. In the space between each (consisting of 2mm wide strips of aluminum), heat is conducted to three additional 6mm diameter heatpipes.
Exposed heatpipe base heatsinks work best with processors that have thick integrated heatspreaders and even heat distribution over the entire CPU IHT surface area. They can encounter problems when heat is localized too directly, such as if only one or two heatpipes receive the bulk of heat from the CPU. It will be interesting to see what, if any, impact the three additional copper heatpipes make.
Generally speaking, four 8mm heatpipes ought to have sufficient capacity to conduct heat from a 150W Intel/AMD processor to the aluminum fins of the Xigmatek Thor's Hammer heatsink. Adding more mass to the base may simply 'sink' the heat to an area with little or no airflow passing by it.
If the HDT-S126384 heatsink is designed properly, it should be more efficient to move the heat energy to the thin aluminum fins which have significant surface area, than conduct it via relatively inefficient 4.5mm tabs of aluminum to a small 83x61mm triple-fin tab (see picture above) under the main cooling fins.
The nickel plated aluminum fins on the Thor's Hammer heatsink have overlapping leading and trailing edges to break up the profile of the tower where impingement airflow is concerned. This can make it easier for low pressure airflow to pass through the fins. Given the option between raw aluminum fins and nickel plated fins, Frostytech would opt for the former.
The notches pictured above are for the rubber tabs to latch into. Xigmatek rely upon the same little rubber posts for all of its heatsinks. Personally, we prefer wire fan clips with some sort of elastomer between the fan and fin tower.
Heatsink Installation
Xigmatek's S126384 Thor's Hammer heatsink is compatible with Intel socket 775/1366 and AMD socket 754/939/940/AM2/AM3 processors. The heatsink comes with one metal support bracket for the back of Intel 775/1366 motherboards that requires the board to be removed from the PC case for installation. Upper metal clips make subsequent CPU swaps more straightforward.
AMD platforms make use of the standard AMD heatsink retention cage. A simple cam-lever-arm clip applies the necessary claming force to keep the HDT-S126384 heatsink in position. Tool free installation is always nice, but given that this heatsink weighs upwards of 800grams, a slightly more robust AMD mounting bracket would have been wise...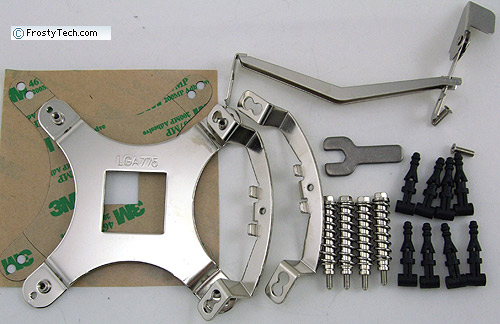 Instead of wire fan clips, Xigmatek opt for rubber vibration absorbing posts which tie into the fins to firmly hold a 120mm fan in position. One or two 120mm fans can be mounted to the heatsink (fan not included).
FrostyTech's Test Methodologies are outlined in detail here if you care to know what equipment is used, and the parameters under which the tests are conducted. Now let's move forward and take a closer look at this heatsink, its acoustic characteristics, and of course its performance in the thermal tests!