I can't think of a single recently released heatsink that's made in North America. Not one, not that it really matters. And yet many PC enthusiasts fixate on heatsink makers that have established brand recognition in North American computer stores; names like Thermalright, Thermaltake, Coolermaster or Zalman ... and ignore everything else.
The funny thing is, lesser known heatsink makers can often be the OEM manufacturers Tier One brand names turn to for production, so it really pays to consider the whole field. That brings us to a company called DeepCool which operates from Bejing, China.
Frostytech has been aware of this company for years under its old moniker 'Aeolus', but it wasn't until recently that Shenzhen Xinquansheng Industry and Trade Co., Ltd. (as the company is officially registered) tossed its hat into the performance after market CPU cooler ring with the name Deep Cool. The only things you ought to know are that the company is an Intel/AMD partner, has been in operation since 1996 and is ISO9001:2000 registered. On a side note, Frostytech travelled to Shenzhen last year for a couple factory tours after the annual Computex trade show in Taiwan, and it was particularly enlightening to witness the sheer manufacturing capacity of factories located in that neck of the world.
Anyway, DeepCool's IceBlade Pro heatsink is Xigmatek-esq looking exposed heatpipe base CPU cooler with a dark nickel plating over every inch. The IceBlade Pro is built around four 8mm diameter copper heatpipes which conduct heat to the aluminum cooling fins above. Exposed heatpipe heatsinks are good with CPUs that have large integrated heat spreaders and large silicon die's below (to spread the heat around).
One or two 120mm fans can be mounted to either side of the cooler, and rubber vibration absorbing posts are supplied along with extra fan clips. A single 120mm PWM fan that operates at 900-1500RPM is supplied. Airflow is rated at 60CFM by the manufacturer. The 929 gram Deep Cool IceBlade Pro heatsink stands 155mm tall and is compatible with Intel socket 775/1156/1366 and AMD socket 754/939/940/AM2/AM3 processors.
DeepCool Ice Blade Pro Heatsink

---

heatsink specsheet
manufacturer: deepcool
model no.: ice blade pro
materials: dark nickel-plated aluminum fins, copper heatpipes and base plate.
fan mfg: n/a
fan spec: 1000-150rpm, 12v, 0.45a
fan dim: 25x120x120mm
heatsink & fan dim: 155x126x100mm
weight: 929 grams
includes: multi-socket mounting hardware, thermal compound, instructions

---

Compatible with Sockets:
AMD - 754/939/940/AM2
Intel - LGA775/1156/1366
Est. Pricing: $60USD ($60CDN)
The 120mm PWM fan is held in place on the aluminum fins of the Deep Cool IceBlade Pro heatsink with a pair of wire fan clips. Four white rubber vibration absorbing pads prevent rattling noises. These fit through the standard screw holes in the fan frame and keep the fan elevated ~1.0mm from the metal. The fan itself is illuminated with a couple LEDs placed around the perimeter.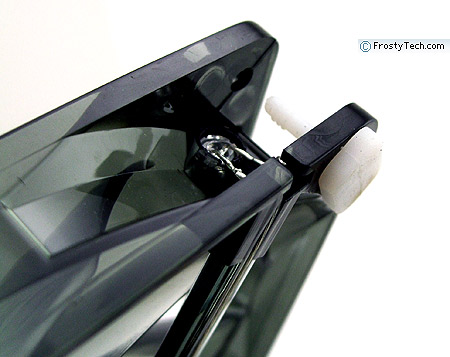 120mm fans can be attached to either side of the Deep Cool IceBlade Pro heatsink using the wire fan clips.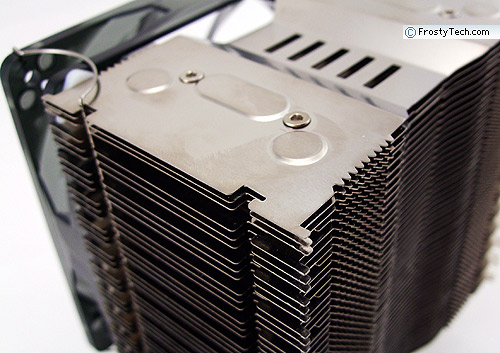 Brackets and Mounting Hardware:
The Deep Cool IceBlade Pro heatsink ships with brackets for LGA775/1156/1366 and AMD K8 processors (754/939/940/AM2/AM3 respectively). Installation isn't too difficult, but you will have to remove the motherboard to position a metal support plate behind the CPU socket. The Deep Cool IceBlade Pro weighs almost a kilogram, so it's worthwhile to have a firm installation procedure.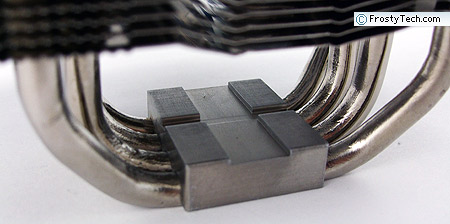 The slot keeps the heatsink from sliding around once the cross bracket is placed.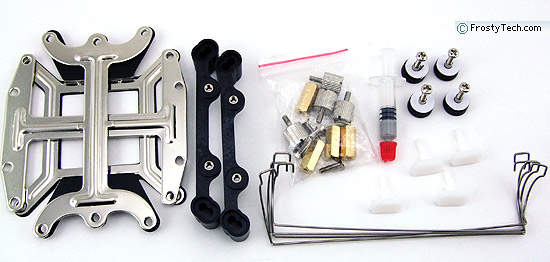 FrostyTech's Test Methodologies are outlined in detail here if you care to know what equipment is used, and the parameters under which the tests are conducted. Now let's move forward and take a closer look at this heatsink, its acoustic characteristics, and of course its performance in the thermal tests!