The Thermaltake ISGC-200 heatsink reminds me a lot of the Auras SMF-660 cooler Frostytech reviewed last year. Both have the same basic shape, the same number of heatpipes, and the same odd 2mm thick copper base plates....
Now historically speaking, heatsinks that sandwich a fan between two sets of aluminum fins have had mixed thermal results. Some coolers perform well, others not so much. There's really no way to predict the outcome, which is why you've done the smart thing by reading a couple reviews before you spend a cent!
At the heart of the Thermaltake ISGC-200 heatsink is a glossy white impeller that vaguely resembles the petals of a daisy. The tips of the fan blades have a little notch taken out, supposedly this reduces noise by 3% too.
The ISGC-200 heatsink itself stands 140mm tall, weighs 470 grams and accommodates one 92mm PWM fan that spins at 600~1600 RPM. If I didn't know better I'd say the ISGC-200 was released for Intel's new socket 1156 formfactor processors, except that it isn't actually compatible with these chips at all. Instead it supports AMD 939-through to-AM3 and Intel 775 processors.
Thermaltake ISGC-200 Heatsink

---

heatsink specsheet
manufacturer: thermaltake
model no.: isgc-200
materials: aluminum fins & base cap, copper heatpipes and baseplate
fan mfg: thermaltake ttb922512hs
fan spec: 600-1600rpm, 12v, 0.37a
fan dim: 25x92x92mm
heatsink & fan dim: 140x95x88mm
weight: 475 grams
includes: mounting brackets, thermal compound, instructions

---

Compatible with Sockets:
AMD - 939/940/AM2/AM3
Intel - 775 (NOT 1156/1366)
Est. Pricing: $29USD ($29CDN)
As we saw with the Coolermaster Hyper TX3 heatsink, a lot more attention is being devoted to fan blades these days. The Thermaltake ISGC-200 heatsink comes with fan that has beautiful glossy white fan blades shaped like the fins of a whale. The fan motor used Hydro Dynamic Bearings to decrease noise and improve lifespan (MTBF 50,000 hours), always a nice touch.
Hydro Dynamic Bearings are actually a lot more familiar then they might sound. The technology is basically a sleeve bearing with axial grooves that cause layers of lubricant to build up at equidistant points around the rotating motor shaft. The shaft is buffered between the lubricant and the wall of the sleeve bearing, so metal-to-metal contact is diminished and lifespan increased. The Thermaltake TTB922512HS fan moves about 37CFM according to the manufacturer's specs.
Heatsink Clips and Brackets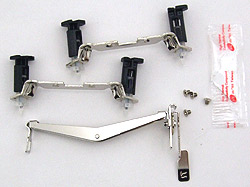 Thermaltake's ISGC-200 heatsink heatsink is compatible with Intel socket 775 and AMD socket 754/939/940/AM2/AM2+/AM3 processors. The heatsink comes with a set of Intel push-to-click mounting brackets which screw into the base of the heatsink, and an AMD K8 mounting bracket that uses a cam lever to apply pressure.
Intel LGA1156 and LGA1366 processors are not supported.
The ISGC-200 heatsink accomodates one 92mm fan, held in place with wire fan mounting clips.
FrostyTech's Test Methodologies are outlined in detail here if you care to know what equipment is used, and the parameters under which the tests are conducted. Now let's move forward and take a closer look at this heatsink, its acoustic characteristics, and of course its performance in the thermal tests!