While we tend to agree that stock coolers shipped with ATI and nVidia videocards are entirely fine for the job at hand, they can have a couple down sides. In trying to keep the videocard footprint as thin as possible, an awful lot of cooling is crammed into a very small space. This can lead to noisy PWM-fan syndrome as it spins up and down... and up and down... every time the GPU is the least bit stressed. Super-thin stock VGA heatsinks often use squirrel cage fans to move air through compact arrangements of fins, which if your PC sits on the floor, quickly transforms your graphics cruncher in to the world's most expensive dust buster.
After market videocard heatsinks can help, mostly because they tend to be made to either cool better, or are large and quiet and can be easily cleaned out. In other words, VGA heatsinks like the Evercool VC-RHE Formula 2 don't sacrifice quiet for the sake of compactness.
The Evercool VC-RHE Formula 2 weighs in at 232 grams, stands 35mm above the GPU (it will occupy one additional PCI slot worth of space) and uses a single 80mm fan to quietly keep a broad range of mainstream videocards running cool. The installation process is remarkably straightforward, just four spring-tensioned screws hold the cooler in position. The Evercool VC-RHE Formula 2 VGA heatsink retails for about $20USD ($21CDN), and as you'll soon see it offers one distinct advantage.
Evercool VC-RHE VGA Heatsink

---

HEATSINK SPECSHEET
Manufacturer: Evercool
Model No.: VC-RHE Formula 2

Materials: Aluminum fins, nickel-plated copper heatpipes, copper base

Fan Mfg: n/a
Fan Spec: 3000RPM, 12V, 0.14A
Fan Dim: 10x80x80mm
Heatsink & Fan Dim: 35x107x150mm
Weight: 232 grams
Includes: thermal compound, mounting hardware, instructions, fan power adaptor

---

Compatible Videocards: various ATI/nVidia models with four through-PCB holes around the GPU spaced 53.3mm apart.
Est. Pricing: $20USD ($21CDN)
Since the aluminum cooling fins on the Evercool VC-RHE Formula 2 VGA heatsink float above the videocard, air is exhausted out directly toward the videocard's onboard memory. BGA memory can generate a fair amount of heat, so in essence the Evercool VC-RHE Forumla 2 VGA heatsink keeps a fan constantly blowing (relatively cool) air in the direction of the memory.
Videocard Compatibility
The VC-RHE VGA heatsink is compatible with most Geforce 6/7/8/9-series and Radeon X1800XT/X1950Pro, HD2600XT, HD3850 videocards. nVidia Geforce 8800Ultra/GTS/GTX models are not compatible, so the best way to know for certain is measure the four holes surrounding the GPU. This is easily done by flipping over the videocard and measuring from the center of one screw, to the next.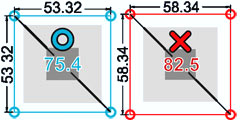 If the distance is 53.3mm the Evercool VC-RH3 VGA heatsink will fit. If the distance is 58.3mm, it will not.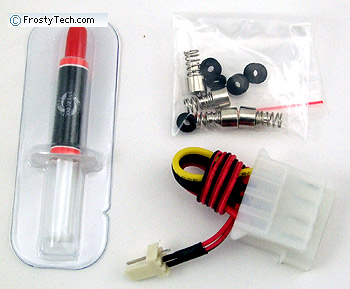 Surface Finish Comparator Notes: Flatness and Finish
Surface finish is an important factor that we all look for when holding a new heatsink. Flipping a cooler over to see how well the base has been machined is a quick way to judge the attention to detail that was put into making it. The following test involves the use of a Surface Roughness Comparator, which offers a concise cross section common machine surface finishes.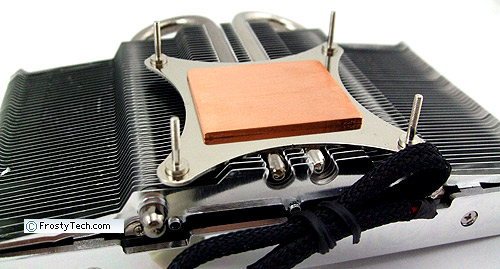 The base of the Evercool VC-RHE Formula 2 VGA heatsink has a surface roughness of approximately ~16 microinches, and is completely flat in both axis.
FrostyTech's new Test Methodology is outlined in detail here if you care to know what equipment is used, and the parameters under which the tests are conducted. Now let's move forward and take a closer look at this VGA heatsink, its acoustic characteristics, and of course it performance in the thermal tests!