Thanks to a fast 120mm fan that moves more air per minute than comparably built heatsinks, the Sunbeamtech Core-Contact Freezer has remained a dominant force on Frostytech's Top 5 Heatsinks chart for several months now. In this review however, Frostytech is testing the 92mm edition of the Core-Contact Freezer. It doesn't stray too far from the mold, offering a compact footprint for those times when a 120mm fan is just too darn big.
Clearly in an ode to Gelid Solutions, Sunbeamtech has adopted the dimpled surface texture first pioneered by the Silent Spirit heatsink onto the surface of this heatsinks' thin aluminum fins. In all other respects the Sunbeam Core-Contact Freezer 92mm Edition is essentially a shrunken down version of its namesake. It will no doubt satisfy users looking for a sub-125mm tall cooler for compact PC cases.
Sunbeamtech's Core-Contact Freezer 92mm heatsink stands 122mm tall, measures 97mm across and accommodates one or two 92mm fans. The heatsink ships with a single fan mounted on rubber vibration absorbing posts that spins at 1,200~2,200 RPM, extra rubber mounting posts are supplied. The all aluminum construction, apart from four 6mm copper heatpipes exposed at the base, keeps weight down to a feathery 272 grams. Expect to pay about $28 bucks for the 92mm version of the Core-Contact Freezer at stores like CrazyPC, $29 at Newegg.
Sunbeamtech Core-Contact Freezer 92mm Edition

---

heatsink specsheet
manufacturer: sunbeamtech
model no.: core-contact freezer 92mm edition (cr-cctf92-4)
materials: aluminum fins & base, copper heatpipes
fan mfg: sunbeamtech age09225j12l
fan spec: 1200-2200rpm, 12v, 0.16a
fan dim: 25x92x92mm
heatsink & fan dim: 122x97x75mm
weight: 272 grams
includes: mounting bracket, thermal compound, fan speed controller, instructions

---

Compatible with Sockets: 754/939/940/AM2/AM2+, 775
(with optional CR-LGA1366 bracket, Intel socket 1366)
Est. Pricing: $30USD ($36CDN)
Sunbeam ship the heatsink with CPU mounting hardware for Intel LGA775 and AMD 939/AM2 processors. Installation is largely tool free, and an optional kit for socket 1366 Intel processors is also available.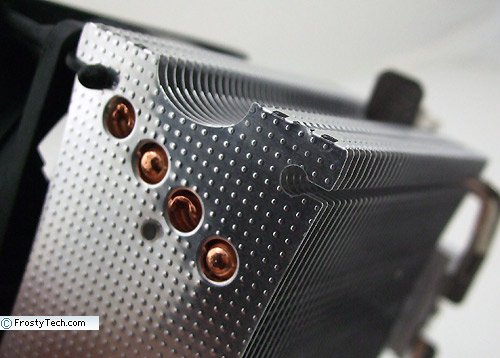 The four 6mm diameter heatpipes are mounted flush to the base so heat is quickly conducted away from the processor. Rather than opt for standard flat aluminum fins, Sunbeamtech have adopted a dimpled aluminum fin which can increase turbulence as air passes through. In real world terms, this won't necessarily impact cooling performance by any significant margin.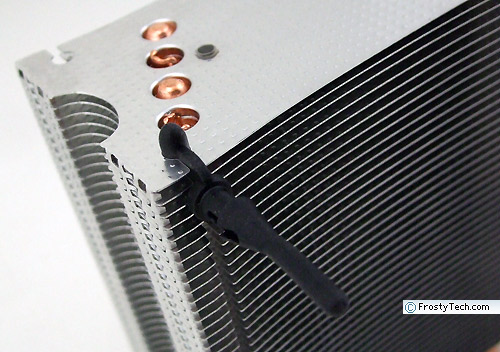 One 92mm fan ships attached to the body of the heatsink via four rubber vibration absorbing mounting posts.
Installation Hardware
Sunbeamtech's Core-Contact Freezer 92mm Edition heatsink is compatible with Intel socket 775 and AMD socket 754/939/940/AM2/AM2+ processors out of the box. The heatsink has one common clip attached to the base which operates in a tool free manner. The clip is designed with AMD socket 939/AM2 CPUs in mind, so for Intel processors a specialized heatsink retention frame is installed.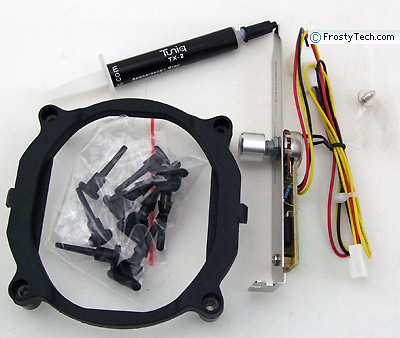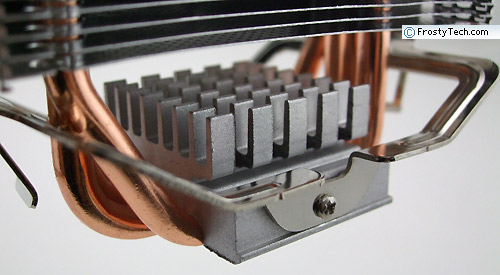 The black adaptor pops into the four holes around the Intel processor socket, and then all the user has to do is push in four plastic pegs to expand the feet and lock the retention frame into position on the motherboard PCB. The system is a modified version of the standard Intel push-to-click heatsink attachment mechanism, but has the benefit of clamping firmly in place without requiring the user to remove the entire motherboard first and fiddle with screws.
An additional mounting bracket is available for socket 1366/1156 Intel Core i7 processors. This will require you to remove the motherboard and install a metal backplate. It's not as much of a chore as it used to be, most computer cases now have space cut away from the motherboard tray for this very reason.
FrostyTech's Test Methodologies are outlined in detail here if you care to know what equipment is used, and the parameters under which the tests are conducted. Now let's move forward and take a closer look at this heatsink, its acoustic characteristics, and of course its performance in the thermal tests!