Memory cooling is difficult to quantitatively measure but that hasn't stopped the biggest memory makers from festooning their fastest memory parts with some mighty serious heatsinks. Companies like Corsair, Geil and OCZ have released memory thermal solutions ranging from the practical to downright outlandish for overclocker-grade RAM. Generally speaking though, unless you're overclocking your memory and over-volting it for assured stability, you don't need to go above or beyond what the manufacturer supplies.
Mainstream RAM, be it DDR/DDR2 or DDR3, doesn't require extensive cooling when run at stock speeds. Overclocked memory generally does fine with a fan pointed in its direction. However, what enthusiasts demand is a completely different matter altogether.
For those of you unsatisfied by the stock heat spreaders on performance memory there are a handful of after market RAM heat spreaders like Thermaltake's RamOrb memory heatsink to consider. The tricky bit is how to install these heat spreaders without destroying the memory DIMMs in the process....
Thermaltake's RamOrb memory hea tspreader, for example, is intended for DDR and DDR2 memory modules. Assuming the RAM is bare, installation is a quick affair. If on the other hand your memory already has heat spreaders attached with adhesive or frag tape, there's a good chance you may damage your memory while attempting to remove them. Later generation DDR-II, and DDR3 is packaged in a BGA IC formfactor. That kind of RAM in particular doesn't suffer flexing very well, and we've destroyed some very expensive memory attempting to remove heat spreaders.
Thermaltake RamOrb RAM Heatsink

---

heatsink specsheet
manufacturer: thermaltake
model no.: ramorb (cl-r0029)
materials: extruded aluminum, copper heatpipe and fins.
fan mfg: thermaltake
fan spec: 4500rpm, 12v, 0.15a
fan dim: 10x50x50mm
heatsink & fan dim: 155x17x105mm (lxwxh)
weight: 136 grams
includes: (4)thermal interface material, thermal compound, allen key

---

Compatible with RAM: DDR, DDR2
Est. Pricing: $18USD ($18CDN)
In this article Frostytech is looking at Thermaltake's RamOrb air cooled memory heat spreader, but unlike our normal CPU heatsink reviews we won't be doing any temperature measurements. The Thermaltake RamOrb heat spreaders are sold individually, and each comes with four sheets of thermal interface material so it can conceivably be installed on two sticks of memory in its lifetime. To encapsulate a dual channel pair of memory, you'll need to buy two kits.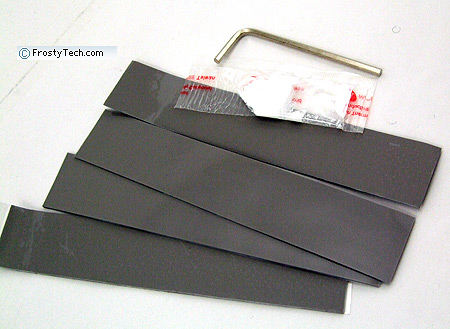 The design of the Thermaltake RamOrb heat spreader is interesting in that it harkens back to early Zalman VGA heatsinks. Two extruded aluminum halves are clamped around the memory and heat conducted from the BGA memory chips is transferred to a 6mm diameter copper heatpipe that extends the full length of the module. The heatpipe curls around a 50mm fan at one end with copper fins soldered to its surface. The fan rotates at 4500RPM to expel heat into the surrounding environment. Once installed, the RamOrb heat spreader widens each stick of memory to 9mm. On some motherboards you will be able to install memory side by side, on others you might not.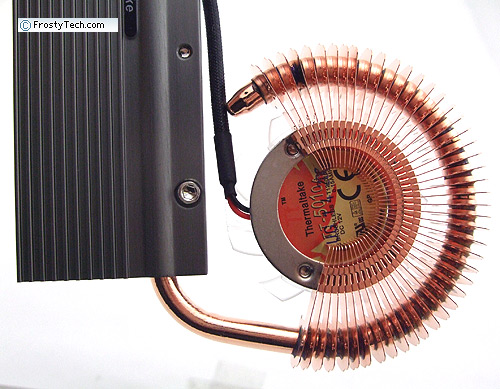 A 4-pin molex power connector supplies power to the blue-LED illuminated fan, which when powered up is moderately audible. The nice part of this design is the heatpipe and fan may be rotated to the left or right to deal with clearance issues in the PC.
360° View - Thermaltake RamOrb RAM Heatsink

---

Information on Frostytech's test methodology is available here.

The Thermaltake RamOrb heat spreaders stands 101mm tall, 125mm wide. The copper fin and fan part is roughly 70mm round, 18mm thick. Power is supplied by a 4-pin molex pass thru power connector.

The rear of the Thermaltake RamOrb heat spreaders is nearly identical. The aluminum extrusions are 1mm thick at least, with small ridges bringing total thickness to 2mm per side.

Two strips of thermal interface material sandwich the memory ICs between these 1-2mm thick extruded aluminum heatsinks. Each TIM strip is 1mm thick (uncompressed) and slightly tacky. The void measures 4mm across.
Installing the RamOrb is simple; a thin strip of soft silicon thermal interface material is laid down on either side of the memory module then the anodized aluminum heat spreaders are set in place. Thermal compound is spread around the heatpipe and it is set down in the channel at the top of the heat spreaders. Four screws are then tightened with an allen key to clamp onto the heatpipe, and apply pressure to the thermal interface material / memory stick sandwich. That's about all there is to it, after the fan is plugged in of course.
The Gist of RAM Cooling: Driving Blind
Thermaltake's RamOrb heat spreaders are easy to install on bare DDR or DDR2 memory modules and will likely improve memory cooling over passive heat spreaders by some degree. The 50mm fan is powerful enough to ensure good airflow through the copper fins soldered to the 6mm diameter heatpipe, so any heat transferred to it will be quickly dispersed.
The heatpipe fan can be rotated to one side or another which is convenient when memory modules are too close to other board components. Applying thermal paste between the heatpipe and aluminum helps maintain a good thermally conductive joint.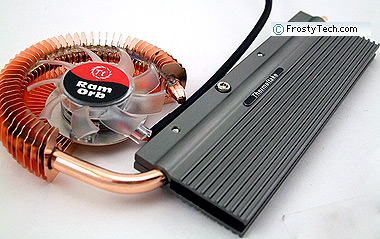 Aside from situations where the motherboard memory slots are packed in too closely and aftermarket cooling devices just won't fit, there is one issue we can see with the RamOrb. For it to function heat from BGA chipsets has to be conducted through the spongy thermal interface pad to the aluminum, then up to the heatpipe.
TIM pads are certainly better than frag tape, but there are a lot of joints with this product before the heat eventually makes it to the heatpipe cooling fins. The math behind heat conduction views each joint as thermal resistance, so in any heatsink the less number of joints the better. Each side of the Thermaltake RamOrb has three joints before heat energy makes it to the cooling fins, two of which involve thermal interface materials.
In our opinion after market RAM heat spreaders are a still luxury item with limited usefulness in very specific situations - READ - enthusiasts over-volting DRAM. A well positioned 120mm or 92mm fan often does wonders for memory temperatures, and is far less risky. Thermaltake's RamOrb is at least well constructed, and does at come with good quality thermal interface pads. Is it overkill for memory cooling? That's up to you to decide.
Related Articles:
For more reviews on the latest heatsinks and cooling solutions, rely on FrostyTech's inventory of 400+ heatsink reviews. Here are a few other articles that you might enjoy as well...
- Thermolab BARAM Heatsink Review
- Thermaltake SpinQ Heatsink Review
- Zalman CNPS9900 LED Intel Core i7 Compatible Heatsink Review
- Thermaltake BigTyp 14Pro Heatsink Review
- Cooler Master Hyper Z600 Black Label Heatsink Review
- Gelid Solutions Silent Spirit Heatsink Review
- Xigmatek Dark Knight S1283 Heatsink Review