Big bulky laptops with high power videocards and older (often hotter) CPUs under the hood tend to run hot. Some 15" laptops can quite literally press your pants flat while typing an email, or jotting down a document in Microsoft Word. Suffering 2nd degree burns on your legs from the heat given off by desktop computer hardware being crammed into the small space of a laptop was once all too common. Mobile Intel Core 2 Duo and Phenom CPUs have lessened the heatstroke a little, but full size laptops with decent gaming videocards are still pretty hot objects.
To alleviate these heating issues, manufacturers have created slabs of aluminum called laptop cooling pads that go between you and the laptop, or between the laptop and desk. A cooling pad is essentially a flat surface with vents or fans embedded in the body. The sole purpose of a cooling pad is to promote better circulation across the base of a laptop. Most notebooks have cooling vents on their bottom which are critical to drawing air into the computer to cool different components. The cooling pad ensures that a steady flow of fresh makes it into the notebook, in turn keeping temperatures in check.
Notebooks used on a lap or soft surface often overheat because the laptop's critical cooling vents are blocked. If you've experienced this a flat hard surface will do wonders, and it won't cost you a dime. For desktop replacement laptops, a little extra cooling can do wonders to keep the notebooks internal cooling fan from spinning up to vacuum cleaner noise levels. Cooling pads angle a notebook so it's a little easier on the wrists. Xigmatek's Talisman laptop cooling pad can be used on a desk or your lap.
| | |
| --- | --- |
| Xigmatek Talisman NPC-D721 Laptop Cooling Pad | |

HEATSINK SPECSHEET
Manufacturer: Xigmatek
Model No.: Talisman NPC-D721
Materials: Extruded Aluminum, plastic
Fans: (2) 70mm at 1500RPM
Max Surface Area: 240mm x 315mm
Includes: USB A-to-A power cable

---

Est. Pricing: $30USD ($30CDN)
Most laptop cooling pads draw power from a free USB slot, the Xigmatek Talisman NPC-D721 is no different. The Talisman has a physical on/off switch to control its two 70mm fans, and two USB slots. A USB power cable connects one of these slots to the USB port on your laptop to supply power to the Talisman's fans. The Xigmatek Talisman is constructed from a big extruded aluminum slab which has been anodized black and ventilated across its surface. It contains two 70mm fans that rotate at 1500RPM, just enough to get air moving but not enough to cause significant noise. Air is drawn in from the right-hand top of the Talisman, and exhausted out over the remaining 2/3rds of the surface towards the left.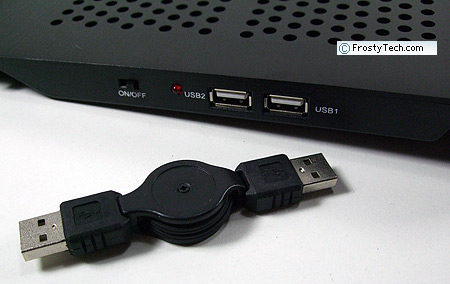 Power comes from your laptops' USB port via a male-to-male extension cable. There are two USB ports (one occupied by the power cable), a simple off switch and LED indicate whether the fans are spinning at 1500RPM, or off.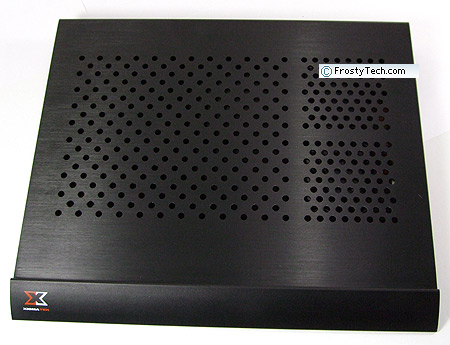 The Xigmatek Talisman NPC-D721 cooling pad weighs a 1.13Kg. The notebook platform of the aluminum pad is set at a slight angle to make using a notebook more comfortable on the wrists. The surface of the pad is large enough to accommodate a notebook body up to 240x315mm in size, or 12.5" across. Xigmatek mention the Talisman can support notebooks up to 15.4", so I guess this refers to screen size.

The aluminum extrusion is hefty, and the black anodizing job makes the brushed metal surface look nice. The retail price for the Talisman shouldn't be more than about $30 at your local computer store. The bottom is flat and comfortable to rest on your lap.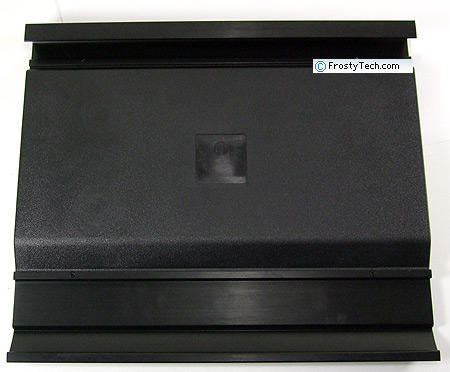 Xigmatek's Talisman NPC-D721 aluminum laptop cooling pad does what it says, just like a cup holder. And there you have it, the kind of product only a big hot desktop replacement laptop with a powerful videocard could have created a need for. If you suffer the problem of excessive laptop heat, and the noise of notebook cooling fans constantly spinning at full speed, an inexpensive product like Xigmatek's Talisman laptop cooling pad may very well help alleviate your problems... although I find a 1/2" three-ring binder does the trick for under $2.
Related Articles:
The Top 5 best heatsinks for low noise and low temperature are ranked here. For more reviews on the latest heatsinks and cooling solutions, rely on FrostyTech's inventory of 400+ heatsink reviews. Here are a few other articles that you might enjoy as well.
- Thermolab BARAM Heatsink Review
- Thermaltake SpinQ Heatsink Review
- Zalman CNPS9900 LED Intel Core i7 Compatible Heatsink Review
- Thermaltake BigTyp 14Pro Heatsink Review
- Cooler Master Hyper Z600 Black Label Heatsink Review
- Gelid Solutions Silent Spirit Heatsink Review
- Xigmatek Dark Knight S1283 Heatsink Review