When it comes to high performance heatsinks there aren't a lot of models shorter than 135mm. Oh there are plenty of tower heatsinks with some of the lowest temperatures a PC enthusiast can hope for.... but nearly every tower cooler is over 150mm tall, most 160mm. The Thermaltake BigTyp 14Pro heatsink stands 127mm tall, uses a big 140mm fan and plenty of heatpipes to get the job done. The only problem is noise. At full tilt the BigTyp 14Pro can be a bit noisy.
The BigTyp 14Pro heatsink (model: CL-P0456) is made from nickel plated aluminum fins soldered over six very long copper heatpipes. The aluminum fins are broken up into two halves, pierced by the six heatpipes evenly from either side. Clearly though, the BigTyp 14Pro's biggest claim to fame is its blue LED illuminated 140mm fan which spins at 1000-1600RPM. A small variable resistor is attached so users can manually control the speed if desired too.
When operating at full speed the Thermaltake BigTyp 14Pro heatsink is loud, at its slowest speed it's moderately audible. The Thermaltake BigTyp 14Pro heatsink is compatible with Intel socket 775 and AMD socket 754/939/940/AM2+ processors, and weighs a hefty 800grams. At the time of this review it is not compatible with Intel socket LGA1366 Core i7 processors however.
Thermaltake BigTyp 14 Pro Heatsink

---

heatsink specsheet
manufacturer: thermaltake
model no.: bigtyp pro14 (cl-p0456)
materials: nickel-plated aluminum fins, copper heatpipes and base plate.
fan mfg: everflow fb14025bl
fan spec: 1000-1600rpm, 12v, 0.20a
fan dim: 30x140x140mm
heatsink & fan dim: 127x155x165mm
weight: 800 grams
includes: multi-socket mounting hardware, thermal compound, instructions

---

Compatible with Sockets: 754/939/940/AM2, LGA775
Est. Pricing: $70USD ($70CDN)
The 140mm fan is suspended upside down by its motor over the aluminum fins of the Thermaltake BigTyp 14Pro heatsink. The smokey-gray translucent fan blades are illuminated with a couple blue LEDs for added visual effect. The impeller blades themselves appear heavily influenced by Computational Fluid Dynamics (CFD) .... or perhaps the propellers from a Chinese Song-class submarine. What's particularly notable is that the impellers continue onto the motor hub, traditionally a space under which little air flows.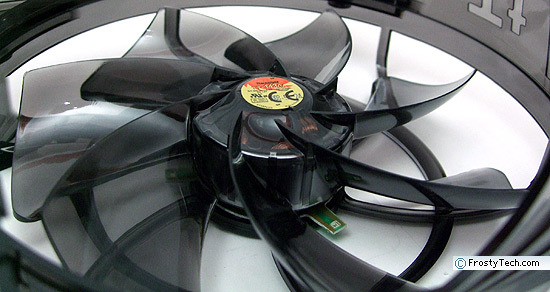 The six copper heatpipes are soldered to a copper base plate and weave their way from one end of the Thermaltake BigTyp 14Pro heatsink to the other. A quick glance will lead you to think there are 12 heatpipes on the BigTyp 12Pro, but actually it's just 6 really long copper heatpipes with many bends. The heatpipes are soldered to the nickel plated aluminum fins to decrease thermal joint resistance and improve conductivity between the many copper-to-aluminum interfaces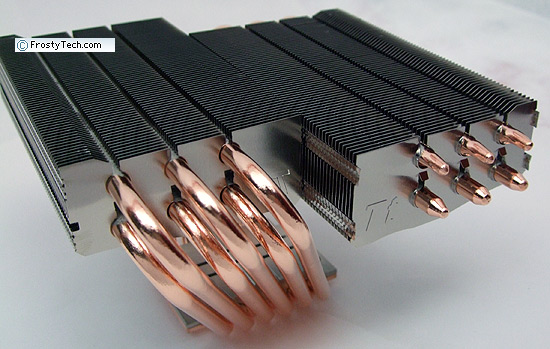 Mounting Method and Hardware
The Thermaltake BigTyp 14Pro heatsink is compatible with both Intel and AMD processors so two different mounting brackets are supplied. Installation is relatively simple for socket 775 processors, although the motherboard will need to be removed and nuts used to fix the heatsink in place attached from behind. It can be challenging to support the Thermaltake BigTyp 14Pro in place while attaching the little nuts which affix the 800gram heatsink.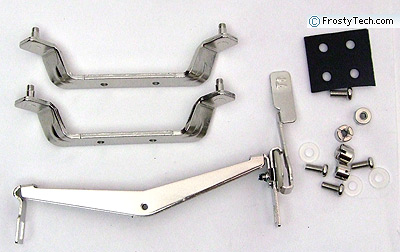 For AMD processors a simple K8 mounting clip locks onto the existing heatsink retention frame.
This heatsink will be tested on FrostyTech's Intel LGA775 and K8 version of the Mk.II synthetic thermal temperature test platform, and compared against a hundred reference LGA775 and K8 heatsinks. The whole test methodology is outlined in detail here if you'd like to know what equipment is used, and the parameters under which the tests are conducted.