This can't be a good sign of what's in store for AMD... Akasa's Blue Aurora AK-966BL is an Intel-only tower heatsink. Most manufacturers traditionally release heatsinks that accommodate as many different CPU platforms as possible, absorbing the cost of supplying a multitude of brackets that aren't always used. It just makes sense to build a heatsink that can be used on whichever processor the end user chooses. That Akasa have made the Blue Aurora heatsink for Intel socket 775 only, could very well indicate that users are only buying heatsinks for Intel chips right now.
Alrighty, on with the review - is the Akasa Blue Aurora AK-966BL any good? Because we're Frostytech we'll get right to the point; yes, but not entirely. The thermal design follows in the footsteps of models released by Xigmatek and others, but if you flip the Blue Aurora AK-966BL over you won't find exposed heatpipes.
The Akasa Blue Aurora AK-966BL is equipped with a 120mm PWM fan which scales from 500-1500RPM and is internally illuminated with a few blue LEDs. The roughly 625 gram heatsink is compatible with socket 775 Intel Core 2 Duo/Quad processors, and stands a respectable 150mm tall.
Akasa Blue Aurora AK-966BL Heatsink

---

heatsink specsheet
manufacturer: akasa
model no.: blue aurora (ak-966bl)
materials: aluminum fins, copper heatpipes, copper base
fan mfg: akasa dfs122512m
fan spec: 500-1500rpm, 12v, 0.26a
fan dim: 25x120x120mm
heatsink & fan dim: 149x125x92mm
weight: est. 625 grams
includes: intel socket mounting hardware, thermal compound, instructions

---

Compatible with Sockets: LGA775
Est. Pricing: $40USD ($40CDN)
Akasa designed the Blue Aurora AK-966BL tower heatsink with moderately spaced aluminum fins. To enable lower lower velocity air to pass through the heatsink easily, the leading edge of the fins have a scalloped texture. This helps break up the air stream and prevents less resistance than a flat wall of aluminum fin edges otherwise may.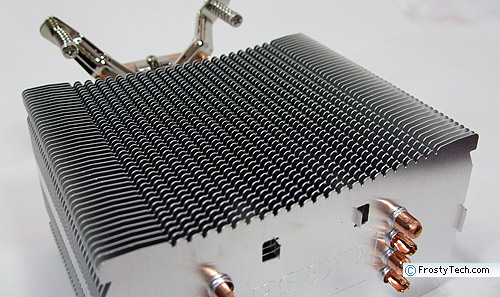 The blue LED illuminated 120mm PWM fan is held in place on a rather flimsy plastic shroud that we had a hard time clipping firmly into place. The notches cut along the sides of the fins are just a hair too far back, so all four plastic retaining clips had a hard time engaging. I think Akasa would have been better off with springy wire clips to hold the 120mm fan in place. The last thing anyone wants is a heatsink fan that isn't 100% securely clipped in place.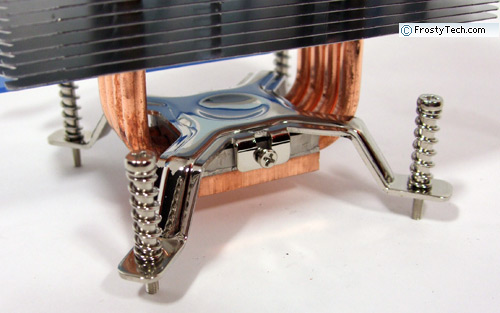 Included Hardware
The Akasa Blue Aurora AK-966BL heatsink ships with one rear bracket for LGA775 motherboards, and a small syringe of thermal compound. The Intel socket 775 clips use spring tensioned machine screws to firmly mount the heatsink and apply constant clamping force. No AMD K8 mounting hardware is supplied.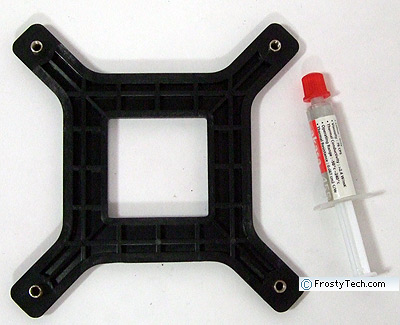 Base Finish and Flatness
Flipping a heatsink over to inspect the business end is often a simple indicator of overall cooler quality. More practically speaking, a heatsink is in many ways only as effective as the contact it makes with the processor - the flatter and smoother the better. Base finish is one of the criteria that Frostytech measure in the course of evaluating heatsinks, and it involves two distinct aspects. Surface Finish is the first; this is calculated with the aid of Surface Roughness Comparator that has a cross section of common machine surface finishes and their numerical surface roughness equivalents in microinches. The second is Surface Flatness. This is tested with an engineers straight edge or proven flat surface, in two axis.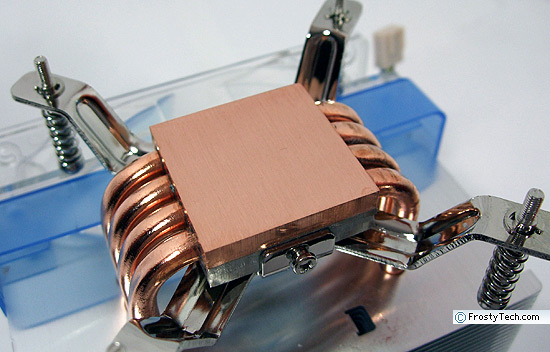 The Akasa Blue Aurora AK-966BL heatsink has a surface roughness of approximately 32 microinches, which is considered good. The base itself has a smooth sanded finish and is very slightly convex in both axis.
FrostyTech's Test Methodologies are outlined in detail here if you care to know what equipment is used, and the parameters under which the tests are conducted. Now let's move forward and take a closer look at this heatsink, its acoustic characteristics, and of course its performance in the thermal tests!