Akasa's Nero AK-967 heatsink is based on the popular "heatpipe direct touch" technique, and like so many CPU coolers, for today's class of heatspreader capped processors it's the only way to go!
The thermal design follows in the footsteps of models released by Xigmatek and others, so if you take the Akasa Nero heatsink and flip it over you'll see three 8mm diameter copper heatpipes swagged into an aluminum base. This permits direct conduction of heat from the integrated heatspreader of any K8 AMD or LGA775/1366 Intel processor to the heatpipes directly. The heatpipes in turn conduct that heat to a large 120mm tall tower of aluminum fins. It's a simple and straight forward heatsink approach that's been proven time after time, and the Akasa Nero is no different.
The Akasa Nero AK-967 heatsink FrostyTech is reviewing today is equipped with vibration absorbing rubber fan posts that support a 120mm PWM fan which scales from 500-1500RPM. The roughly 600 gram Nero heatsink is compatible with socket 775 and socket 1366 Intel Core 2 Duo/Quad/Core I7 processors, and the complete family of AMD socket 754/939/940/AM2 chips. As usual, this tower heatsink stand about 160mm tall making it a bit big for those slim PC chassis that are often used for Home Theatre PCs... a pity really, as a lower-noise high performing heatsink like this is just what media PCs need!
Akasa Nero AK-967 Heatsink

---

heatsink specsheet
manufacturer: akasa
model no.: nero (ak-967)
materials: aluminum fins, copper heatpipes, aluminum base with exposed heatpipes.
fan mfg: akasa dfs122512m
fan spec: 500-1500rpm, 12v, 0.26a
fan dim: 25x120x120mm
heatsink & fan dim: 160x120x77mm
weight: est. 600 grams
includes: multi-socket socket mounting hardware, thermal compound, instructions

---

Compatible with Sockets: 754/939/940/AM2, LGA775/1366
Est. Pricing: $55USD ($55CDN)
Akasa have built the Nero AK-967 heatsink with widely spaced aluminum fins so that lower velocity air can pass through the heatsink with less resistance. On top of that, a plenum about 8mm wide is left behind the fan to further aid air distribution. Given that the 120mm fan rotates at a maximum speed of 1500RPM, these measures are certainly called for.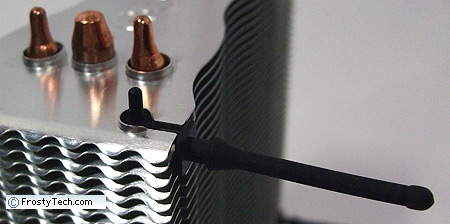 The 120mm PWM fan is held in place on the aluminum fins of the Akasa Nero heatsink with four vibration absorbing rubber mounting posts. These fit through the standard screw holes in a vaneaxial fan frame, and keep the fan elevated 1.0mm away from the metal. If the fan motor happens to develop vibrations down the road, the rubber 'shock absorbers' can reduce that from becoming noise.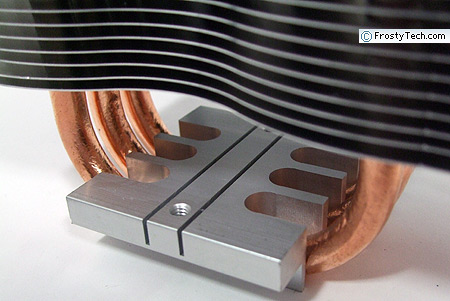 The Akasa Nero AK-967 heatsink ships with brackets for LGA775/1366 and AMD K8 processors (754/939/940/AM2 respectively). The Intel socket 775/1366 clips use the standard push-to-lock plastic clips that insert into the four motherboard holes around the processor socket. AMD Athlon 64 processors on 754/939/940/AM2/AM2+ work with a modified spring clip that attaches to the lugs on the AMD heatsink retention frame. A cam lever at one end of the clip applies pressure to the heatsink base directly. The AMD clip is tool free, but the metal is thin and tends to bend towards one side or another after clamping pressure is applied.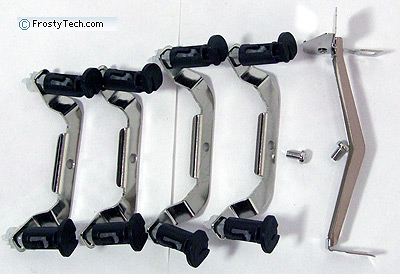 Base Finish and Flatness
Flipping a heatsink over to inspect the business end is often a simple indicator of overall cooler quality. More practically speaking, a heatsink is in many ways only as effective as the contact it makes with the processor - the flatter and smoother the better. Base finish is one of the criteria that Frostytech measure in the course of evaluating heatsinks, and it involves two distinct aspects. Surface Finish is the first; this is calculated with the aid of Surface Roughness Comparator that has a cross section of common machine surface finishes and their numerical surface roughness equivalents in microinches. The second is Surface Flatness. This is tested with an engineers straight edge or proven flat surface, in two axis.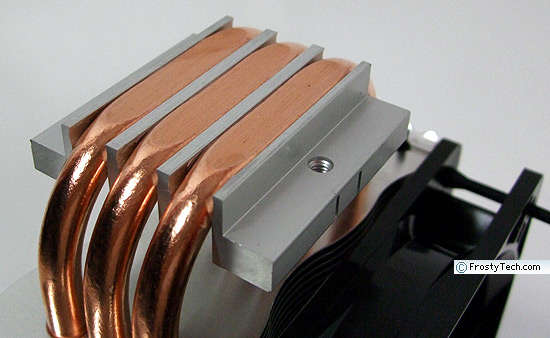 The Akasa Nero AK-967 heatsink has a surface roughness of approximately 32 microinches, which is considered good. The base itself has a smooth sanded finish and is flat in both axis. The copper and aluminum parts were flush on the unit Frostytech tested.
FrostyTech's Test Methodologies are outlined in detail here if you care to know what equipment is used, and the parameters under which the tests are conducted. Now let's move forward and take a closer look at this heatsink, its acoustic characteristics, and of course its performance in the thermal tests!