The Coolermaster Hyper Z600 Black Label heatsink is part of a special Limited Edition kit, comprised of all black versions of the quiet Cooler Master Cosmos RC 1000 case, Real Power 850W power supply and Hyper Z600 heatsink. Only 500 units are available under the "Black Label" designation, and each kit runs about $500. Frostytech secured a Hyper Z600 Black Label heatsink for testing so you can see how it handles, but as of this writting the heatsink is not sold separately to my knowledge.
Okay, first off the Black Label Hyper Z600 is compatible with Intel Core 2 Duo/Quad socket 775 and Core i7 socket 1366 processors, not to mention the full family of AMD socket 754/939/AM2/AM2+ CPUs. It ships with a pile of mounting brackets that accommodate all these different CPU sockets, two sets of 120mm fan brackets (up to two fans in a push-pull orientation can be mounted) and one 800-2200RPM 120mm PWM fan.
This is a nice looking heatsink; the dark nickel plating and matching black fan make it look pretty Darth Vader. The Hyper Z600 Black Label is nothing new however, if you've read Frostytech's review of the original Hyper Z600 you'll find the same here, except for the colour and inclusion of a socket 1366 bracket this time around.
As far as tower heatsinks go, the 1161 gram Cooler Master Hyper Z600 Black Label heatsink is a heavy beast, but it's also one of the few CPU coolers that can be used passively on certain processors. The cross shape and widely spaced aluminum fins, prodigious number copper heatpipes and 160mm height give it the technical features necessary for effective convective cooling, albeit within specific thermal limits. The heatsink should never be used for passive cooling with a CPU having a TDP greater than 89W, and should always be oriented with its fins in the vertical.
Like most Cooler Master heatsinks (Frosty's tested quite a few), the Hyper Z600 Black Label is well constructed but uses those frustrating rear-accessed mounting clips with the double-threaded screws. Weighing upwards of 1100 grams, the Hyper Z600 is a massive block of metal that stands 160mm tall and is 127mm square without any fans attached. Six copper heatpipes connect the base to a stack of aluminum cooling fins, and everything is dark nickel plated.
Cooler Master Hyper Z600 Black Label Heatsink

---

heatsink specsheet
manufacturer: coolermaster
model no.: hyper z600 black label
materials: dark nickel plated aluminum fins, copper heatpipes and base

fan mfg: coolermaster a12025-22r8-4bp-1

fan spec: 2200-800rpm, 12v, 0.37a, pwm
fan dim: 25x120x120mm
heatsink & fan dim: 160x156x127mm
weight: 1161 grams
includes: mounting clips, thermal compound, instructions

---

Compatible with Sockets: 754/939/940/AM2/AM2+, 775/1366
Est. Pricing: $44USD ($44CDN)
Given the uni-directional shape of the Cooler Master Hyper Z600 Black Label heatsink, fans first attach to special plastic brackets which then clip onto any side of the heatsink; repositioning or swapping out 120mm fans is a breeze. Four brackets are provided so two 120mm fans can be installed on opposite sides of the Hyper Z600 Black Label heatsink if desired. The heatsink ships with one fan which Frostytech found to be more than sufficient.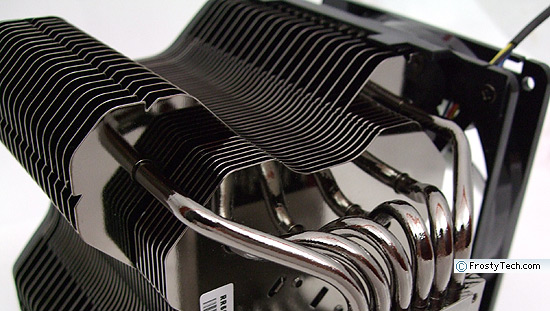 One of the interesting thermal design elements at play on the Hyper Z600 Black Label heatsink are its staggered fins. The heatsink is shaped like a big iron cross, but at each corner every other fin stops short. This technique is suitable for encouraging convection cooling because changing fin pitch from a tight 2mm to wide 4.5mm accomodates natural airflow better than tightly packed fins would.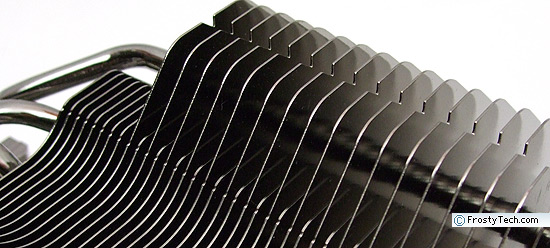 A good slow and quiet 120mm fan will beat passive cooling any day, so resist the urge to go fanless unless your PC system is suitably configured.
Installation Hardware
Cooler Master's Hyper Z600 Black Label heatsink is compatible with Intel socket 775/1366 and AMD socket 754/939/940/AM2/AM2+ processors. We're not particularly fond of the system of brackets Coolermaster use with its heavier heatsinks; it requires the motherboard be removed from the chassis each time you install or remove the heatsink. To be fair though, when dealing with a 1161 gram heatsink you want a method of firmly bolting it in place, and the system used here certainly offers that.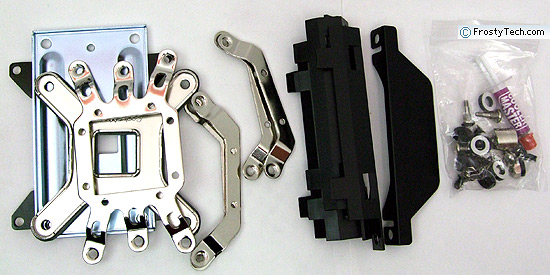 First small metal tabs are attached to the heatsink base, then a backplate is positioned behind the motherboard. Screws are thread from behind to engage with the heatsink and securely fix it in place. If you ever want to swap out the processor, it can be a royal pain...
Base Finish and Flatness
Flipping a heatsink over to inspect the business end is often a simple indicator of overall cooler quality. More practically speaking, a heatsink is in many ways only as effective as the contact it makes with the processor - the flatter and smoother the better. Base finish is one of the criteria that Frostytech measure in the course of evaluating heatsinks, and it involves two distinct aspects. Surface Finish is the first; this is calculated with the aid of Surface Roughness Comparator that has a cross section of common machine surface finishes and their numerical surface roughness equivalents in microinches. The second is Surface Flatness. This is tested with an engineers straight edge or proven flat surface, in two axis.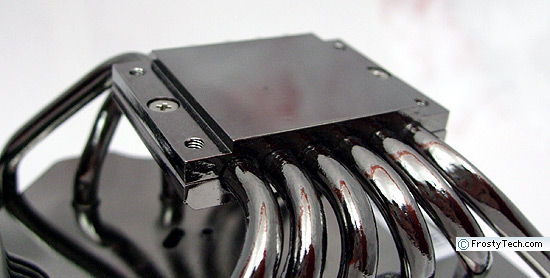 The Cooler Master Hyper Z600 Black Label heatsink has a machined dark nickel-plated copper base with a surface roughness of approximately ~8 microinches. The base is flat in both axis.
FrostyTech's Test Methodologies are outlined in detail here if you care to know what equipment is used, and the parameters under which the tests are conducted. Now let's move forward and take a closer look at this heatsink, its acoustic characteristics, and of course its performance in the thermal tests!