It's not every day a new heatsink manufacturer is created from the ashes of a well respected brand, but after several key players left Arctic Cooling, a new heatsink manufacturer by the name of Gelid Solutions was born. I'll spare you the messy details, let's get down to the business of cooling instead.
If you know how quietly Arctic Cooling's past thermal solutions ran and how well they performed, I'm sure you're as interested as Frostytech is to see how Gelid's first low noise heatsink stacks up. After all, it's no small feat to construct a well performing low noise thermal solution for today's crop of multi-core Intel and AMD processors!
Gelid's Silent Spirit heatsink makes use of four rubber vibration absorbing posts to hold a 100mm PWM fan in place, the fan itself varies in speed from 2400RPM to 900RPM. Weighing in at 370 grams, the Silent Spirit is pretty light, even though it uses four 6mm diameter copper heatpipes to connect a stacked aluminum fin array to a copper base. The aluminum fins have a dimpled surface texture, and alternating fin heights to further break up the surface below the fan. The heatsink is compatible with AMD socket 754/939/940/AM2 and Intel socket 775 processors. Retail price is around $30 bucks at the usual online repositories of cooling-dom.
Gelid Silent Spirit Heatsink

---

heatsink specsheet
manufacturer: gelid
model no.: silent spirit
materials: aluminum fins, copper heatpipes, aluminum/copper base
fan mfg: n/a g12922524
fan spec: 900-2400rpm, 12v, 0.23a
fan dim: 25x100x100mm
heatsink & fan dim: 114x116x101mm
weight: 370 grams
includes: socket mounting hardware, thermal compound, instructions

---

Compatible with Sockets: 754/939/940/AM2, LGA775
Est. Pricing: $29USD ($29CDN)
The company has also introduced its own "GC1 thermal compound" and interestingly enough, a PWM Y-Splitter cable so two PWM fans can be plugged into the same 4-pin PWM socket on the motherboard. Neither is included with the Silent Spirit heatsink.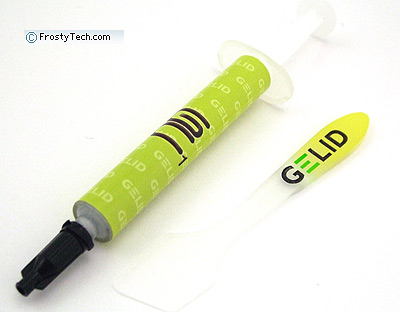 Three Things that Make this Heatsink Different?
There are three special features that make the Silent Spirit stand out, but heatpipes aren't one of them. The box says "quad powered heatpipes", but if you're basing your CPU heatsink buying decisions purely on the number of heatpipes you are WAY off target. Heatpipes conduct heat from one location to another, they do NOT mean one heatsink is necessarily better than another because it has 4, 8, or 16 heatpipes. There is no V6 vs. V8 engine analogy here folks. Heatpipes are a tool, so let's stop this advertising heatsinks by quad-quint-or-octo-heatpipes in the butt.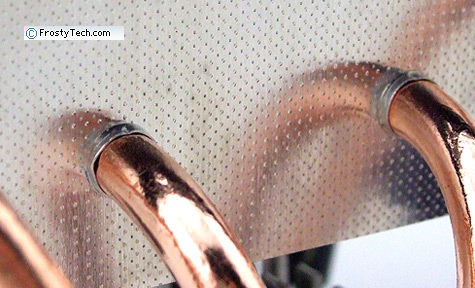 The three aspects of Gelid's Silent Spirit heatsink which deserve comment are dimpled fins, variable fin heights, and an angled body. The use of dimpled/textured aluminum fins is not revolutionary, but it is unique and may help break up laminar airflow over the surface of each aluminum fin. Although... I'm not sure there is sufficient air speed here to matter.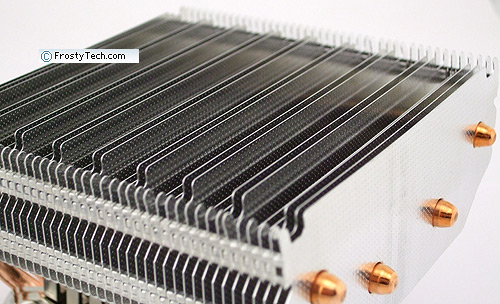 Second in line are the staggered fin heights. This technique breaks up the surface formed by the edge of all those aluminum fins and turns a virtual "wall" into a fin geometry with less airflow resistance. Consequently, lower velocity air has an easier time flowing through the widely spaced aluminum fins and issues relating to back-pressure are diminished. The fins are spaced in a 2-3-2 pattern which creates a gap 8mm wide 6mm deep every 3-pair.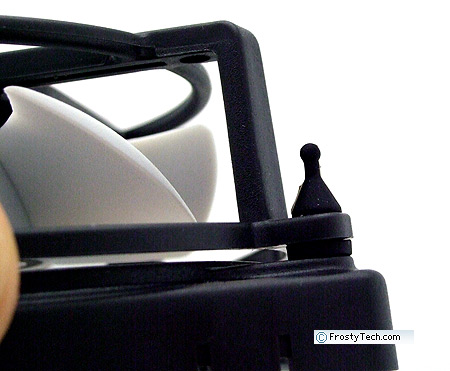 Lastly, the angled orientation of the body of the heatsink with respect to the motherboard. It's a simple technique, but it can allow air to exhaust from a heatsink with less resistance and diminish the occurrence whereby recently exhaust warm air is drawn back in by the fan. For the purposes of noise dampening, the 100mm fan is also mounted on four rubber vibration absorbing posts.
Multi-CPU Compatible Hardware
The Gelid Silent Spirit heatsink is sold with brackets for Intel and AMD processors, and is compatible with socket 775 Intel processors, and the full range of AMD K8 chips. Intel socket 1366 mounts are not provided.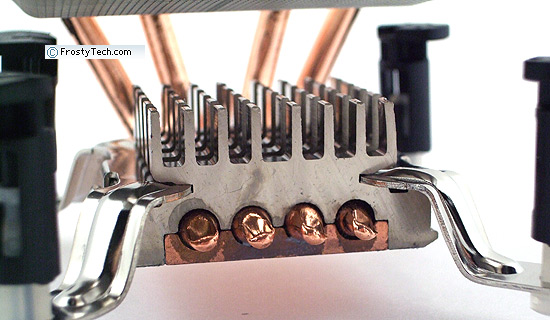 The Intel socket 775 clips use the standard push-to-lock plastic clips that insert into the four motherboard holes around the processor socket. AMD Athlon 64 processors on 754/939/940/AM2/AM2+ work with a modified spring clip that attaches to the lugs on the AMD heatsink retention frame.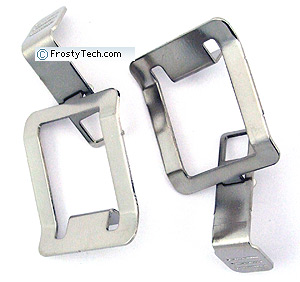 FrostyTech's Test Methodologies are outlined in detail here if you care to know what equipment is used, and the parameters under which the tests are conducted. Now let's move forward and take a closer look at this heatsink, its acoustic characteristics, and of course its performance in the thermal tests!