The Arctic Cooling Freezer 7 LP is a lightweight Intel socket 775 heatsink made specifically for slim-line and book-sized PC cases. It stands less than 50mm high, weighs just 260 grams and operates very quietly. Although it's 80mm 600-2000RPM PWM fan is underpowered for high temperature Intel processors, for the newer generation of sub-85W CPUs, the Freezer 7 LP is more than satisfactory. The heatsink is officially rated for heat loads up to a maximum 95W.... we'll still throw 150W at it for fun!
When it comes to low profile heatsinks, there aren't many coolers to choose from that fit into a 1.5U PC case. This is problematic as the compact PC form factor is gaining popularity in Japan and Korea. More thermal solutions manufacturers are introducing low profile aftermarket cooling solutions, but the selection really needs to broaden.
Intel includes a low profile stock heatsink with some sub-65W processor models, but it's nothing more than a thin slice of aluminum extrusion. If you're reading this Frostytech review, you've likely decided you want lower temperatures or less noise. Just finding a 1.5U-sized heatsink can be hard enough, but tracking down a heatsink which is quieter and offers possibly better thermal performance is challenging. In the world of sub-50mm tall Intel socket 775 heatsinks, the only other low profile Intel heatsink Frostytech has tested is the Thermolab TLI-U Nano. Now, let's see how Arctic Cooling's Freezer 7 LP handles the heat.
Arctic Cooling Freezer 7 LP Heatsink

---

heatsink specsheet
manufacturer: arctic cooling
model no.: freezer 7 lp
materials: nickel plated aluminum fins, copper base, copper heatpipes
fan mfg: arctic cooling n/a
fan spec: 600-2000rpm, 12v, 0.15a
fan dim: 15x80x80mm
heatsink & fan dim: 48x108x105mm
weight: 263 grams
includes: mounting brackets, thermal compound, instructions

---

Compatible with Sockets: 775
Est. Pricing: $30USD ($30CDN)
The heatsink body and fan are two separate parts that only come together when the Freezer 7 LP heatsink is installed. Nickel plated aluminum fins are stacked together, and soldered to a pair of 6mm diameter copper heatpipes which run through from one side to the other.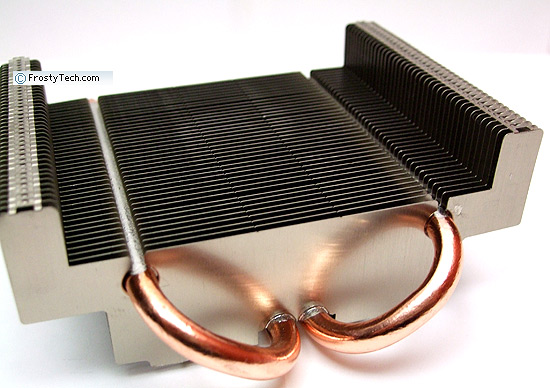 The 80mm PWM fan spins at speeds of 600-2000RPM, and hovers above the aluminum heatsink fins by a few millimeters. The impeller blades are a neat semi-translucent gray, but the effect is lost unless you hold it up to the light.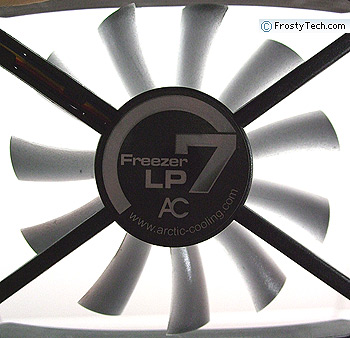 In any case, the important bit is that Arctic Cooling have designed the fan such that it makes contact with the heatsink body below at only two points - thus diminishing potential sources of noise from vibration.
Heatsink Installation
Arctic Cooling's Freezer 7 LP heatsink is compatible with Intel socket 775 processors only. The Freezer 7 LP ships with a pile of little plastic components that fit together to form a screw bracket at each of the four holes in the motherboard around the processor socket. You won't need to remove the motherboard from the case to install the Freezer 7 LP heatsink, but you will have to be carefull not to drop one of the small plastic components as you assemble each mounting post and pop it into place.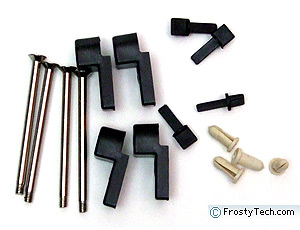 An illustrated manual provides guidance, and once installed the heatsink can be unscrewed and reinstalled with ease.
Base Finish and Flatness
Flipping a heatsink over to inspect the business end is often a simple indicator of overall cooler quality. More practically speaking, a heatsink is in many ways only as effective as the contact it makes with the processor - the flatter and smoother the better. Base finish is one of the criteria that Frostytech measure in the course of evaluating heatsinks, and it involves two distinct aspects. Surface Finish is the first; this is calculated with the aid of Surface Roughness Comparator that has a cross section of common machine surface finishes and their numerical surface roughness equivalents in microinches. The second is Surface Flatness. This is tested with an engineers straight edge or proven flat surface, in two axis.
The Arctic Cooling Freezer 7 LP heatsink has a sanded copper base with a surface roughness of approximately ~32 microinches. The base is perfectly flat in one axis, and very slightly convex in the direction of the sanding. A patch of grey thermal compound is pre-applied to the Freezer 7 LP (above), but for our testing purposes this was removed (below).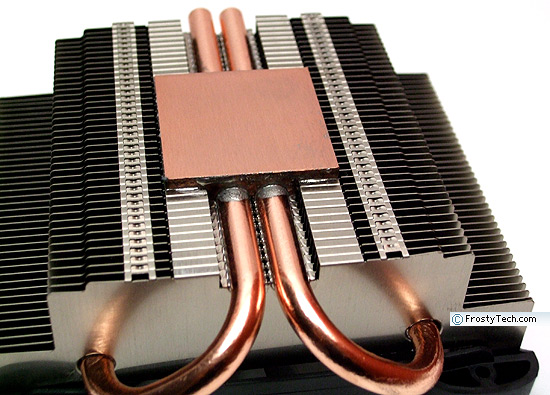 FrostyTech's Test Methodologies are outlined in detail here if you care to know what equipment is used, and the parameters under which the tests are conducted. Now let's move forward and take a closer look at this heatsink, its acoustic characteristics, and of course its performance in the thermal tests!