In this review Frostytech is testing the just released Spire Thermax II heatsink, and if you can find it for an affordable price you should find it thermally satisfying. The Thermax II (SP679S1-PCI) has four 8mm diameter direct contact heatpipes at the base, like many other heatsinks sweeping the industry right now. In fact, I think Frosty has reviewed nearly identical heatsinks to the Thermax II on a couple occassions already....
The Thermax II is virtually identical to the Sunbeam Core-Contact Freezer and SilenX iXtrema - in all likelyhood the same OEM heatsink manufacturer makes all three variations. I've heard PC Cooler's name mentioned in the past, but we have no way of confirming this.
In any event, Spire's Thermax II heatsink stands 155mm tall, is 125mm wide and accommodates one 120mm fan that spins at 1000~2200 RPM. Weighing it at roughly 550grams, the Thermax II is compatible with both Intel socket 775 and 1366 processors, and the entire family of AMD CPUs from socket 939 to AM2+.
Spire Thermax II (SP679S1-PCI) Heatsink

---

heatsink specsheet
manufacturer: spire
model no.: thermax ii (sp679s1-pci)
materials: aluminum fins & base, copper heatpipes
fan mfg: spire n/a
fan spec: 1000-2200rpm, 12v, 0.35a
fan dim: 25x120x120mm
heatsink & fan dim: 143x125x104mm
weight: est. 550 grams
includes: mounting brackets, thermal compound, fan speed controller, instructions

---

Compatible with Sockets: 754/939/940/AM2/AM2+, 775,1366
Est. Pricing: $40USD ($40CDN)
Spire ships the Thermax II heatsink with one set of wire fan clips and little foam-rubber shock absorbers to keep the fan from rattling away against the aluminum fins. All the necessary CPU mounting hardware is tool free, and refreshingly the motherboard doesn't need to be removed to install the mounting bracket.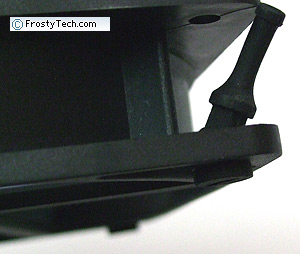 While heatsink manufacturers like Xigmatek continue to innovate on the exposed heatpipe front - either by stacking sets of heatpipes atop one another, or using extended aluminum pegs to transfer additional heat to fins above, the Spire Thermax II sticks to the tried and true method. Four 8mm diameter copper heatpipes are swagged into an extruded aluminum base block, pressed flat, and then ever so thinly milled flat.
Exposed heatpipe base heatsinks work best with processors that have thick integrated heatspreaders and even heat distribution over the entire surface area. They can potentially encounter problems when heat is localized too directly, such that one or two of the outside heatpipes receives much less heat than the remainder.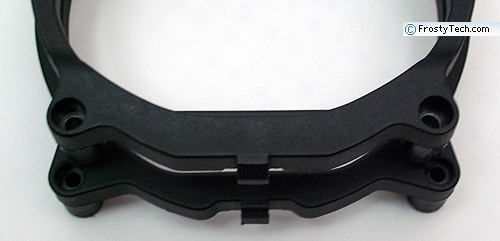 Heatsink Installation
Spire's Thermax II heatsink is compatible with Intel socket 775/1366 and AMD socket 754/939/940/AM2/AM2+ processors. The heatsink has one common clip attached to the base which connects in a tool free manner on all platforms. The clip is designed with AMD socket 939/AM2 CPUs in mind, so for Intel processors two specialized heatsink retention frames are supplied which must be attached to the motherboard.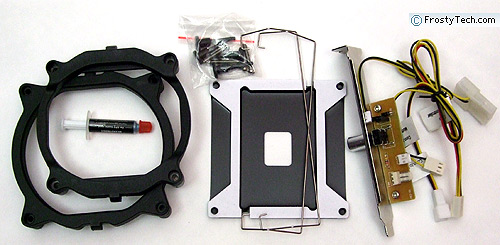 Both Intel socket adaptors pop into the four holes around the 775/1366 Intel processor socket, and then all the user has to do is push in four plastic pegs to expand the feet and lock the retention frame into position on the motherboard PCB. In other words, you don't need to remove the board from the system to install the heatsink.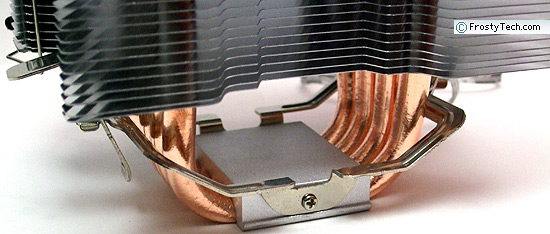 Each bracket uses a modified version of the standard Intel push-to-click mechanism, which is convenient when used with light-weight CPU coolers. An illustrated manual provides guidance, and a PCI bracket fan speed controller are also provided.
Base Finish and Flatness
Flipping a heatsink over to inspect the business end is often a simple indicator of overall cooler quality. More practically speaking, a heatsink is in many ways only as effective as the contact it makes with the processor - the flatter and smoother the better. Base finish is one of the criteria that Frostytech measure in the course of evaluating heatsinks, and it involves two distinct aspects. Surface Finish is the first; this is calculated with the aid of Surface Roughness Comparator that has a cross section of common machine surface finishes and their numerical surface roughness equivalents in microinches. The second is Surface Flatness. This is tested with an engineers straight edge or proven flat surface, in two axis.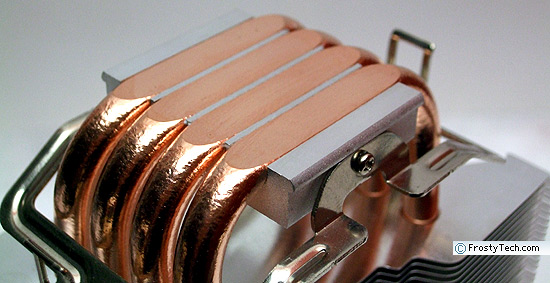 The Spire Thermax II heatsink has a machined base with a surface roughness of approximately ~48 microinches. The manufacturer has purposefully given the surface a distinctive ridged texture. The base is perfectly flat in both axis.
FrostyTech's Test Methodologies are outlined in detail here if you care to know what equipment is used, and the parameters under which the tests are conducted. Now let's move forward and take a closer look at this heatsink, its acoustic characteristics, and of course its performance in the thermal tests!