Move over Zalman, there's a new Korean cooling company in town by the name of Thermolab.
Regular Frostytech readers will recall that we first reported on the Thermolab BARAM heatsink a while back, in particular because the manufacturer rated it for heat loads of up to 250W. That's a lot of potential cooling, though obviously no desktop Intel or AMD processor outputs out anything near that much heat.
Alrighty, let's get down to it. The Thermolab BARAM heatsink is a slightly new take on the common "tower heatsink" format, but with subtle differences that illustrate firm engineering went on behind the scenes. For starters, the five copper heatpipes have a staggered placement in the stack of overlapping aluminum fins, rather than punching through the aluminum in a straight row. The peculiar placement of the 6mm diameter heatpipes, along with a scalloped leading edge fin geometry helps to alleviate back pressure issues (airflow resistance) and equalize airflow throughout the fins. This arrangement also maximizes heat spreading within each fin, since both quint-heatpipe-groups have a footprint of roughly 962mm2, versus 231mm2 were the heatpipes lined up in row.
The 160mm tall Thermolab BARAM heatsink accomodates up to two 120mm fans, but is sold without any. Drop in a 120mm low noise fan of your choosing, or perhaps a 120mm unit with a little power behind its impellers. For official test results, Frostytech will rely on the 1500RPM 120mm Mechatronics G1225S12B fan we've been using on other fanless heatsinks to cross our test bench. In addition, we'll also test the BARAM heatsink with the 120mm AGA12025F121 fan from the Sunbeam Core Contact Freezer heatsink (answering those inevitable "what if..." questions).
The 625gram Thermolab BARAM heatsink is compatible with socket 775 Intel Core 2 Duo/Quad and socket AM2/AM2+ AMD Phenom processors. Curiously, neither an Intel socket LGA1366 mounting bracket nor socket 754/939 compatible AMD bracket are supplied. I'd expect LGA1366 compatibility will come shortly. The Thermolab BARAM heatsink retails for around $55USD via the usual online computer stores.
Thermolab BARAM Heatsink

---

heatsink specsheet
manufacturer: thermolab
model no.: baram
materials: aluminum fins, copper heatpipes, nickel-plated copper base
fan mfg: (not supplied) mechatronics g1225s12b used for testing
fan spec: (not supplied) 1500rpm, 12v, 0.13a
fan dim: 25x120x120mm
heatsink & fan dim: 160x132x87mm
weight: 625 grams
includes: lga775 and k8 socket mounting hardware, thermal compound, instructions

---

Compatible with Sockets: AM2/AM2+ (not AMD socket 939), LGA775
Est. Pricing: $50USD ($50CDN)
The wavy line of the leading/trailing edges of the Thermolab BARAM's aluminum fins is intended to break up airflow and diminish airflow resistance. Walls of even aluminum fin ends can resist airflow significantly, particularly when low pressure fans are used and fins are tightly packed. By breaking up the surface geometry and using a wider fin spacing at the very tips, resistance to airflow moving through the aluminum fins is decreased.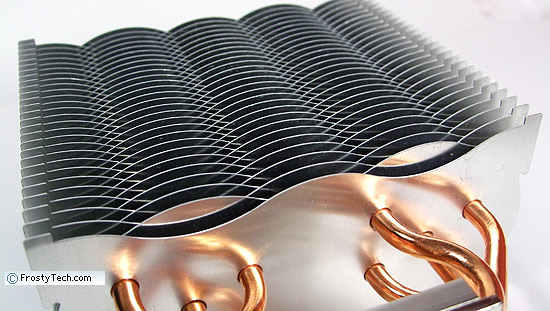 What you can't see is that the BARAM's tower of fins are effectively two separate sections. Each aluminum fin is 55mm wide, but hidden from sight in the middle is a cut that extends 25mm, effectively breaking the fin into two parts.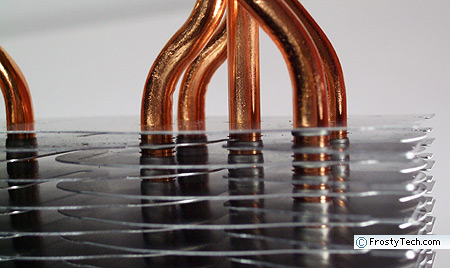 The five copper heatpipes in the Thermolab BARAM that broach the aluminum fins are spaced 11-13mm apart. This helps distribute the heat they conduct to a larger overall surface area, normalizing temperature gradients within each aluminum fin. Their location also happens to be directly behind the fan blades, so heat energy is quickly dissipated from the aluminum into the surrounding air mass.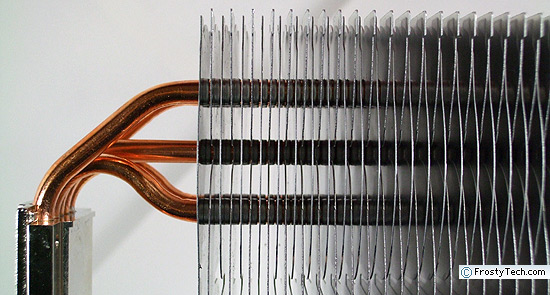 The staggering of the 6mm diameter copper heatpipes creates larger spaces, so air has less difficultly moving through. Less air flow resistance means lower velocity air can pass through the heatsink more easily, and thus quieter fans can be used with good results. As you'll see in Frostytech's thermal test results, a 120mm fan spinning at just 1000RPM is sufficient to maintain very competitive thermal performance with barely 36 dBA noise output.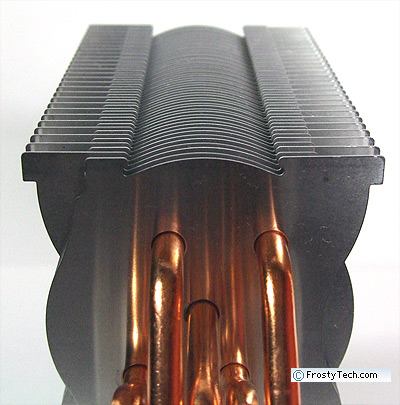 A 120mm fan can be mounted to one, or both sides of the Thermolab BARAM heatsink using the supplied springy wire clips.
Mounting Hardware
The Thermolab BARAM heatsink ships with a couple metal brackets that screw onto the base of the heatsink, accommodating Intel socket LGA775 and AMD socket AM2 processors.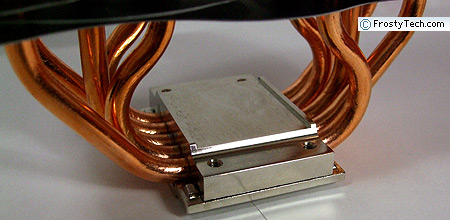 The Intel socket 775 clip uses machine screws that thread in from behind the motherboard with a plastic backplate for added support. The motherboard may need to removed from the case to install the BARAM, which is never fun. It's a little easier to mount the BARAM heatsink on AMD socket AM2 motherboards because you only need to remove the heatsink retention cage and screw into the backplate that's already there. A socket AM2 backplate is also supplied if one is not provided with the motherboard. Apart from mounting brackets, Thermolab ship the BARAM heatsink with four 120mm fan clips and a syringe of thermal grease.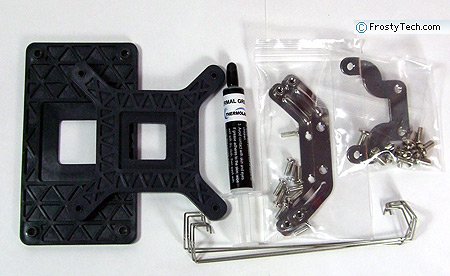 FrostyTech's Test Methodologies are outlined in detail here if you care to know what equipment is used, and the parameters under which the tests are conducted. Now let's move forward and take a closer look at this heatsink, its acoustic characteristics, and of course its performance in the thermal tests!