In this review Frostytech is evaluating the stock heatsink that accompanies the majority of Intel Core 2 Duo E4xxx series processors (specifically, the E4400 model). The heatsink closely resembles many other Intel and third party RCBFH-based heatsinks, but is a little squatter owing to the moderate 65-85W thermal loads it faces.
The majority of stock socket 775 and socket 1366 Intel heatsinks are based on Intel's Radial Curved Bifurcated Fin Heatsink (RCBFH) design which is inexpensive to produce, easy to install, and generally very thermally efficient. The nice thing about Intel is that its heatsinks are guaranteed to work, and do so quietly for the most part. It may not be the coolest heatsink out there, but for that you have Frostytech to turn to!
The stock Intel Core 2 Duo E4400 heatsink uses a suspended 4-pin PWM 85mm diameter fan, an all aluminum extruded high aspect ratio extruded radially curved bifurcated aluminum fin body with solid aluminum insert. Per Intel's own requirements, the stock Core 2 Duo heatsink installs onto any LGA775 motherboard using tool free snap clips.
Intel stock Core 2 Duo E4400 Heatsink

---

heatsink specsheet
manufacturer: intel
model no.: stock core 2 duo e4xxx series
materials: extruded aluminum, aluminum insert.
fan mfg: delta d95263-001
fan spec: 2000rpm, 12v, 0.60a
fan dim: 25x85x85mm
heatsink & fan dim: 63x90x90mm
weight: est. 380 grams
includes: pre-applied thermal compound.

---

Compatible with Sockets: LGA775
Est. Pricing: $10USD ($10CDN)
The stock Intel Core 2 Duo E4400 heatsink is composed of two sections - the first an outer ring of extruded aluminum with 26mm long curved bifurcated (split) cooling fins, the second an internal 33mm diameter solid cylindrical aluminum heat spreading core. The aluminum slug at the center makes direct contact with the processor integrated heat spreader, conducting the heat it absorbs out to the larger fin surface area.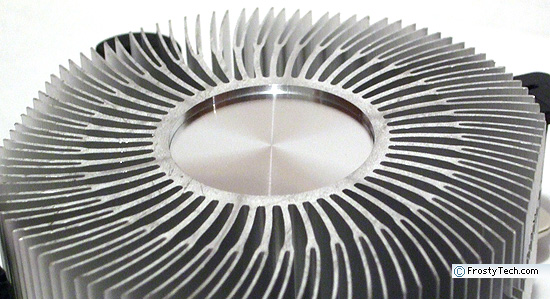 Base Finish and Flatness
Flipping a heatsink over to inspect the business end is often a simple indicator of overall cooler quality. More practically speaking, a heatsink is in many ways only as effective as the contact it makes with the processor - the flatter and smoother the better. Base finish is one of the criteria that Frostytech measure in the course of evaluating heatsinks, and it involves two distinct aspects. Surface Finish is the first; this is calculated with the aid of Surface Roughness Comparator that has a cross section of common machine surface finishes and their numerical surface roughness equivalents in microinches. The second is Surface Flatness. This is tested with an engineers straight edge or proven flat surface, in two axis.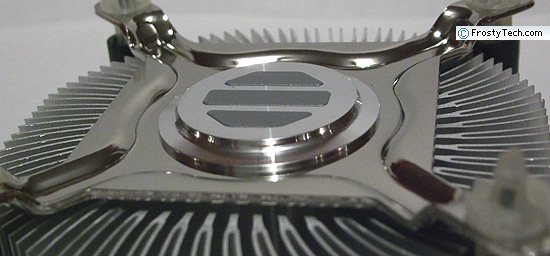 The stock Intel Core 2 Duo E4400 heatsink has a surface roughness of approximately 8 microinches, which is considered excellent. The base itself has a smooth machined finish and is flat in both axis. The heatsink ships with a pre-applied patch of thermal compound applied.
FrostyTech's Test Methodologies are outlined in detail here if you care to know what equipment is used, and the parameters under which the tests are conducted. Please note that within this review the stock Intel Core 2 Duo E4400 heatsink will be tested with a 3-pin power source. As such, the fan RPM it defaults to may not represent the upper limit it's capable of with a 4-pin PWM fan power source. Now let's move forward and take a closer look at this heatsink, its acoustic characteristics, and of course its performance in the thermal tests!