The Vantec Aeroflow FX 120 heatsink features a special base plate with three exposed 8mm diameter copper heatpipes, just like Xigmatek's very high performing "Heatpipe Direct Touch" technology. The heatpipes transfer heat directly to a large aluminum fin cooling tower above, and aside from a fairly quiet white 120mm fan the Aeroflow FX 120 is a simple and effective heatsink.
For the uninitiated, Vantec is a thermal solutions brand which used to make lots and lots of heatsinks... The last couple years though, Vantec has focused much of its energy on external hard drive enclosures. After such a long pause it's going to be interesting to see if Vantec still has its game.
The Vantec Aeroflow FX 120 (model VAF-1225) heatsink Frostytech is testing for you in this review is equipped with four white rubber vibration absorbing rubber posts, a 120mm PWM fan that spins at 1600-2200RPM, and weighs just under 600grams. Vantec's Aeroflow FX 120 heatsink is compatible with both Intel socket 478 and 775 CPUs, and AMD socket 754/939/940/AM2 processors. I can't recall the last time a modern heatsink crossed the Frostytech test bench that was compatible with socket 478. As of this writing the Aeroflow FX 120 is not compatible with Intel socket 1366 processors, however.
The 120mm sized fan on this heatsink makes the Aeroflow FX 120 ideal for full tower cases, while users with more compact system chassis might be out of luck as the cooler stands 162mm tall. Retail price for this Vantec heatsink is expected to be in the region of $50CDN ($50USD) through the regular online CPU cooler stores... but read on before you spend a cent. Frostytech's going to tell you if the Aeroflow FX 120 heatsink is fit for your PC, or fit for the scrap heap.
Vantec Aeroflow FX 120 VAF-1225 Heatsink

---

heatsink specsheet
manufacturer: vantec
model no.: aeroflow fx120 (vaf-1225)
materials: aluminum fins, copper heatpipes, aluminum base with exposed heatpipes.
fan mfg: crown electronics age12025f12j
fan spec: 1600-2200rpm, 12v, 0.38a
fan dim: 25x120x120mm
heatsink & fan dim: 162x119x77mm
weight: 588 grams
includes: socket mounting hardware, thermal compound, instructions

---

Compatible with Sockets: 754/939/940/AM2, 478, LGA775
Est. Pricing: $50USD ($50CDN)
First off let's talk about the exposed heatpipes on the base of the Aeroflow FX 120 heatsink. It's a technique quite a few heatsink manufacturers are using right now, largely because it works exceptionally well. The three 8mm diameter heatpipes come in direct contact with the top of the Intel/AMD processor, allowing heat energy to be conducted directly to the aluminum fins above with the least thermal joint resistance possible.

The outer edge of each aluminum fin is curved slightly to help direct airflow through the fins, rather than allowing it to totally escape out the side. The white 120mm PWM fan is held in place on the aluminum fins of the Vantec Aeroflow FX 120 heatsink by four white vibration absorbing rubber mounting posts. These slide into the metal much easier than a similar system used with Xigmatek heatsinks, and allow the user to remove the fan during heatsink installation on socket 775 processors. As you'll see, the Aeroflow FX 120 is a relatively quiet performance heatsink.
Multi-CPU Compatible Hardware
The Vantec Aeroflow FX 120 heatsink is sold with brackets for Intel and AMD processors, so it can be used on any CPU released in the last 5 years. The heatsink is compatible with both socket 478 and LGA775 Intel processors, and the full range of AMD K8 chips. Intel socket 1366 mounts are not provided.
The Intel socket 775 clips use the standard push-to-lock plastic clips that insert into the four motherboard holes around the processor socket. AMD Athlon 64 processors on 754/939/940/AM2/AM2+ work with a modified spring clip that attaches to the lugs on the AMD heatsink retention frame. A cam lever at one end of the clip applies pressure to the heatsink base directly. Legacy Intel socket 478 processors use special tabs to extend the width of the base so regular tool-free clips can be locked into the heatsink retention frame.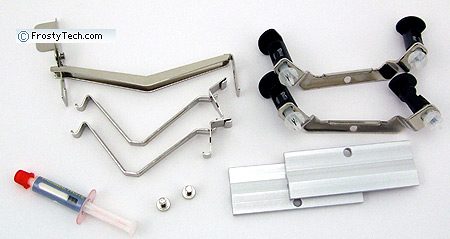 Base Finish and Flatness
Flipping a heatsink over to inspect the business end is often a simple indicator of overall cooler quality. More practically speaking, a heatsink is in many ways only as effective as the contact it makes with the processor - the flatter and smoother the better. Base finish is one of the criteria that Frostytech measure in the course of evaluating heatsinks, and it involves two distinct aspects. Surface Finish is the first; this is calculated with the aid of Surface Roughness Comparator that has a cross section of common machine surface finishes and their numerical surface roughness equivalents in microinches. The second is Surface Flatness. This is tested with an engineers straight edge or proven flat surface, in two axis.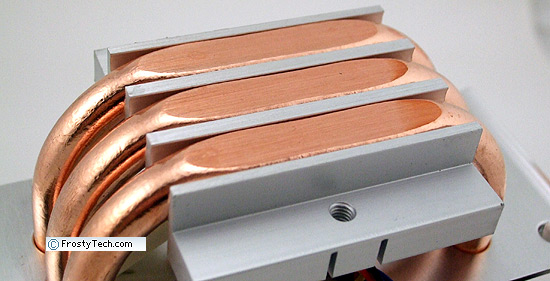 The Vantec Aeroflow FX 120 heatsink has a surface roughness of approximately 32 microinches, which is considered good. The base itself has a smooth sanded finish and is generally flat in both axis. The copper and aluminum parts of the base are flush with one another.
FrostyTech's Test Methodologies are outlined in detail here if you care to know what equipment is used, and the parameters under which the tests are conducted. Now let's move forward and take a closer look at this heatsink, its acoustic characteristics, and of course its performance in the thermal tests!