A great many of those big 17" desktop replacement notebooks run hot, particularly legacy laptops with Intel Pentium 4 processors under the hood. Jokes about 'pressing your pants' while working in Microsoft Word, or suffering 2nd degree burns from the heat given off by cramming desktop level hardware into a laptop were all once common. The mobile Intel Core 2 Duo CPU has lessened the heatstroke a little, but some AMD mobile chips, and particularly any laptop with a decent gaming videocard can still be a very toasty object.
To solve these heat issues, manufacturers have developed the least respected corner of the PC world - cooling pads for laptops - essentially hard flat surfaces with a couple fans embedded in them to move some air. The notebook cooling pads are basic devices, so if you're tired of dealing with a red hot iron of a laptop, you can pretty much get anything within your budget, or aesthetics.
| | |
| --- | --- |
| Evercool NP-301-WH Notebook Cooling Pad | |

HEATSINK SPECSHEET
Manufacturer: Evercool
Model No.: NP-301-WH
Materials: Extruded Aluminum, plastic
Fans: (2) 70mm at 1500RPM
Max Surface Area: 240mm x 325mm
Includes: USB A-to-A power cable

---

Est. Pricing: $30USD ($30CDN)
Luxury laptop cooling pads will draw power from any free USB slot, and if you're lucky contain a hub so multiple devices can be easily plugged in. The Evercool NP-301-WH Frostytech is looking at today has such an option, and even two little drawers for storing a USB key and the USB power cable for the main unit. The NP-301-WH is constructed from aluminum, enameled white, and contains two 70mm fans which can be set to blow up at the hot notebook, or exhaust downwards.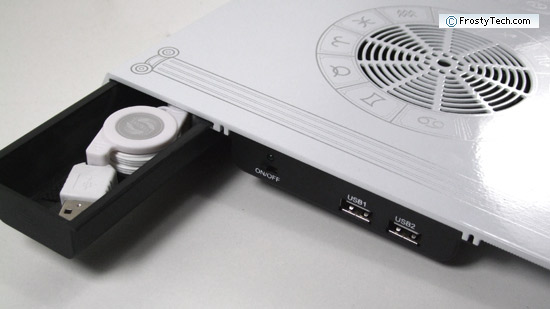 Power comes from your laptops' USB port via a male-to-male extension cable. There are two USB ports (one occupied by the power cable), a simple off switch and green LED indicate whether the very quiet fans are spinning at 1500RPM, or off.
Evercool's NP-301-WH notebook cooling pad weighs a kilo. Not exactly a kilo you'd want to drag around while travelling, or even could on an airplane... but since it doesn't plug into the way I guess we can say it is "portable." The notebook platform of the aluminum pad is set at a slight angle which does make using a notebook more comfortable on the wrists (think keyboard-type angles). The surface of the pad is large enough to accommodate a notebook up to 240x325mm in size.

The thickness of the aluminum extrusion is hefty enough, and the white paint job makes the surface good and scratch free. The retail cost of such a block of metal with a couple fans shouldn't be more than $30 at your local computer store.
The device is emblazoned with some silver graphics for "the zodiac", we can only hope this isn't meant to inspire the Zodiac Killer.... All of this is obscured by the laptop naturally.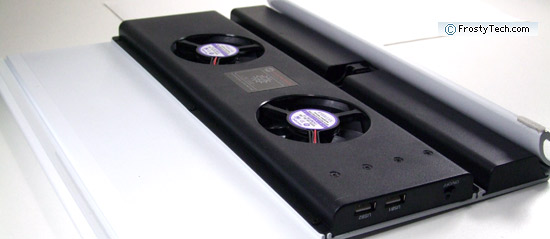 Evercool's NP-301-WH aluminum cooling pad does what it says it will, just like a cup holds water. We greeted this product with a bit of skepticism at first, mainly because the sub-notebooks we're accustomed to never get more than 35C hot. However, we quickly discovered the slight angle the notebook is supported at actually makes typing more comfortable... more like typing on a full size desktop keyboard.
And there you have it, the kind of product only big hot 17" widescreen laptops could have created into existance. If you suffer the problem of excessive laptop heat, an inexpensive product like Evercool's NP-301-WH aluminum cooling pad may well help out.
Related Articles:
The Top 5 best heatsinks for low noise and low temperature are ranked here. For more reviews on the latest heatsinks and cooling solutions, rely on FrostyTech's inventory of 400+ heatsink reviews. Here are a few other articles that you might enjoy as well.
- Coolermaster V8 Heatsink Review
- Noctua NH-C12P Heatsink Review
- OCZ Gladiator MAX Heatsink Review
- Nexus HOC-9000 Heatpipe On CPU Heatsink Review
- Ibuypower IBP-Z001 Liquid Cooling System Review
- EKL Alphenfohn GroB Clock ner Heatsink Review
- Xigmatek Achilles S1284 Exposed Heatpipe Base Heatsink Review