Have you ever noticed the front grill of a truck driving by? Many have decorative grills this is true, but if you look closely you may see that behind the chrome is a hexagonal grid whose purpose is to straighten the airflow being drawn into the engine's radiator.
In wind tunnels, stacks of thin aluminum honeycomb cells are used to straighten the airflow for aerodynamic experiments. The tightly packed cells have little air resistance, yet as turbulent air moves through it is forced into a more laminar flow pattern. Less turbulent air creates less noise, and exhausts further and more focused with the same power.
This is the premise behind Nexus' BeamAir series of hexagonal computer fan airflow straighteners. The small plastic honeycomb devices attach to the back of any thickness of 120mm or 92/80mm fans, and helps guide the exhaust airflow. The plastic unit Frostytech is looking at today is the 120mm version of the BeamAir, so it is compatible with 120mm case fans only. The device may be used on PC case exhaust or intake fans, but it has to be mounted on the exhaust side of the actual fan. The cost is $7 USD.
| | |
| --- | --- |
| Nexus BeamAir 120mm Flow Straightener | |

heatsink specsheet
manufacturer: nexus
model no.: beamair 120mm
materials: plastic
fan compatibility: any 120x120mm fan
fan dim: 12x123x123mm
includes: mounting screw

---

Est. Pricing: $8USD ($8CDN)
The unit is made of injection moulded plastic and features 20mm honeycomb cells spread out over a surface of 100x100mm. The walls of each cell are about 13mm high.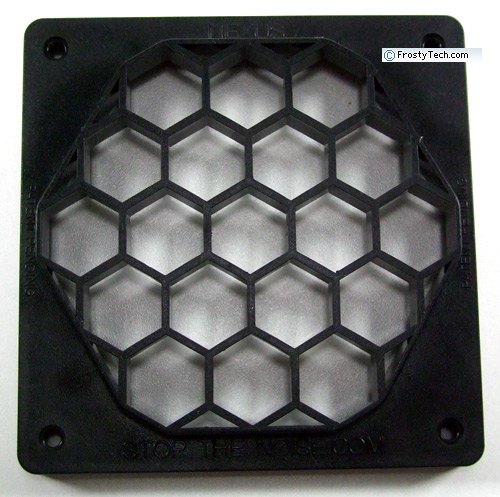 The top of the Nexus BeamAir 120mm unit (above).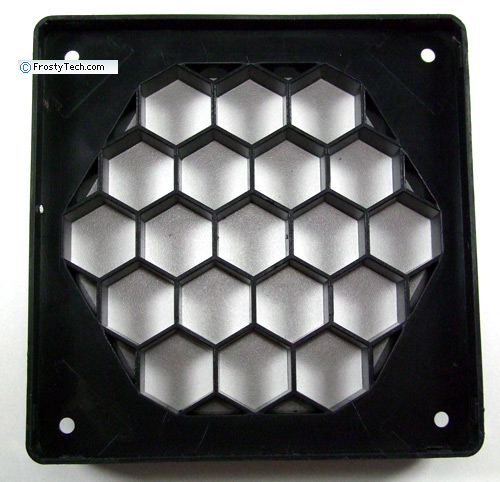 The underside of the Nexus BeamAir 120mm unit.

The plastic BeamAir adaptor is 22mm thick, but only half of this is the actual airflow straightener. Fan screws are used to attach the plastic adaptor to the rear of any 120mm fan that has screw flanges. The screws are provided along with the adaptor.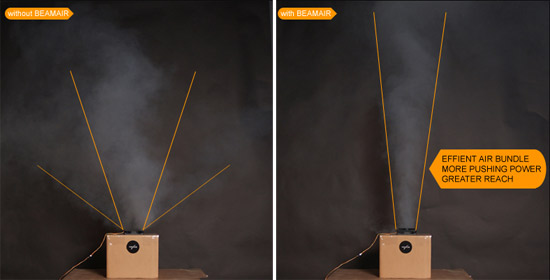 Here is what the Nexus BeamAir does to airflow in a simulated environment with smoke used as a visual indicator. We've seen aluminum honeycomb used in the past for this very same purpose, but that can be an expensive route to follow.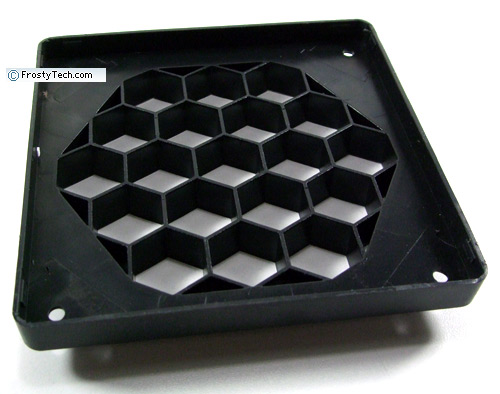 There's no need to write pages and pages on such a simple product for PC care. The Nexus BeamAir does what it says it will, and if your PC could use an extra boost in hot air exhaust it may well be just what the doctor ordered. Particularly as it enhances existing fans and doesn't require a more powerful or faster spinning fan, so in that respect noise levels aren't changed. While this is currently a stand alone product by Nexus, we'd really like to see the honeycomb pattern integrated into more cases from the outset.
Related Articles:
The Top 5 best heatsinks for low noise and low temperature are ranked here. For more reviews on the latest heatsinks and cooling solutions, rely on FrostyTech's inventory of 400+ heatsink reviews. Here are a few other articles that you might enjoy as well.
- Coolermaster V8 Heatsink Review
- Noctua NH-C12P Heatsink Review
- OCZ Gladiator MAX Heatsink Review
- Nexus HOC-9000 Heatpipe On CPU Heatsink Review
- Ibuypower IBP-Z001 Liquid Cooling System Review
- EKL Alphenfohn GroB Clock ner Heatsink Review
- Xigmatek Achilles S1284 Exposed Heatpipe Base Heatsink Review