Home-built watercooling rigs are expensive to assemble from individual parts, messy to fill and bleed, troublesome to maintain and often a pain to install. The infinite varieties of tube diameter, pump pressure, radiator size and waterblock design make testing watercooling systems so convoluted that Frostytech steers well clear of this segment. There is no way we can realistically cover the huge variation of ways you might choose to implement watercooling parts, and put simply arbitrary test data on a waterblock isn't useful.
Self-contained watercooling systems on the other hand can be an effective and highly efficient means of quietly cooling your PC system. The simple premise being that watercooling allows the heat to be moved away from the CPU to a centralized location, pumped through a heat exchanger with significant surface area and expelled from the case with little noise. It's sort of like using many individual window air conditioners in a house versus one central A/C unit tucked away in the back yard.
In this review Frostytech is testing IbuyPower's IBP-Z001 self-contained liquid cooling system. The unit consists of a copper waterblock with integrated pump, a short (230mm) length of 1/2" ID Norprene tubing and a 105x105mm (effective) heat exchanger with 120mm PWM fan.
The IBP-Z001 system ships pre-filed with an ethylene-glycol fluid, so right out of the box it's ready to go. All the end user has to do is install the CPU block onto an AMD (socket 754/939/AM2) or Intel (socket 775) processor and mount the radiator to the rear of the computer case. Most full size tower cases have mounting holes for rear 120mm exhaust fans, many mid-tower cases do as well.
IbuyPower IBP-Z001 Watercooling System

---

heatsink specsheet
manufacturer: ibuypower
model no.: ibp-z001
materials: copper/glass fiber plastic waterblock, norprene tubes, aluminum radiator
fan mfg: avc da12025b12lp005
fan spec: 800-2500rpm, 12v, 0.30a, pwm
fan dim: 25x120x120mm
waterblock dim: 80x79x79mm
heat exchanger dim: 147x120x35mm
weight: est. 900 grams
includes: mounting brackets, instructions

---

Compatible with Sockets: 754/939/940/AM2/AM2+, 775
Est. Pricing: $75USD ($75CDN)
The IBP-Z001's copper waterblock has a pre-applied patch of thermal compound, and all necessary mounting hardware is supplied. The package is still very much an OEM unit, seeing that IbuyPower originally developed it for whitebox PC systems. However, unlike a lot of the self-contained watercooling retail products coming out of Asia, the IbuyPower IBP-Z001 is well constructed. This product is clearly intended to be maintenance free for many years, and the materials emphasize function over appearance.
Update - this liquid cooling system is OEM'd by AVC, a large thermal solutions manufacturer with a strong reputation. The full specs on the AVC "Hercules" Aquacool series can be found here.
A 120mm PWM fan moves air through the aluminum heat exchanger at a speed of 800-2500RPM, and is PWM compliant. The waterblock is compatible with Intel socket 775 and AMD socket 754/939/940/AM2 processors, and also uses a PWM compliant pump. As of this writing Intel socket 1366 processors are not supported. The retail price is in the region of $75CDN ($75USD) through Directron.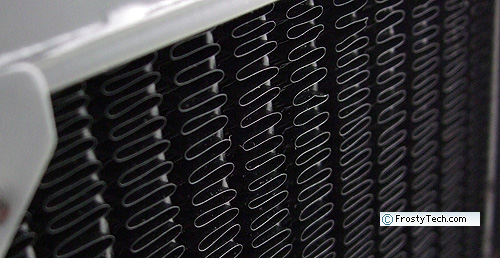 The 1/2" ID Norprene tubing is black and opaque - you can't see the fluid flowing through. Norprene is an engineered plastic that feels a bit like rubber or neoprene. It has an operating temperature range from -51C to 135C and is UV light resistant (unlike neoprene which will eventually crack in UV-saturated environments).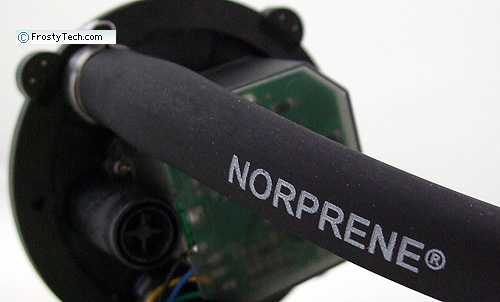 The material is chemically stable (it's used in food processing) kink resistant and flexible. The tubing is connected to the metal barbs of the heat exchanger and the glass fibre reinforced plastic body of the waterblock with permanent stainless steel metal crimp clamps.
In other words, the tube and tubing hardware has been selected for longevity, leak-proof joints, low evaporation by reverse osmosis and generally speaking function over bling.

Installation Hardware

IbuyPower's IBP-Z001 self-contained watercooling system is compatible with Intel socket 775 and AMD socket 754/939/940/AM2/AM2+ processors. Special clips are attached to the base of the waterblock which allow it to mesh through the board holes with a rear support plate for each processor family. The rear support plate must be used, so this respect the system will take a few minutes to set up.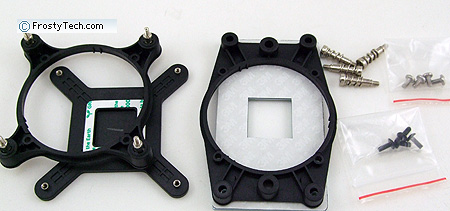 On the plus side, all screws are spring tensioned so there is no way the copper CPU block/pump can be installed incorrectly. Pressure is evenly distributed over the CPU's integrated heat spreader, and the waterblock held firmly in position. Even on Frostytech's synthetic temperature test platforms, installation wasn't problematic at all.
FrostyTech's Test Methodologies are outlined in detail here if you care to know what equipment is used, and the parameters under which the tests are conducted. Now let's move forward and take a closer look at this heatsink, its acoustic characteristics, and of course its performance in the thermal tests!