The EKL Alphenfohn GroB Clock'ner Blue Edition heatsink is unique for a couple reasons; as you've probably already realized it closely resembles the Sunbeam Core Contact Freeze, but that's not what we're referring to. No, what makes the tediously named EKL Alphenfohn GroB Clock'ner Blue Edition heatsink stand out in our books is a full copper base around the copper heatpipes, and a very special, very thin 38x38mm square piece of heat transfer metal supplied with it. More on this in a moment...
The Alphenfohn GroB Clock'ner Blue Edition heatsink on the test bench today is a heatpipe direct contact cooler - meaning the heatpipes are exposed at the base. The cooler stands 154m tall, is 125mm across and weighs upwards of 778grams. A 120mm PWM fan is held in position with simple wire clips (and rubber posts to decrease vibration noise), and spins at 800-1500RPM. The heatsink is compatible with Intel socket 775 and AMD socket 754/939/940/AM2 processors. As of this writing the upcoming Intel socket 1366 is not supported.
The EKL Alphenfohn GroB Clock'ner Blue Edition heatsink should fit most full and mid-tower PC chassis, but may be too tall for some microATX systems. Keep that in mind as you scan through Frostytech's review. Installation is entirely tool free, and refreshingly the motherboard doesn't need to be removed to install the mounting bracket. Retail price is expected to be in the region of $45CDN ($45USD).
EKL Alphenfohn GroB Clock'ner Blue Edition Heatsink

---

heatsink specsheet
manufacturer: ekl alphenfohn
model no.: grob clock'ner Blue Edition
Materials: aluminum fins, copper heatpipes and base
Fan Mfg: Kooler Spiriter ES fan
Fan Spec: 800-1500RPM, 12V, 0.14A
Fan Dim: 25x120x120mm
Heatsink & Fan Dim: 154x125x105mm
Weight: 778 grams
Includes: Mounting bracket, metal thermal pad, fan speed controller, instructions

---

Compatible with Sockets: 754/939/940/AM2/AM2+, 775
Est. Pricing: $45USD ($45CDN)
The technique of using large diameter copper heatpipes in direct contact with the top of the processor has been enthusiastically embraced by many heatsink manufacturers. Placing the heatpipes right out in the open minimizes thermal joint resistance since heat energy is conducted directly to the heatpipes. The method works extremely well with heatspreader capped processors that generally have larger silicon dies below. With the Alphenfohn GroB Clock'ner Blue Edition heatsink, the manufacturer has gone one step further and selected a copper base plate too.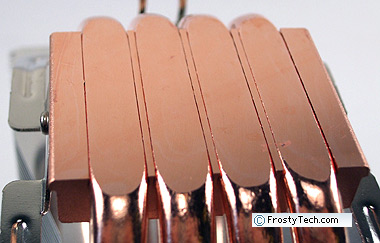 Bundled with the GroB Clock'ner Blue Edition heatsink is a small patch of Coollaboratory thermal interface material, the Liquid MetalPad. This paper thin piece of silvered colour metal is an Indium alloy (Indium, Copper, Bismuth) which melts at 59°C, and possess a density of 8.29g/cm3. The metal thermal interface material is copper and aluminum safe. Coollaboratory's original Liquid Pro metallic thermal interface compound, which came in a syringe, was a Gallium-based metal alloy (back story). Gallium reacts badly with aluminum, the Indium contained in the Liquid MetalPad does not.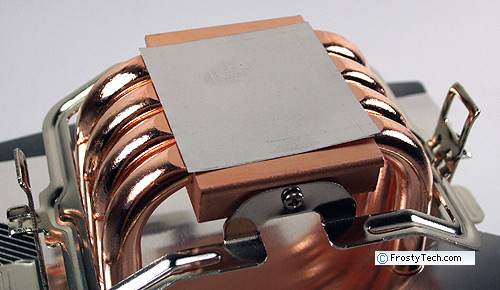 In any event, the metal thermal interface pad is a nice extra considering it sells for $8 on its own. If you use it, the trick is to disable the heatsink fan momentarily so the CPU reaches 60°C, melting the MetalPad and allowing it to work as intended. We couldn't risk contaminating the copper CPU dies on the Frostytech Synthetic temperature test platforms, so the Coollaboratory MetalPad was not used in our tests.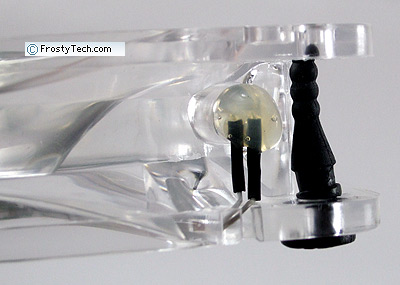 The translucent fan is internally illuminated with a couple blue LEDs, and at each corner there is a small rubber pad to help reduce vibration noises.
Installation Hardware
EKL's Alphenfohn GroB Clock'ner Blue Edition heatsink is compatible with Intel socket 775 and AMD socket 754/939/940/AM2/AM2+ processors. The heatsink has one common clip attached to the base which operates in a tool free manner.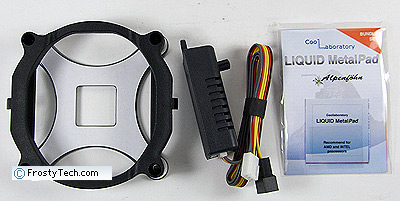 The clip is designed with AMD socket 939/AM2 CPUs in mind, so for Intel processors a specialized heatsink retention frame needs to be installed. The black plastic adaptor pops into the four holes around the Intel LGA775 processor socket, and then all the user has to do is push in four plastic pegs to expand the feet and lock the retention frame into position on the motherboard PCB.
The system is a modified version of the standard Intel push-to-click heatsink attachment mechanism, and has the benefit of clamping firmly in place without requiring the user to remove the entire motherboard first and fiddle with screws. An illustrated manual provides guidance, and a fan speed controller and syringe of thermal compound are also provided.
FrostyTech's Test Methodologies are outlined in detail here if you care to know what equipment is used, and the parameters under which the tests are conducted. Now let's move forward and take a closer look at this heatsink, its acoustic characteristics, and of course its performance in the thermal tests!