For anyone who believes that overheating memory is the root cause of system instability, Forcetake's Mars RAM Coolers may be just the trick. The kit includes two passive RAM heatsinks for single or double sided DDR/DDR2/DDR3 memory, several thermal interface pads, and all the necessary hardware you'll need. You supply the RAM.
Each Forcetake Mars RAM heatsink is more than just a stamped aluminum plate like a lot of the memory heatspreaders in use by manufacturers themselves. The Mars cooler is in fact two extruded aluminum sections which are clamped together around a U-shaped heatpipe with dense copper fins, and the memory module itself. A mechanical clamp keeps the RAM cooler in place, which is an important distinction to take note of because genuine thermal interface pads are used, not double sided tape. Many memory heatspreaders are held together by nothing more than double sided tape which is not designed for heat transfer.
Frag tape is basically just sticky double sided tape, it's made to stick things together, it's not known for conforming to different surface heights or being especially thermally conductive. The Forcetake Mars cooler uses thin thermal interface pads which conform around the different surfaces on the side of a stick of memory to better transfer heat to the aluminum. Two thicknesses of thermal interface pad are supplied, so this heatsink can also be used with double or single sided memory modules. If enough heat is produced by the memory, the Mars cooler has a small copper heatpipe mounted atop each module to further aide cooling.
Forcetake Mars RAM Heatsink Kit

---

heatsink specsheet
manufacturer: forcetake
model no.: mars (cl-r1000-jr)
materials: extruded anodized aluminum, copper heatpipes and fins
fan mfg: n/a
fan spec: n/a
fan dim: n/a
heatsink & fan dim: 9.5x61.5x146mm
weight: 50 grams
includes: thermal interface tape, thermal compound

---

Compatible with RAM: DDR, DDR2, DDR3
Est. Pricing: $17USD ($17CDN)
Each copper heatpipe is covered the full length in thin copper fins that take advantage of airflow across the memory region. The heatpipe may be rotated to the left or right of the memory module, depending on the positioning of dual channel RAM in your computer system. This is a pretty unique feature to the Forcetake RAM cooler, we can't recall any other memory cooling solution which offers this level of adjustability.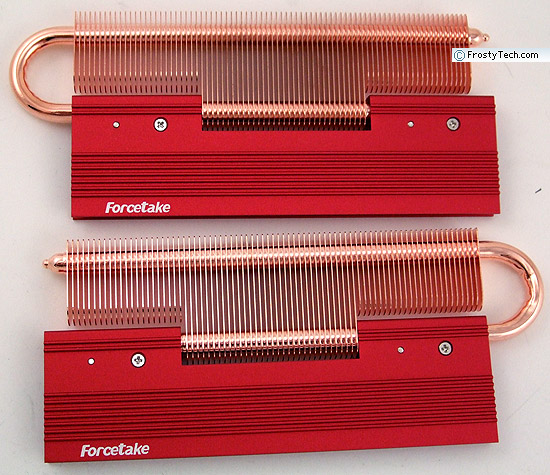 There are many instances where the CPU heatsink or optical drives overhang the memory slots, being able to rotate the heatpipes so the Forcetake Mars RAM cooler becomes effectively shorter can mean the difference between using this product and it not fitting.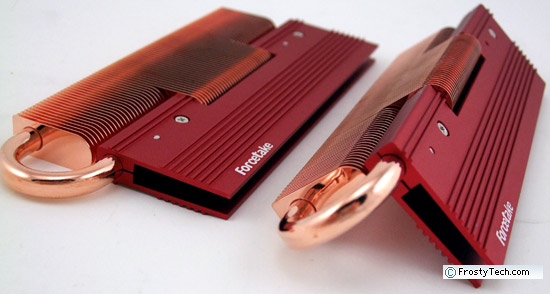 In most respects installation is quite straight forward. Forcetake's Mars RAM coolers are intended for DDR, DDR2 and DDR3 memory modules, and assuming the sticks of memory you have are bare, installation is a quick affair. A thin strip of thermal interface material is first laid down on the DRAM, and then the anodized aluminum heatspreaders are set in place. Once installed, the heatspreaders widen each RAM module to a thickness of 9.5mm. On some motherboards you will be able to install memory modules with the Mars RAM cooler side by side, on others you will not.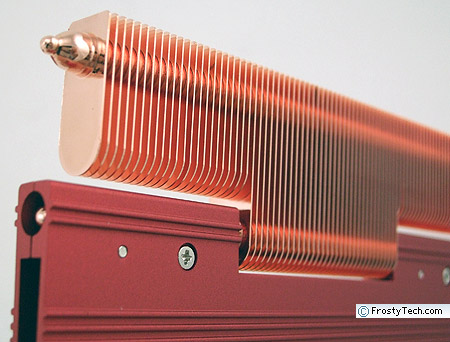 If your memory already has heatspreaders attached with adhesive or frag tape, there's a good chance you may destroy your memory if you attempt to remove the heatspreaders, so don't. Our experience removing heatspreaders from old memory has been successful when the DRAM is the TSOP-II formfactor, and the adhesive isn't too sticky. Most early DDR2 DRAM was TSOP-II, and almost every DDR DRAM we've come across is. Later generation DDR2, and DDR3 is packaged in a BGA IC formfactor. That kind of RAM package doesn't suffer flexing very well, and we've destroyed some very expensive memory attempting to remove heatspreaders so we do not recommend you try it yourself.