Anyone with a compact computer case will tell you that finding a good heatsink can be a daunting task. After tracking down the best heatsinks available for your budget, there's the question of heatsink heights to factor in. The majority of top performing heatsinks are tower heatsinks, which means they are going to be at least 140mm tall. For a lot of users that's just too big for compact PCs.
What the world needs is a broader selection of great sub-100mm tall heatsinks to choose from. That can be a tricky thing because heatsink manufacturers don't have as much fin surface area to work with and can't opt for a nice quiet 120mm fan. Bottom line, there's less incentive to make high performance low profile heatsinks.
This is where the new Thermaltake DuOrb heatsink comes in. This heatsink features twin 80mm fans set side-by-side so cooling surface area isn't sacrificed for keeping the total heatsink height under 90mm. The DuOrb is novel in a couple of other aspects; it uses a combination of copper and aluminum fins, six heatpipes and a radial shaped fins to get the most cooling surface area packed into a compact package. The Thermaltake DuOrb is long, but even this can be put to use cooling adjacent motherboard components like the memory or power MOSFETs if the motherboard can accommodate it.
Thermaltake DuOrb Heatsink

---

heatsink specsheet
manufacturer: thermaltake
model no.: duorb (cl-p0464)
materials: aluminum and copper fins, copper heatpipes, copper base.
fan mfg: thermaltake ti128020sl (x2)
fan spec: 2000rpm, 12v, 0.20a
fan dim: 20x80x20mm
heatsink & fan dim: 84x204x106mm
weight: 598 grams
includes: lga775 and k8 socket mounting hardware, thermal compound, instructions

---

Compatible with Sockets: AM2/AM2+, LGA775
Est. Pricing: $35USD ($35CDN)
Thermaltake's DuOrb heatsink is equipped with two blue LED illuminated 80mm fans that spin at 2000RPM. The heatsink is compatible with Intel socket 775 and AMD socket AM2+ processors, but not AMD's earlier K8 sockets like 754/939/940.
The DuOrb stands 84mm tall and weighs in at 598 grams. It retails for about $35 bucks.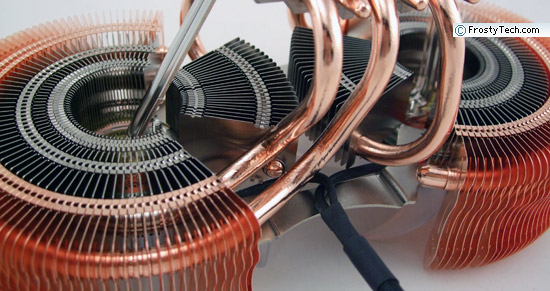 Here is a close up look at the build of the Thermaltake DuOrb. Note how the outer ring of copper fins is separate from the inner ring of aluminum fins which are split into two parts. Each of these three sections is connected by one copper heatpipe to the base of the Thermaltake DuOrb heatsink.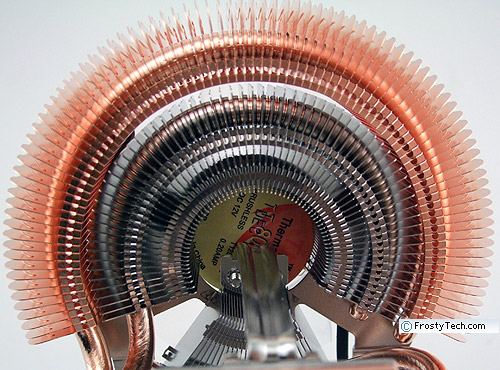 Installation Hardware
The Thermaltake DuOrb heatsink works with Intel socket 775 and AMD socket AM2 processors. It is not compatible out of the box with AMD socket 754/939/940 CPUs. For both AMD and Intel platforms users will need to install special mounting brackets on the motherboard with screws. The Thermaltake DuOrb then attaches to the brackets with spring tensioned nuts. The upside is that the DuOrb is very securely held in place, the downside is having to fiddle around with the motherboard so much.
FrostyTech's Test Methodologies are outlined in detail here if you care to know what equipment is used, and the parameters under which the tests are conducted. Now let's move forward and take a closer look at this heatsink, its acoustic characteristics, and of course its performance in the thermal tests!