The Asus Lion Square heatsink is a cylindrical tower of nickel plated aluminum fins wrapped around a 92mm PWM fan suspended in the center of it all. From the outside only the erie blue glow of the Sunon Maglev fan is visible, its noise is muffled to moderately audible levels.
One of the unique aspects of ASUS' Lion Square cooler is that it eschews standard 6mm diameter heatpipes for four chunky 8mm diameter units. Furthermore, the heatpipes, aluminum fins and copper base are all nickel-plated and joints soldered to enhance heat conduction.
The inherent resistance imparted to the fan from having to draw air in through one side of the heatsinks' fins before expelling it out the other, generally means there isn't as significant a performance drop when the fan runs at lower speeds.
The Lion Square heatsink is compatible with Intel socket 775 and AMD socket 754/939/940/AM2+ processors. It stands 144mm tall and weighs in at 730 grams.
ASUS Lion Square Heatsink

---

heatsink specsheet
manufacturer: asus
model no.: lion square (90-pn5a1cm)
materials: nickel plated aluminum fins, copper heatpipes, copper base.
fan mfg: sunon maglef kde1209ptvx
fan spec: 2300rpm, 12v, 0.36a
fan dim: 25x92x92mm
heatsink & fan dim: 144x126x126mm
weight: 730 grams
includes: lga775 and k8 socket mounting hardware, thermal compound, instructions

---

Compatible with Sockets: 754/939/940/AM2/AM2+, LGA775
Est. Pricing: $60USD ($60CDN)
Removing the top cap on the Asus Lion Square heatsink gives a better view of its construction. Each set of "fins" around the four 8mm diameter heatpipes are roughly 36mm wide, the thin side strips joining each half don't really do much. The 92mm Sunon fan hangs in this 36mm wide cavity, surround by circular fins which have a frisbee-like shape.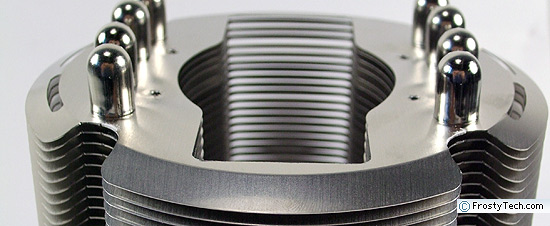 The edges of all fins are bent down about 10-15 degrees, with a portion of the edge punched out to improve airflow. It's a unique approach for certain, so it will be interesting to see how this Asus heatsink ultimately handles in the thermal tests.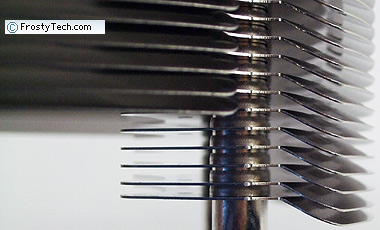 Installation Hardware
The ASUS Lion Square heatsink is compatible with Intel socket 775 and AMD socket 754/939/940/AM2+ processors. The installation procedure isn't too complicated, but will require a screw driver and a little time looking over the instructions.
Intel socket 775 mounting brackets attach to the base of the ASUS Lion Square heatsink with a couple screws, while a special threaded rear support plate is positioned on the opposite side of the motherboard. For AMD motherboards a fairly standard K8 mounting clip is used which locks onto the heatsink retention frame around the processor socket.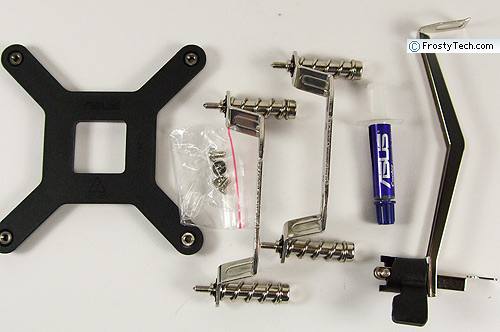 FrostyTech's Test Methodologies are outlined in detail here if you care to know what equipment is used, and the parameters under which the tests are conducted. Now let's move forward and take a closer look at this heatsink, its acoustic characteristics, and of course its performance in the thermal tests!