In our meetings with heatsink manufacturers at Computex 2008 in Taiwan Frostytech received more than a few behind closed doors product previews. We saw dozens of fantastic heatsink prototypes of all shapes and materials, but one trend ran through the trade show floor like no other. The technique of leaving heatpipes exposed at the base of a heatsink. It's really not new to the field of thermal solutions, but it is relatively new to CPU heatsinks.
We can thank innovative thermal engineers for this one, and the fact that both AMD and Intel processors use something called an 'integrated heatspreader' or IHS. Anyway, the future of this technique is bound to involve a few lawsuits as certain patent interests are flexed... For the moment it's anyone's game, leading to an influx of heatsink direct touch, heatsink on CPU, and whatever other exposed heatpipe base names the marketing departments can come up with to describe identical techniques.
In this review Frostytech is evaluating Nexus' HOC-9000 heatsink, a medium height lower noise cooler for Intel socket 775 and AMD socket 754/939/940/AM2+ processors. The HOC-9000 stands 128mm tall and features one low speed 120mm PWM fan held in place with flexible rubber posts. The cooler weighs upwards of 550grams, uses four 8mm diameter copper heatpipes and comes with a couple stickers you can plaster to the side to 'customize' it. Retail price is in the neighborhood of $49.
Nexus HOC-9000 Heatsink

---

heatsink specsheet
manufacturer: nexus
model no.: hoc-9000
materials: aluminum fins, nickel plated copper heatpipes, aluminum base.
fan mfg: nexus ad1212dx-a7bgl
fan spec: 800-1500rpm, 12v, 0.13a
fan dim: 25x120x120mm
heatsink & fan dim: 128x149x150mm
weight: 550 grams
includes: lga775 and k8 socket mounting hardware, fan power adaptors, stickers

---

Compatible with Sockets: 754/939/940/AM2/AM2+, LGA775
Est. Pricing: $49USD ($49CDN)
Like a lot of other good lower noise heatsinks, the Nexus HOC-9000 uses rubber posts which cut down on vibration transmission from the fan motor. The aluminum fins below the fan also slope down to create a 15mm plenum, an effect which is not immediately apparent when looking at the side. Plenum's are used to equalize pressure for more even distribution across the entire fin array, and can help diminish certain fan noises.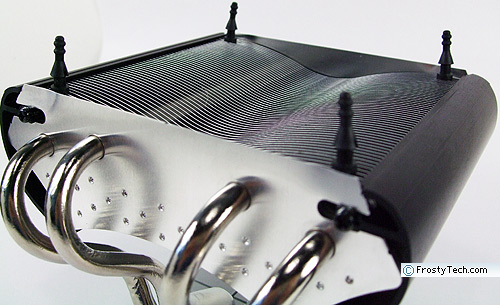 The HOC-9000 is otherwise your standard top-down heatsink. Four 8mm diameter nickel plated copper heatpipes connect the aluminum fins to the base below, where the heatpipes make direct contact with the processor. This arrangement can be very efficient, as heatpipes are better at conducting heat energy than a solid block of metal. However, if the heatpipes don't make even contact with the processor core, the opposite is also true.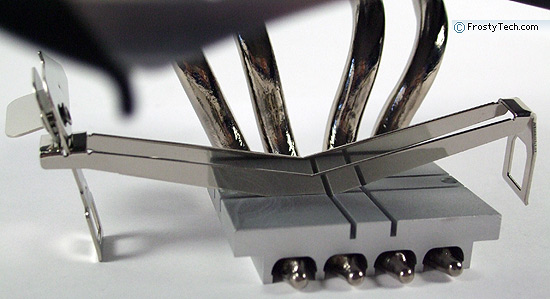 Installation Hardware
The Nexus HOC-9000 heatsink is compatible with Intel socket 775 and AMD socket 754/939/940/AM2+ processors, and ships with very simple mounting hardware to match. Both sets of clips offer tool free installation, though you will need a screwdriver to attach the LGA775 brackets to the base first.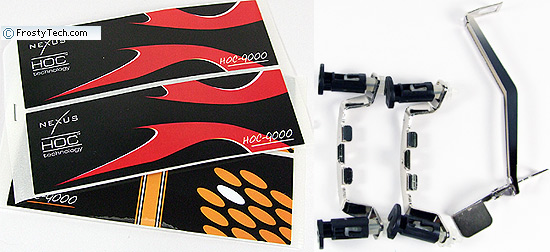 Some large stickers are supplied so you can customize the appearance of the Nexus HOC-9000 heatsink. They can be stuck onto the black sides of the cooler, for our tests we left them off.
FrostyTech's Test Methodologies are outlined in detail here if you care to know what equipment is used, and the parameters under which the tests are conducted. Now let's move forward and take a closer look at this heatsink, its acoustic characteristics, and of course its performance in the thermal tests!