Frostytech recently spoke with Coolermaster at the Computex 2008 trade show in Taipei about what makes a good heatsink; performance or appearance? The answer should be easy, but it seems too many end users are still shopping for their CPU coolers based on what looks "cool". This gives incentive to product designers to churn out heatsinks that resemble space ships, flowers, chrome plated beasts and multi-coloured intergalactic whatzits...
Hopefully Frostytech can do it's part to highlight heatsinks with great thermal performance, and expose the mechanized monsters for the over stylized paperweights the often are.
In this review Frostytech is evaluating the Coolermaster GeminII S - a low height, lower noise, down-exhaust heatsink for Intel socket 775 and AMD socket 754/939/940/AM2+ processors. Coolermaster's GeminII S heatsink stands just 88mm tall and ships with a 120mm fan mounted to its frame. An extra set of brackets allow that fan to be replaced with two 92mm or 80mm fans; say if you want airflow blowing directly down onto adjacent memory slots. The GeminII S heatsink weighs 560grams, features five 6mm dia. copper heatpipes and cooling fins that descend to the CPU base.
Coolermaster GeminII S Heatsink

---

heatsink specsheet
manufacturer: coolermaster
model no.: geminii s (rr-cch-pbu1-gp)
materials: nickel plated aluminum fins, copper heatpipes, copper base.
fan mfg: coolermaster df1202512rfhn
fan spec: 1000-1800rpm, 12v, 0.32a
fan dim: 25x120x120mm
heatsink & fan dim: 88x125x120mm
weight: 560 grams
includes: lga775 and k8 socket mounting hardware, thermal compound, instructions

---

Compatible with Sockets: 754/939/940/AM2/AM2+, LGA775
Est. Pricing: $44USD ($44CDN)
As heatsinks go the Coolermaster GeminII S is good no-frills approach to keeping one's processor running smoothly without much noise. To ensure good thermal conductivity between the different components, all joints are soldered, the aluminum fins nickel plated. Much like the Noctua NH-C12P , the Coolermaster GeminII S is a little different than most overhanging-style heatsinks.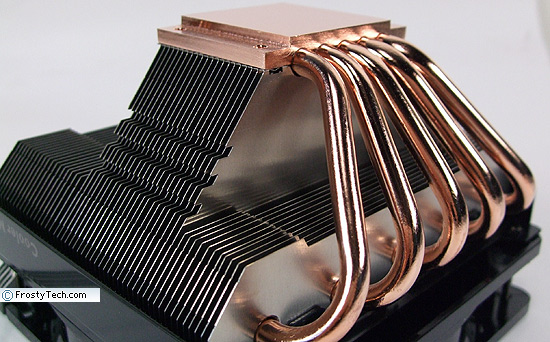 The five copper heatpipes conduct much of the heat to the aluminum cooling fins above, but a 35mm wide swath of aluminum fin also extend to the copper base plate below. This approach provides an extra measure of insurance should the heatpipes ever face a situation which leads to 'stalling.' In the unlikely event that occurs some fins will continue to conduct heat away from the processor.
Installation Hardware
Coolermaster's GeminII S heatsink is compatible with Intel socket 775 and AMD socket 754/939/940/AM2+ processors. The installation procedure Coolermaster opt for is more complicated than necessary, requiring you to remove the entire motherboard from the case to pop in special back plate and tighten nuts. The CPU cooler arrives with a variety of brackets, screws and nuts which are all proprietory to this design.
The multi-language manual makes installation pretty straightforward, but it is tedious. Coolermaster have been using this "system" for a while with its heatsinks, so there's no point in complaining.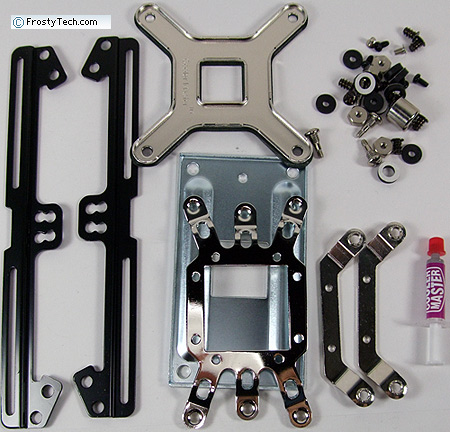 The two large black brackets are used in place of the single 120mm fan to support two 92mm or 80mm fans on the GeminII S heatsink.
FrostyTech's Test Methodologies are outlined in detail here if you care to know what equipment is used, and the parameters under which the tests are conducted. Now let's move forward and take a closer look at this heatsink, its acoustic characteristics, and of course its performance in the thermal tests!