You've come to Frostytech to find out if the Xigmatek Achilles S1284 heatsink, with its special "exposed heatpipe base" is worth getting, right? Well the short answer is yes. Now I could say the same for several dozen other heatsinks... ?Read on to find out just how well the Achilles S1284 stacks up in the competitive world of AMD and Intel processor cooling!
Like many of Xigmatek' coolers, the Achilles S1284 heatsink has an aluminum base with four wide copper heat pipes inset. Heat is conducted directly from the core of the K8 AMD or LGA775 Intel processor to the 8mm diameter heatpipes, the heatpipes then disperse that heat to a 115mm tall tower of aluminum fins above. It's a simple and efficient design, no unnecessary flash or bling. Best of all, when paired with a low noise 120mm fan the approach works quietly.
Xigmatek's Achilles S1284 heatsink is equipped with rubber vibration absorbing fan posts, a 120mm PWM fan that scales in speed from 800-1500RPM and a couple white LEDs for dramatic effect. The 660gram S1284 heatsink is compatible with socket 775 Intel Core 2 Duo/Quad CPUs, and all socket 754/939/940/AM2 AMD Athlon64/Phenom processors. It stands upwards of 159mm high, which is fine for full and mid-tower PC chassis, but may be too tall for some microATX systems. The Achilles S1284's price tag is$39CDN ($39USD) through stores like Directron, Newegg.
Xigmatek Achilles S1284 Heatsink

---

heatsink specsheet
manufacturer: xigmatek
model no.: achilles s1284
materials: aluminum fins, copper heatpipes, aluminum base with exposed heatpipes.
fan mfg: xigmatek pla12025s12l-4
fan spec: 800-1500rpm, 12v, 0.20a
fan dim: 25x120x120mm
heatsink & fan dim: 159x120x87mm
weight: 660 grams
includes: lga775 and k8 socket mounting hardware, thermal compound, instructions

---

Compatible with Sockets: 754/939/940/AM2, LGA775
Est. Pricing: $39USD ($39CDN)
Xigmatek's "Heat-pipe Direct Touch" technique describes how the copper heatpipes come in direct contact with the top of the processor, minimizing thermal resistance. Unlike a lot of heatpipe heatsinks out there, you'll also notice there aren't any cooling fins on the base block... it shouldn't ever get that hot if the other components of the Achilles S1284 heatsink are working as designed. The grooves you see are for the K8 mounting clip.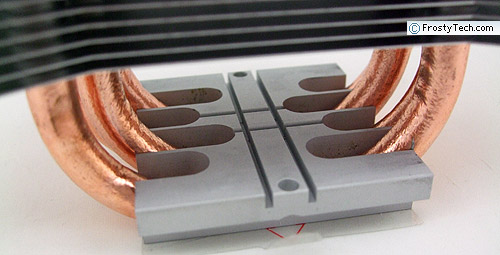 Xigmatek have built the Achilles S1284 heatsink with widely spaced aluminum fins so that lower velocity air can pass through the heatsink with less resistance. The PWM fan spins anywhere from 800RPM to 1500RPM, and is internally illuminated with a couple side-mounted white LEDs, shown below.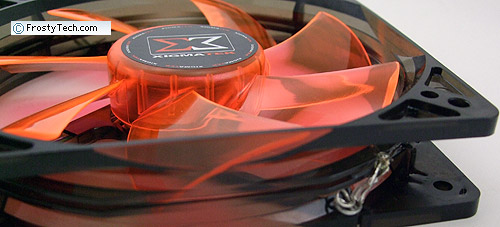 The 120mm PWM fan is held in place on the aluminum fins of the Xigmatek Achilles S1284 heatsink with four vibration absorbing rubber mounting posts. These fit through the standard screw holes in a vaneaxial fan frame, and keep the fan elevated 2.0mm away from the metal. If the fan motor happens to develop vibrations down the road, the rubber 'shock absorbers' can help prevent that from becoming noise.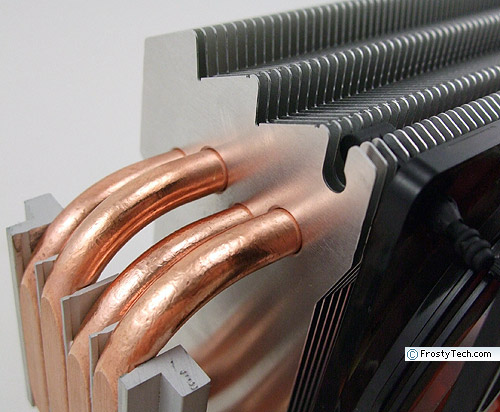 What's in the box?
The Achilles S1284 heatsink ships with brackets for LGA775 and AMD K8 processors (754/939/940/AM2 respectively). The Intel socket 775 clips use the standard push-to-lock plastic clips that insert into the four motherboard holes around the processor socket. AMD Athlon64 processors on 754/939/940/AM2/AM2+ work with a modified spring clip that attaches to the lugs on the AMD heatsink retention frame. A cam lever at one end of the clip applies pressure to the heatsink base directly. The AMD clip is tool free, but the metal is thin and tends to bend towards one side or another after clamping pressure is applied.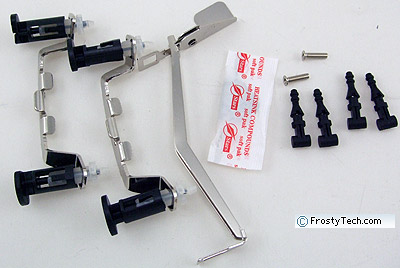 The Xigmatek Achilles S1284 heatsink will be tested on FrostyTech's Intel LGA775 and K8 version of the Mk.II synthetic thermal temperature test platform, and compared against a hundred reference LGA775 and K8 heatsinks. The whole test methodology is outlined in detail here if you'd like to know what equipment is used, and the parameters under which the tests are conducted.