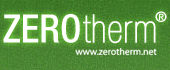 Zerotherm, a Korean thermal solutions company, is running a unique contest for budding Industrial Designers to come up with their own unique low noise desktop processor or videocard heatsink. The heatsink design challenge runs till July 31st 2008 and first prize is a cool $3000 cash prize (2nd place is $1000).
Entrants need only submit a visual or CAD representation of their novel heatsink design to enter. The judges decision is announced August 15th.
I know a lot of thermal engineers and industrial students read Frostytech, so I hope you'll dedicate a few hours of playtime to ProE, AutoCAD or 3DSMax and come up with your own innovative thermal solution and enter the contest... you might just win $3,000! For the overclocking enthusiasts in the house - you know better than most what would make a great heatsink for your CPU or videocard, so sketch it up and take a stab at three grand in cold hard cash!
Acceptable file formats for your vision of the next best heatsink are: AutoCAD, 3DSmax, Adobe Illustrator, Photoshop or JPEG image.
Contest Entries:
Online Submission form here (files under 10MB in size) or
Email Submissions to contest@apack.net. (+10MB files)

---
Official ZEROtherm "Unleash the Creativity Within" Contest Rules
---
Creative Cooler Challenge Encourages Community to Design Next Generation Coolers With $5000 in Cash and Prizes!
July 1st, Daejeon, Korea: In an effort to empower the budding creative minds within the enthusiast community, ZEROtherm is taking an unprecedented measure to help aide the development of THE next generation CPU and VGA coolers. Sponsoring the first ever "Creative Cooler Challenge", ZEROtherm is determined to tap into the unharnessed dreams of the hardware tweaker and help those dreams become a reality.
ZEROtherm understands that hidden inside the mind of the enthusiast there lays the raw untapped desire to create the next monumental advancement in performance enhancing hardware. A need to push hardware beyond its limits resonates at the core of the hardcore! Amidst the countless mathematical equations processed while attempting to reverse engineer various software and hardware constraints in the pursuit of tweaking ones PC, there erupts a singular passion and solution to break the performance barrier… a thermal solution! The time has come to unleash the creativity within and take a shot at making your mark as a driving contributor to the overclocking community! For a chance to be the winner of the $3000 grand prize, a $1000 2nd place prize or one of three lucky 3rd place winners, please take a moment to examine the below contest details.
Contest Specifics:
Design Registration : 1st of July ~ 31st of July
Judging will take place from: 1st of Aug. ~ 10th of Aug.
Winner Announcements : 15th of Aug
Prizes:
a) 1st Place : $3,000
b) 2nd Place : $1,000
c) 3rd Place : Nintendo WII (3 winners)

Registration & Inquiry:
https://art.zerotherm.net or via mail at design@apack.net
Design Guide & General Notices:
a) Design for CPU or VGA Cooler
b) Number of Design submissions: No limitation per person.
c) File Type Submission: File type to be submitted must be in one of the following formats : AutoCAD, 3dsmax, Adobe Illustrator, Photoshop or JPEG
d) Disqualification Terms: published design for public view, the design is in use by another company
e) Copyrights, Right of Use and Notice: the exclusive right of use for the designs chosen as winners are awarded to APACK, Inc. APACK, Inc. may use the submitted designs for any promotional exercises. Should the design/s be determined to be pirated, copied or legal problem/s, APACK may cancel the award and the designer must return the prizes.
Judging Criteria:
a) Innovation : Is the design new and unique?
b) Mechanical/Technical Ability : How is the design enhanced (in cooling performance) with new technologies?
c) Aesthetics : Does the appearance enhance the appeal of the product?
d) Market viability and Manufacturability : Who does this design appeal to and what are the target markets? Also consider manufacturability including mainboard compatibility (CPU Cooler), graphics card compatibility (VGA Cooler)
e) Noise Reduction : No noise causable components will score more
About ZEROtherm
Amidst an industry where performance is king and speed is everything, ZEROtherm® has carved out a niche where the only true way to remain aggressive in cooling is to focus on passive solutions. ZEROtherm products are engineered with the primary objective being that of decreasing noise into the "ZERO" range while effectively addressing thermal issues. ZEROtherm products are optimized cooling solutions that effectively reduce both noise and heat without sacrificing either for the other. Our core thermal packaging technology (including heat pipe technology and micro electro mechanical technology) is the basis for all ZEROtherm products and has received global accolades.
ZEROtherm® is a division of APACK, INC. APACK is a heat pipe technology based thermal solution provider which provides customized designing and engineering solutions and, ultimately, provides best-of breed thermal solutions. We seek to exceed consumer expectations by developing, designing, and producing "best-of-breed" solutions from our extensive technological, manufacturing and engineering capabilities. Visit ZEROtherm® online at: www.zerotherm.net. APACK, INC at: www.apack.net