Frostytech stopped by the AVC (asia vital corporation) booth at Computex Taipei this past week to see what's new from this massive thermal solutions company, and to find out how its LGA1366 Nehalem heatsinks are coming along. Unfortunately I only managed to snap one picture before AVC personal descended upon me with shouts of "no photo, no photo!" and raised palms. Industrial espionage is high within the heatsink industry, and competition cut throat. Three other manufacturers Frostytech spoke with actually had fake prototypes on display of upcoming heatsinks... mirroring the general shape but without the finalized fin geometry.
Anyway, AVC wouldn't allow us to snap pics of the retail heatsinks it was introducing, so here are some rather lame scans from the brochure.
Oh, and that cool looking heatsink above - guess what it's for?!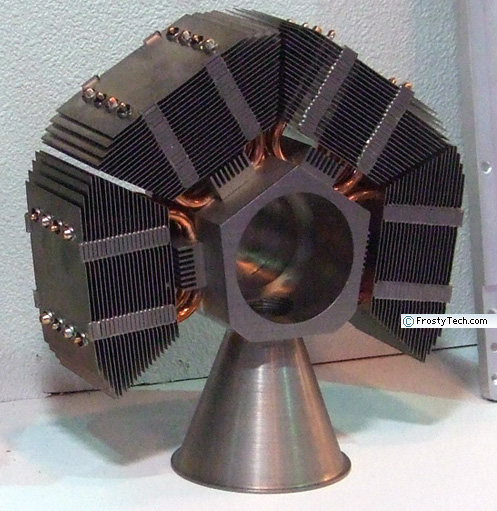 The new heatsinks are primarily for LGA775 applications, but most are also for AMD K8 processors. The globalstar and ice cold models are nearly identical, with the only real difference being fin geometry. The other four models are the Apollo, ice cold, Glacier, and strangely named Alexander and Napoleon heatsinks. From what we saw, AVC had no LGA1366 consumer-level heatsinks.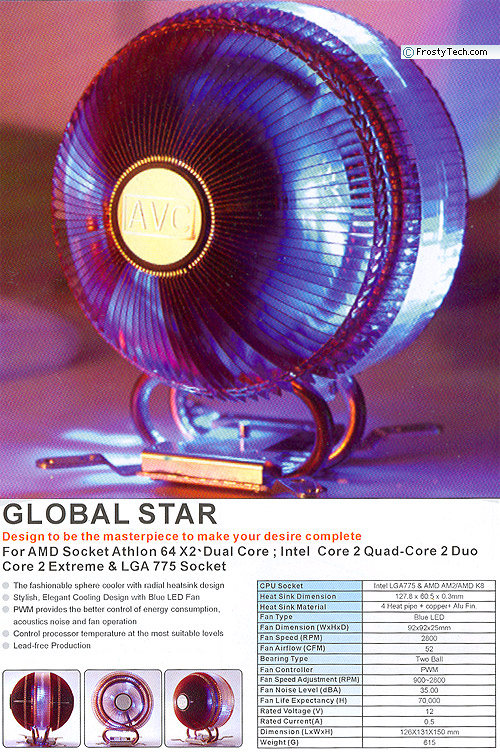 The Death Star. Need I say more?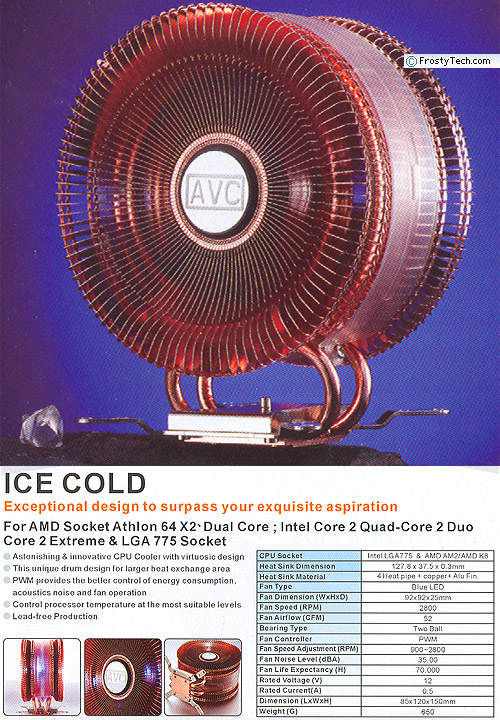 The AVC Ice cold heatsink is designed along the lines of Zalman's CNPS9500 heatsinks, but with only two heatpipes.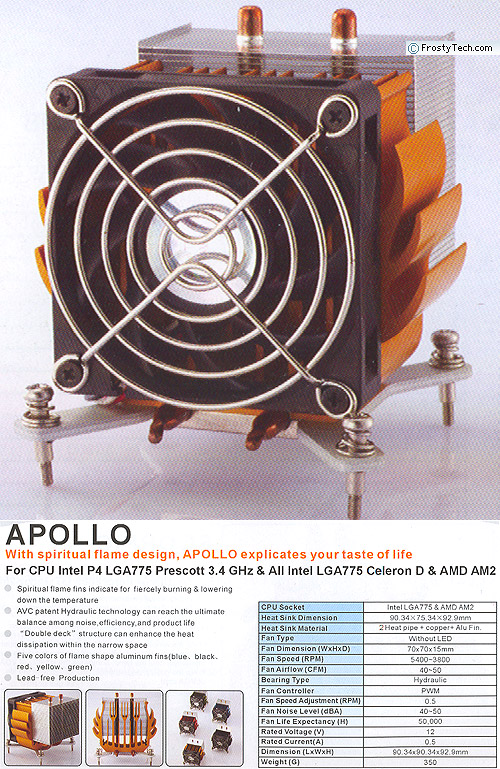 I'm sorry, but any heatsink that describes itself as being designed after the Olympic flame, just doesn't sound appropriate for a hot CPU.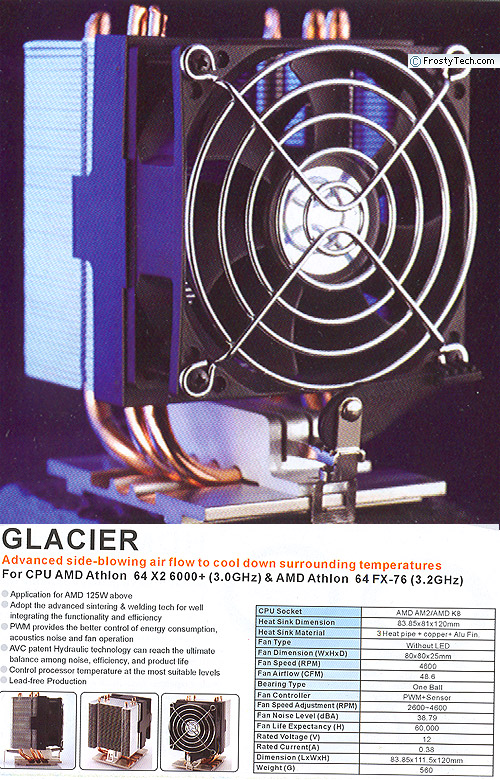 The AVC Glacier is ready for 125W AMD processors according to the manufacturer.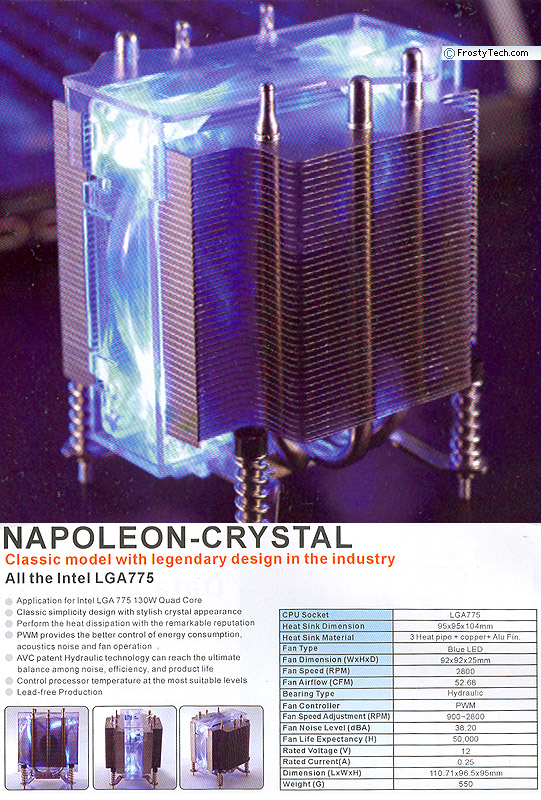 The AVC Napolean-cyrstal heatsink reminds us of a couple other embedded fan CPU coolers. This design always seems to be limited by intake air resistance.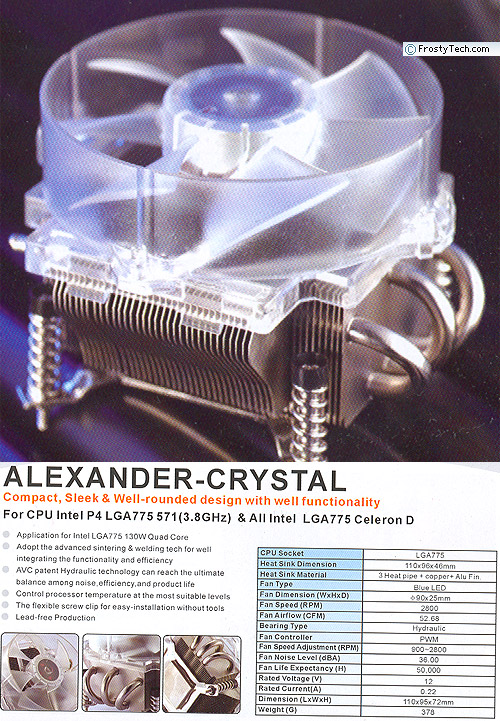 The AVC Alexander-crystal heatsink is a compact heatpipe based cooler.
For videocards, AVC also had the new "scorpio" VGA cooler Geforce 8800 heatsink in its guarded booth space. The heatsink emphasizes style so heavily we're afraid to guess what noise levels or thermal performance is like.