There are a few situations in computers where heatsinks need to be held in place with sticky tape, frag tape, or better yet thermal interface tape. If you've ever needed to re-attach a heatsink held in this manner, what are you to do? Thermal paste is sold in every computer store, but thermal adhesives? This material is hard to find in the retail world, particularly if you are looking for the good quality material manufacturers actually use.
Standard double sided 'frag' tape works in a pinch, but often has poor thermal conductivity... after all it's not made to conduct heat from one surface to another. And as we've all seen, frag tape won't fill the voids if one surface isn't very flat.
Enter Akasa's AK-TT12-80 double sided Thermal Adhesive Tape.
Akasa's thermal adhesive tape comes in a small 80mm x 80mm square, about 0.3mm thick, from which you cut out a small square the appropriate size for your application. Pink plastic covers either side to protect the adhesive surface while you're cutting it up. The thermal interface material has a thermal conductivity of 0.9 W/mK, and is double-sided to ensure bonding with the IC and heatsink. Peel adhesion is rated at 1200g/inch2 - or 1.2kg per square inch.
Akasa AK-TT12-80 Thermal Adhesive Tape

---

specsheet
manufacturer: akasa
model no.: ak-tt12-80
size: 80x80mm
thickness: 0.3mm
thermal conductivity: 0.9 w/mk
peel adhesion: 1200g/inch2
includes: thermal adhesive tape, instructions

---

Est. Pricing: $10USD ($10CDN)
This kind of material is useful for BGA chipset heatsinks, MOSFET heatsinks, and passive videocard or peripheral card heatsinks. Essentially, if the heatsink you are about to re-attach was originally held in place with double-sided adhesive the Akasa AK-TT12-80 thermal adhesive tape is going to be appropriate.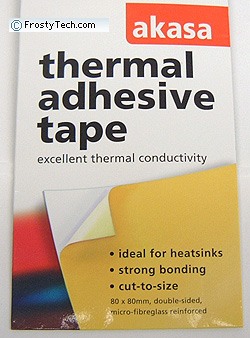 It is not suitable for attaching large heatsinks to modern Intel or AMD processors, or likewise high power nVidia/ATI graphics cards. In those situations, or any instance where a large heatsink is physically held in place with a mechanical clip or clamp, use good quality thermal compound.
BGA chipset heatsinks are often just stuck onto integrated circuits with double sided tape. A lot of times there are no through-hole mounting points on the motherboard, so there aren't really any other options. Akasa's AK-TT12-80 material is appropriate for these situations.
Installation: clean, cut, press
To install, first clean both the heatsink and the top of the chipset/IC with isopropyl alcohol to ensure there is no residue left from the previous thermal interface material. White thermal compound in particular should be totally removed, or the adhesive will fail to stick.
Cut a bit from the 80mm square sheet of thermal adhesive tape, peel off one side of the protective film and press to apply. Remove the other sheet of protective film and stick on the heatsink with a bit of force. That's it.
To remove the thermal adhesive tape, use a gentle twisting motion to pry the heatsink off the chipset with your fingers - do not use tools which could damage the motherboard. Scrape the remaining interface tape off both surfaces with your fingers, or the edge of a credit card, and clean the surfaces of residue.
Since Frostytech is not properly tooled for evaluating thermal compounds and thermal interface materials, we'll just be going over Akasa's AK-TT12-80 material in this article.
Close up look at Thermal Adhesive Tape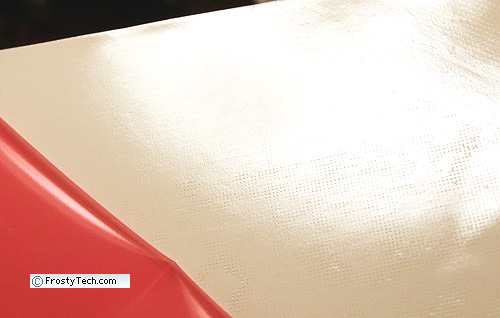 The thermal adhesive tape here is basically a thermal interface material with 1.2kg per square inch tack, set on to a loosely woven fiberglass backing material. This backing gives the material strength, while the thermal interface substance conducts heat from one side to the other with about 0.9W/mK conductivity. By comparison, copper has a thermal conductivity of 398 W/mK... Quite obviously, this type of material is most useful with electronic components that don't output a lot of heat - memory, older BGA integrated circuits, MOSFET's etc.
The only other alternative for thermal adhesive tape is to shop around the better online heatsink vendors for material, or wade though ebay for manufacturer NOS surplus. Frostytech was able to purchase a bunch of Thermagon T-Flex 480 thermally conductive gap filler for a reasonable sum a while back.
While not adhesive, the T-Flex 480 material is wonderful for padding the top of a hot Western Digital Raptor hard drive so a heatsink can be used to draw away some of the heat. Thermagon is now Laird Technologies, and from what we can tell the T-Flex 480 material has a thermal conductivity of around around 1.2 W/mK.
Anyway, getting back to Akasa's product... As far as we're aware, Akasa are on the only consumer level heatsink manufacturer offering adhesive thermal pads to the PC market. The 80x80mm square pad of AK-TT12-80 is a little small, but should be sufficient for four southbridge chipsets, one videocard's worth of RAMsinks, and if cut carefully two sticks of RAM.
Related Articles:
The Top 5 best heatsinks for low noise and low temperature are ranked here. For more reviews on the latest heatsinks and cooling solutions, rely on FrostyTech's inventory of 400+ heatsink reviews. Here are a few other articles that you might enjoy as well.
- Xigmatek HDT-SD964 Exposed Heatpipe Base Heatsink Review
- Thermolab Micro Silencer TLI-S Heatsink Review
- SilenX iXtrema IXC-120HA2 Heatsink Review
- Noctua NH-U9B Low Noise Heatsink Review
- Sunbeamtech Core-Contact Freezer Heatsink
- Thermolab Nano Silencer TLI-U Low-Profile Heatsink Review
- Coolermaster Hyper Z600 Passive Heatsink Review