Thermolab is a Korean manufacturer of thermal solutions for the retail and OEM markets; everything from CPU heatsinks to notebook cooling and fixtures for evaluating heatpipes. The company is new to the retail side of CPU cooling, so we're especially interested to see how the low-profile Thermolab Micro Silencer TLI-S heatsink handles. Thermolab are also one of the few companies with an automated heatsink testing platform of its own design for sale - the Thermolab TLS-M - though the $25K sticker price ensures OEM applications only.
Moving along. In this review Frostytech will be testing a low profile Intel socket 775 heatsink which could be ideal for 2U sized server chassis, small formfactor PCs and other media center microATX-style cases which are seriously height limited. The Thermolab Micro Silencer TLI-S heatsink uses a simple swagged aluminum fin and heatpipe construction, weighs a feathery 276 grams and comes with a pre-applied patch of 8 W/mK rated gray thermal interface material. Two sintered wick copper heatpipes help distribute heat from the chrome plated aluminum base block to the stubby aluminum fins, while a 95mm PWM fan moves air through the fins with moderate noise output.
The Thermolab Micro Silencer TLI-S heatsink cooler accomodates Intel LGA775 processors only, up to a maximum of about 105W according to the manufacturer, and requires a phillips screwdriver to install. Retail price is estimated at $32.
Thermolab Micro Silencer TLI-S Heatsink

---

heatsink specsheet
manufacturer: thermolab
model no.: micro silencer tli-s
materials: aluminum fins & chrome-plated base, copper heatpipes
fan mfg: protechnic mgt9212hr-w25
fan spec: 2600rpm, 12v, 0.25a pwm
fan dim: 25x95x95mm
heatsink & fan dim: 65x99x102mm
weight: 276 grams
includes: mounting bracket, pre-applied thermal compound, instructions

---

Compatible with Sockets: 775
Est. Pricing: $32USD ($19CDN)
The base of the Thermolab Micro Silencer TLI-S is chrome plated aluminum, and into it are swagged about 50 raw aluminum fins. The manufacturer call this "power clamping technology", but it's really nothing new to the industry. Swagging fins into a base block generally ensures a low thermal joint resistance, and can be more effective than soldering joints. A close up of the swagged joint is illustrated below.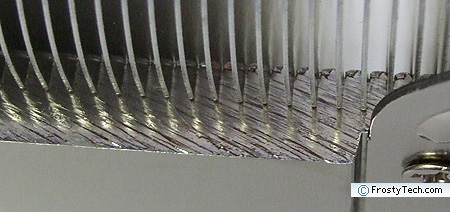 The heatsink has a fixed stainless steel mounting bracket attached to the base, and to install it the motherboard must be removed so screws (with special nylon washers) can be installed from the opposite side. This approach to heatsink installation is best suited to system integrators, as it makes getting at the CPU below a rather involved process.
Base Finish and Flatness
Flipping a heatsink over to inspect the business end is often a simple indicator of overall cooler quality. More practically speaking, a heatsink is in many ways only as effective as the contact it makes with the processor - the flatter and smoother the better. Base finish is one of the criteria that Frostytech measure in the course of evaluating heatsinks, and it involves two distinct aspects. Surface Finish is the first; this is calculated with the aid of Surface Roughness Comparator that has a cross section of common machine surface finishes and their numerical surface roughness equivalents in microinches. The second is Surface Flatness. This is tested with an engineers straight edge or proven flat surface, in two axis.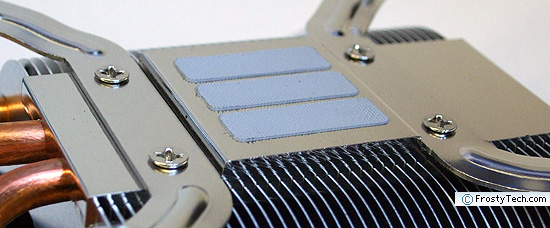 The Thermolab Micro Silencer TLI-S heatsink has a raw extruded base which has been chrome plated. The base surface is smooth, with a surface roughness of approximately ~16 microinches. Without the usual finishing steps though, the base retains its raw extruded state and is slightly convex.
FrostyTech's Test Methodologies are outlined in detail here if you care to know what equipment is used, and the parameters under which the tests are conducted. Now let's move forward and take a closer look at this heatsink, its acoustic characteristics, and of course its performance in the thermal tests!