The Coolermaster Hyper Z600 heatsink is a novel passive CPU heatsink for today's dual core processors. Its' 'star' shape, widely spaced aluminum fins and prodigious number of silvery copper heatpipes allow it to work without the benefit of a fan, albeit within specific thermal limits. The heatsink should never be used in the passive mode with a CPU having a TDP greater than 89W... that's sound advice.
The Hyper Z600 heatsink isn't sold with a fan, but it does ship with two fan brackets for attaching 120mm fans to the side of the unit. As far as passive cooling goes (and I mean true passive cooling without any fan blowing toward it) Frostytech threw caution to the wind and stressed the Coolermaster Hyper Z600 heatsink in its passive mode with a sustained heat load of 150W. The Hyper Z600 heatsink handled 85W - provided the cooling fins were vertically oriented and there was sufficient ventilation - but handily failed with 150W when the CPU die temperature crept past 90°C.
But let's not get ahead of ourselves, you'll see how the Hyper Z600 heatsink performed passively and with a 120mm fan a little later in this Frostytech review.
Like most Coolermasters' coolers, the Hyper Z600 is well constructed, but suffers from the same poorly thought out mounting clips that have stifled several generations of its heavy-weight heatsinks. Weighing upwards of 1045 grams, the Hyper Z600 is a massive block of metal. The heatsink stands 160mm tall and is 127mm square. It's nickel-plated aluminum cooling fins are connected by six copper heat pipes to chunky copper base, and it can be installed on Intel LGA775 or AMD 939/AM2 processors.
Coolermaster Hyper Z600 Heatsink

---

heatsink specsheet
manufacturer: coolermaster
model no.: hyper z600
materials: nickel plated aluminum fins, copper heatpipes and base

fan mfg: mechatronics g1225s12b (as tested, fan not included)

fan spec: 1500rpm, 12v, 0.13a
fan dim: 25x120x120mm
heatsink & fan dim: 160x127x127mm
weight: 1045 grams
includes: mounting clips, thermal compound, instructions

---

Compatible with Sockets: 754/939/940/AM2/AM2+, 775
Est. Pricing: $44USD ($44CDN)
Given the uni-directional shape of the Coolermaster Hyper Z600 heatsink, the fans must be attached to special brackets first which clip onto the fins of the cooler. Four such brackets are provided, so two 120mm fans can be installed on opposite sides of the Hyper Z600 heatsink if desired. For our tests we'll be using a single fan which is more than adequate.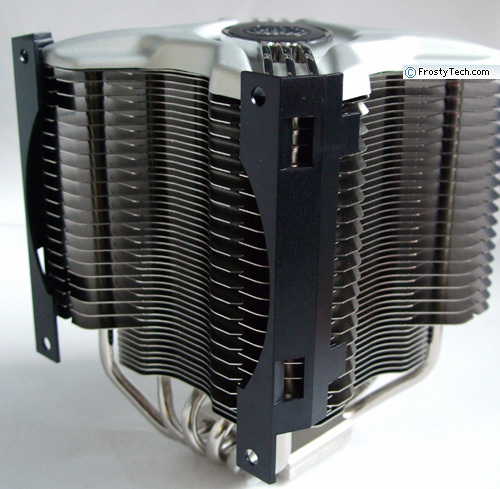 Installation Hardware
Coolermaster's Hyper Z600 heatsink is compatible with Intel socket 775 and AMD socket 754/939/940/AM2/AM2+ processors. We're not particularly fond of the system of brackets Coolermaster use with its heavier heatsinks; it requires the motherboard be removed from the chassis each time you install or remove the heatsink. To be fair though, when dealing with a 1045 gram heatsink you want a method of firmly bolting it in place, and the system used here certainly offers that.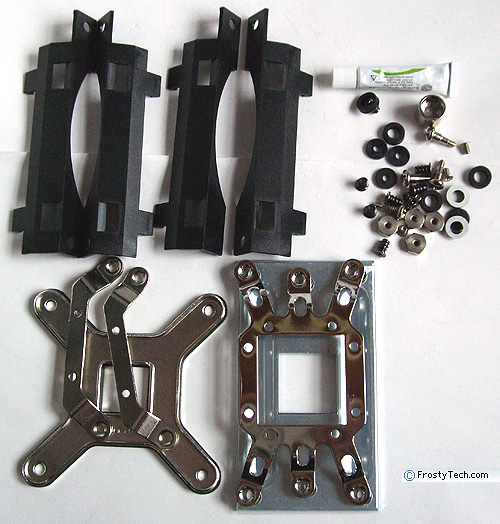 First small metal tabs are attached to the heatsink base, then a backplate is positioned behind the motherboard. Screws are thread from behind to engage with the heatsink and securely fix it in place. If you ever want to swap out the processor, it can be a royal pain...
Base Finish and Flatness
Flipping a heatsink over to inspect the business end is often a simple indicator of overall cooler quality. More practically speaking, a heatsink is in many ways only as effective as the contact it makes with the processor - the flatter and smoother the better. Base finish is one of the criteria that Frostytech measure in the course of evaluating heatsinks, and it involves two distinct aspects. Surface Finish is the first; this is calculated with the aid of Surface Roughness Comparator that has a cross section of common machine surface finishes and their numerical surface roughness equivalents in microinches. The second is Surface Flatness. This is tested with an engineers straight edge or proven flat surface, in two axis.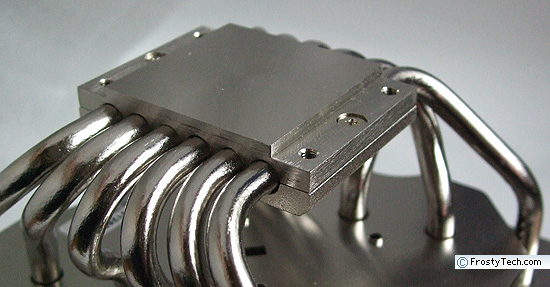 The Coolermaster Hyper Z600 heatsink has a machined nickel-plated copper base with a surface roughness of approximately ~16 microinches. The base is perfectly flat in both axis.
FrostyTech's Test Methodologies are outlined in detail here if you care to know what equipment is used, and the parameters under which the tests are conducted. Now let's move forward and take a closer look at this heatsink, its acoustic characteristics, and of course its performance in the thermal tests!