Looking for a new heatsink that works on either Intel or AMD processors? Good, say 'hello' to one of the new class of direct heatpipe contact heatsinks hitting the streets - the SilenX iXtrema IXC-120HA2. Like the nearly identical Sunbeam Core-Contact Freezer model, the SilenX iXtrema IXC-120HA2 heatsink features exposed heatpipes on the bottom which give it a serious advantage in the thermal tests. The two heatsinks differ only in fin geometry, and the number of fans that can be clipped on. The OEM manufacturer for both models is PC Cooler in China.
The SilenX iXtrema IXC-120HA2 features four 8mm diameter copper heatpipes, up from the standard 6mm diameter type used with many Xigmatek heatsinks. The SilenX iXtrema stands 154mm tall, is 125mm across and accommodates up to two 120mm fans. The heatsink ships with one fluid dynamic bearing based IXP-74-14 low noise fan that spins at a default speed of 1400RPM. An included fan speed controller allows you to quickly drop fan speeds to about 900RPM, and noise levels to the region of 36.0 dBA.
The iXtrema IXC-120HA2 CPU cooler weighs upwards of 685 grams with its fan, and accomodates Intel LGA775 and AMD 939/AM2 processors with a tool-free clip system. Just like the Sunbeam model, the motherboard doesn't need to be removed to install this tower heatsink on your processor.
SilenX iXtrema IXC-120HA2 Heatsink

---

heatsink specsheet
manufacturer: silenx
model no.: ixtrema ixc-120ha2
materials: aluminum fins & base, copper heatpipes
fan mfg: silenx ixp-74-14
fan spec: 900-1400rpm, 12v, 0.32a
fan dim: 25x120x120mm
heatsink & fan dim: 154x125x94mm
weight: 685 grams
includes: mounting bracket, thermal compound, fan speed controller, instructions

---

Compatible with Sockets: 754/939/940/AM2/AM2+, 775
Est. Pricing: $36USD ($36CDN)
The SilenX iXtrema 120 pro series iXP-74-14 quiet fan is so laden with adjectives that you'd think 'ultimate' and 'extreme' would be feeling left out. The 120mm fan is coated in a dark metallic finish that looks like it means business, and features a unique impeller geometry around the motor hub. The fan is rated for 72CFM airflow at 1400RPM. The iXtrema 120 pro series fan is also sold individually along with a set of silicon rubber anti-vibration mounts for use with the standard screw-hole mounting flanges.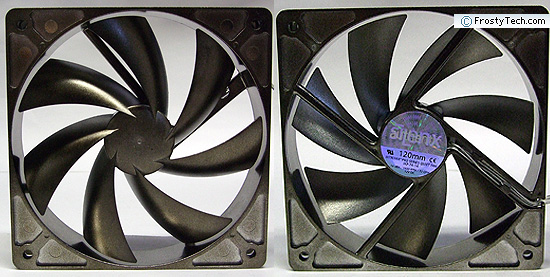 Installation Hardware
The SilenX iXtrema IXC-120HA2 heatsink is compatible with Intel socket 775 and AMD socket 754/939/940/AM2/AM2+ processors. It has one common clip which is permanently attached to the base, and this allows it to install on either chip without the use of tools. The clip is designed with AMD socket 939/AM2 CPUs in mind, so Intel processors use a special heatsink retention frame.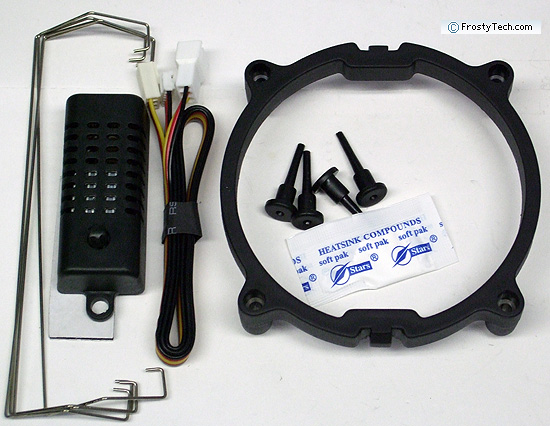 The circular black plastic adaptor pops into the four holes around the LGA775 Intel processor socket. Four plastic pegs are inserted to expand the feet and lock the retention frame into position on the motherboard PCB. There's no need to remove the motherboard from the chassis at any point.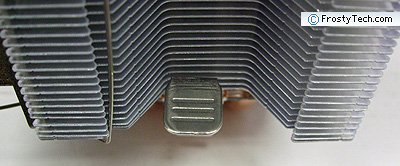 The system is a modified version of the standard Intel push-to-click heatsink attachment mechanism. An illustrated manual provides guidance, and a fan speed controller, extra wire fan clips and small pack of Stars white silicon thermal compound are supplied.
Base Finish and Flatness
Flipping a heatsink over to inspect the business end is often a simple indicator of overall cooler quality. More practically speaking, a heatsink is in many ways only as effective as the contact it makes with the processor - the flatter and smoother the better. Base finish is one of the criteria that Frostytech measure in the course of evaluating heatsinks, and it involves two distinct aspects. Surface Finish is the first; this is calculated with the aid of Surface Roughness Comparator that has a cross section of common machine surface finishes and their numerical surface roughness equivalents in microinches. The second is Surface Flatness. This is tested with an engineers straight edge or proven flat surface, in two axis.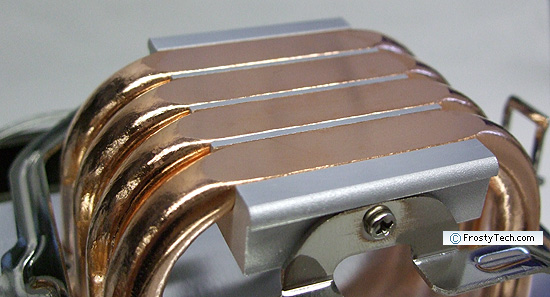 The SilenX iXtrema IXC-120HA2 heatsink has a machined base with a surface roughness of approximately ~48 microinches. The manufacturer has purposefully given the surface a distinctive ridged texture. The base is perfectly flat in both axis. Incidently, the base finish is identical to the Sunbeamtech model, so we're assuming the same OEM makes both variations.
FrostyTech's Test Methodologies are outlined in detail here if you care to know what equipment is used, and the parameters under which the tests are conducted. Now let's move forward and take a closer look at this heatsink, its acoustic characteristics, and of course its performance in the thermal tests!