The Sunbeamtech Company is best known for its 'flashy' cases and PC accessories, but under the brand Tuniq it has released CPU thermal solutions like the popular Tower 120. Today Frostytech is testing out one of the new breed of direct heatpipe contact coolers that are sweeping the industry; the Sunbeamtech Core-Contact Freezer heatsink.
Frankly, given the integrated heatspreaders in use with current AMD and Intel processor packaging, I don't know why every heatsink manufacturer hasn't already gone the exposed-heatpipe-base-route, à la Xigmatek. Unique heatsink technology is all well and good, but is the Core-Contact Freezer heatsink quiet and do the exposed heatpipes really blow away the competition? Well, yes and no...
Sunbeamtech's heatsink stands 143mm tall, is 125mm across and accommodates one "silent" 120mm Magnetic Fluid Dynamic Bearing fan that spins at 1,000~2,000 RPM. Another vendor, SilenX, have a virtually identical heatsink which supports dual fans, though some fin surface area is sacrificed for that luxury. The OEM manufacturer for both models is PC Cooler in China. In Frostytech's tests, a single 120mm fan was more than sufficient for the job.
Sunbeamtech Core-Contact Freezer

---

heatsink specsheet
manufacturer: sunbeamtech
model no.: core-contact freezer (cr-cctf)
materials: aluminum fins & base, copper heatpipes
fan mfg: sunbeamtech aga12025f121
fan spec: 1000-2000rpm, 12v, 0.28a
fan dim: 25x120x120mm
heatsink & fan dim: 153x125x104mm
weight: 590 grams
includes: mounting bracket, thermal compound, fan speed controller, instructions

---

Compatible with Sockets: 754/939/940/AM2/AM2+, 775
Est. Pricing: $36USD ($36CDN)
The cooler makes use of four 8mm diameter copper heatpipes, and weighs 590grams. Sunbeam ship the cooler with wire fan clips and all the necessary CPU mounting hardware for Intel LGA775 and AMD 939/AM2 processors. Installation is entirely tool free, and refreshingly the motherboard doesn't need to be removed to install the mounting bracket.
Larger diameter copper heatpipes are nothing new, so don't let Sunbeam's marketing materials persuade you into thinking its 8mm copper heatpipes are revolutionary. The four heatpipes are certainly effective, but we've seen a half-dozen other coolers with 8mm diameter heatpipes. :-)

Installation Hardware
Sunbeamtech's Core-Contact Freezer heatsink is compatible with Intel socket 775 and AMD socket 754/939/940/AM2/AM2+ processors. The heatsink has one common clip attached to the base which operates in a tool free manner. The clip is designed with AMD socket 939/AM2 CPUs in mind, so for Intel processors a specialized heatsink retention frame needs to be installed.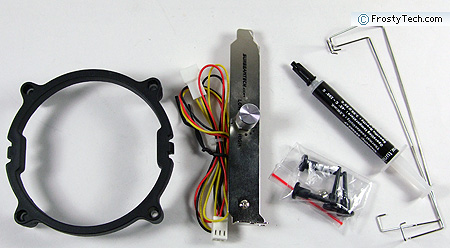 The black adaptor pops into the four holes around the Intel processor socket, and then all the user has to do is push in four plastic pegs to expand the feet and lock the retention frame into position on the motherboard PCB.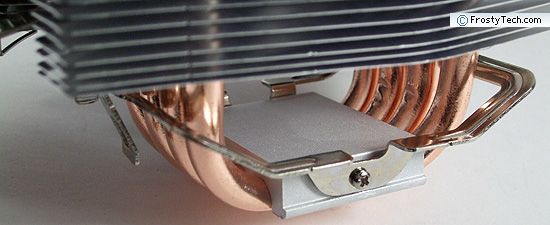 The system is a modified version of the standard Intel push-to-click heatsink attachment mechanism, and has the benefit of clamping firmly in place without requiring the user to remove the entire motherboard first and fiddle with screws. An illustrated manual provides guidance, and a PCI bracket fan speed controller and syringe of Tuniq TX-2 thermal compound are also provided.
Base Finish and Flatness
Flipping a heatsink over to inspect the business end is often a simple indicator of overall cooler quality. More practically speaking, a heatsink is in many ways only as effective as the contact it makes with the processor - the flatter and smoother the better. Base finish is one of the criteria that Frostytech measure in the course of evaluating heatsinks, and it involves two distinct aspects. Surface Finish is the first; this is calculated with the aid of Surface Roughness Comparator that has a cross section of common machine surface finishes and their numerical surface roughness equivalents in microinches. The second is Surface Flatness. This is tested with an engineers straight edge or proven flat surface, in two axis.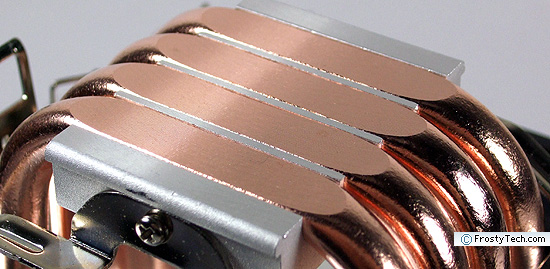 The Sunbeamtech Core-Contact Freezer heatsink has a machined base with a surface roughness of approximately ~48 microinches. The manufacturer has purposefully given the surface a distinctive ridged texture. The base is perfectly flat in both axis (with the heatpipes, and perpendicular to them).
FrostyTech's Test Methodologies are outlined in detail here if you care to know what equipment is used, and the parameters under which the tests are conducted. Now let's move forward and take a closer look at this heatsink, its acoustic characteristics, and of course its performance in the thermal tests!