The Noctua NH-U9B is a refined take on the previously successful NH-U9 heatsink. This time around, Noctua nickel plate all copper surfaces and bundle in the super quiet NF-B9 fan - and it's not your average vaneaxial fan either. The NF-B9 is a flesh-toned fan with three key innovations; SSO bearings, vortex-control notches, and textured leading impeller surfaces. That translates into a fan which is very quiet at a speed of 1600RPM, and with two in-line resistors its rotational speed can be further reduced without impacting temperatures too dramatically.
That's all well and good, but you probably want to know if Noctua's NH-U9B is one of the few heatsinks able to break away from the "low noise handicap" and perform more like a performance cooler? In other words, is it good?
Noctua's NH-U9B heatsink stands 120mm tall, 96mm across and can accommodate one or two 92mm fans. In Frostytech's tests, a single 92mm fan more than sufficient for the job. Noctua ship the cooler with a single NF-B9 92mm fan, mounted to the heatsink with wire clips. All the necessary CPU mounting hardware is included for Intel LGA775 and AMD 939/AM2 processors. The nickel-plated aluminum cooling fins are connected by four nickel-plated copper heat pipes to a nickel-plated copper base, and the total weight is a moderate 460 grams.
Noctua NH-U9B Heatsink

---

heatsink specsheet
manufacturer: noctua
model no.: nh-u9b
materials: aluminum fins, nickel plated copper heatpipes and base
fan mfg: noctua nf-b9-1600
fan spec: 1000-1600rpm, 12v, 0.12a
fan dim: 25x92x92mm
heatsink & fan dim: 120x96x93mm
weight: 460 grams
includes: mounting clips, thermal compound, fan speed reducers, screwdriver, instructions

---

Compatible with Sockets: 754/939/940/AM2/AM2+, 775
Est. Pricing: $36USD ($36CDN)
MOUNTING KIT UPGRADEABLE TO SUPPORT AMD SOCKET AM4?

Manufacturer Provided Mounting Kit Required to Support AMD Socket AM4 Motherboards? YES

Manufacturer AM4 Kit Request Form Link:
https://noctua.at/en/nm-am4-mounting-kit-order-form

Noctua state: "Owners of Noctua CPU coolers can obtain the Noctua NM-AM4 SecuFirm2 Mounting-Kit free of charge via this form. A proof of purchase (electronic version, photo or scan of the invoice) of both a Noctua CPU cooler and either a socket AM4 mainboard or socket AM4 CPU are required. There is a dedicated upgrade kit (NM-AM4-UxS) available for NH-U14S, NH-U12S and NH-U9S"

For more details, heatsink exceptions and a complete list of incompatible coolers, see here.


Noctua NM-AM4 SecuFirm2 Mounting-Kit supported on following Noctua heatsinks Frostytech has tested: NH-C12P , NH-C14 , NH-D14 , NH-D15 , NH-D9L, NH-L12, NH-L9x65, NH-U12 , NH-U12P , NH-U9, NH-U9B . Noctua NM-AM4-UxS Mounting-Kit: NH-U14S, NH-U12S and NH-U9S.
Compared to the previous model of the same name, the Noctua NH-U9B heatsink incorporates a few cosmetic improvements. Namely, the heatpipes and copper base in this model are all nickel plated, and every metal joint is soldered. Soldering decrease thermal joint resistance between the fins and heatpipes, or heatpipes and base.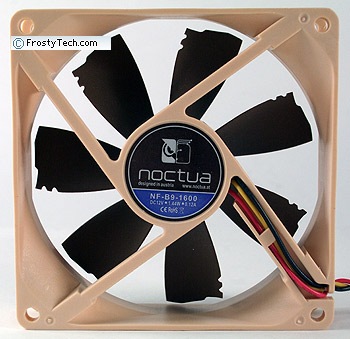 The Noctua NH-U9B accommodates 92mm and 80mm fans, and comes with an extra set of wire clips so two fans can be mounted.
One of the main selling points of Noctua's heatsinks are the specialized low noise fans used. The Noctua NF-B9 fan incorporates double notches (see below) on the trailing edges of each impeller called vortex-control notches. These break up trailing edge vortices into several smaller vortices which ultimately cause noise to be spread over a wider range of frequencies and less perceptible. Special SSO bearings are used in the motor housing. It also helps that the NF-B9 92mm fan rotates at a leisurely 1600RPM.
To further reduce noise from the heatsink, Noctua provide two in-line resistors which drop in between the fan and motherboard.
A black colour-coded resistor reduces fan speed to about 1300RPM, and another (blue) to about 1000RPM. The blue connector makes the Noctua NH-U9B heatsink operate in its most quiet setting, about 32 dBA in our real world tests.
Installation Hardware
Noctua's NH-U9B heatsink is compatible with Intel socket 775 and AMD socket 754/939/940/AM2/AM2+ processors.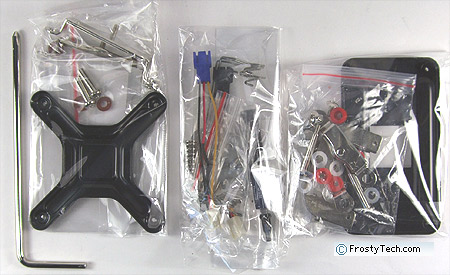 Small metal tabs are attached to the heatsink base, a backplate positioned behind the motherboard, then everything fixed in place with spring-tensioned screws. The installation process is straight forward, but you may have to remove the motherboard from the computer case which is never fun.
A multi-language manual provides guidance, and a special screwdriver is even included. As always, we'd recommend orienting the fan towards the rear of the PC case.
Retroactive Socket 1366 Intel Core i7 Processor Compatibility
One of the nice aspects of this heatsink is that Noctua has released a new mounting kit to make it compatible with Intel's Core i7 socket 1366 processor! The Noctua SecuFirm2 mounting kit works with any Noctua CPU heatsink going back to 2005, and best of all it's available for free from Noctua's website. Socket 1366 processors use slightly wider spaced motherboard mounting holes for heatsinks to attach to - 80mm vs. 72mm for LGA775 chips - so existing socket 775 brackets are not compatible with this new Intel CPU in spite of the fact the heatsink is probably still well suited.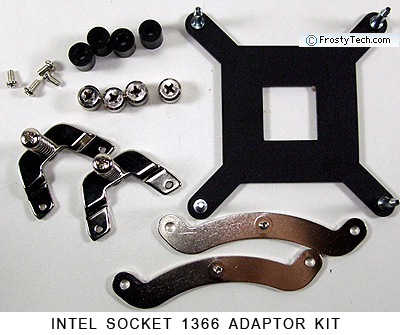 The Noctua SecuFirm2 bracket (shown above) uses spring tensioned screws to securely mount the Noctua heatsink on the new Core i7 processors, and ensures optimal contact pressure thanks to identical Z-height between LGA775 and LGA1366 CPU formfactors. Frostytech will be testing this Noctua heatsink shortly to see how it performs with socket 1366 processor thermal demands... stay tuned!

Base Finish and Flatness

Flipping a heatsink over to inspect the business end is often a simple indicator of overall cooler quality. More practically speaking, a heatsink is in many ways only as effective as the contact it makes with the processor - the flatter and smoother the better. Base finish is one of the criteria that Frostytech measure in the course of evaluating heatsinks, and it involves two distinct aspects. Surface Finish is the first; this is calculated with the aid of Surface Roughness Comparator that has a cross section of common machine surface finishes and their numerical surface roughness equivalents in microinches. The second is Surface Flatness. This is tested with an engineers straight edge or proven flat surface, in two axis.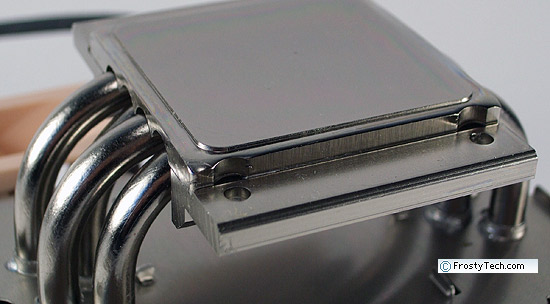 The Noctua NH-U9B heatsink has a machined nickel-plated copper base with a surface roughness of approximately ~48 microinches. The manufacturer has purposefully given it a ridged texture. The base is very slightly concave when examined with an engineers straight edge. Screw holes at each corner allow the mounting brackets to be attached.
FrostyTech's Test Methodologies are outlined in detail here if you care to know what equipment is used, and the parameters under which the tests are conducted. Now let's move forward and take a closer look at this heatsink, its acoustic characteristics, and of course its performance in the thermal tests!